All tours are fully customizable to your requirements
An Australian Adventure
For anyone who is active, a little adventurous and wants to experience a little independence in addition to a guided tour, this tour is perfect. You'll enjoy soft adventure, including fascinating cycling and kayaking tours of Sydney, which will give you an intimate insight to this delightful city. Climb the Sydney Harbour Bridge for an unforgettable view, before heading to Melbourne and the Great Ocean Road, one of the world's most spectacular coastal drives. South Australia's Gawler Ranges are a great introduction to the country's famous Outback, where you'll experience getting up close to Australian animals in the wild, while the iconic Uluru and Great Barrier Reef will undoubtedly leave a lasting impression.
ITINERARY
Day 1 - Arrive Sydney (4 nights)
Day 2 - Sydney Harbour Bridge Climb, Sydney Harbour Kayaking
Day 3 - Sydney Walking Tour
Day 4 - Sydney Bike Tour, Surf Lesson at Bondi Beach
Day 5 - Fly to Melbourne Collect Rental Car, Drive to Apollo Bay (1 night)
Day 6 - Drive Apollo Bay to Port Fairy (1 night)
Day 7 - Drive Port Fairy To Robe (1 night)
Day 8 - Drive Robe to Barossa (1 night)
Day 9 - Drive Barossa to Adelaide (1 night)
Day 10 - Australian Outback Safari (2 nights)
Day 11 - Australian Outback Safari
Day 12 - Australian Outback Safari, fly to Uluru (3 nights)
Day 13 - Uluru
Day 14 - Kata Tjuta
Day 15 - Fly To Cairns (4 nights)
Day 16 - Daintree Rainforest Experience
Day 17 - Great Barrier Reef
Day 18 - At Leisure in Paradise
Day 19 - Fly Home or Extend Your Trip
Detailed Itinerary
Day 1 - Welcome to Australia
Upon arrival at Sydney's modern Kingsford Smith International Airport you will be met by your driver and escorted to your centrally located hotel by private vehicle. Enjoy the rest of the day at your leisure, to recover from the long journey and get a first taste of this exciting city.
Day 2 - Sydney Harbour Bridge Climb, Sydney Harbour Kayaking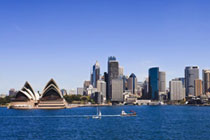 This morning's unforgettable tour will have you climbing the iconic Sydney Harbour Bridge. This 3.5-hour experience is a fantastic introduction to this energetic city. From your viewpoint atop the bridge you will see the city's bays, beaches and buildings all around you. You'll also have an amazing new of the nearby Sydney Opera House. your climb leader doubles as a guide to point out all the landmarks of the city, one of the most beautiful in the world.
This afternoon you will enjoy a more serene view of the city as you enjoy a guided kayaking tour of Sydney Harbour. You'll explore the inner harbor, admiring magnificent views of the Sydney Harbour Bridge and Sydney Opera House, before stopping for a picnic lunch on one of the many islands. Your expert guide will point out all the sights on their fun filled adventure.
Day 3 - Sydney Walking Tour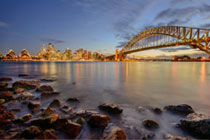 This morning you will have the opportunity to experience Sydney as a local. You'll see some of the city's most popular sights, but you'll explore them in a way that other tourists don't - on a walking tour guided by a local 'Sydneysider'. You'll go off the beaten path, exploring backstreets and sights of historical importance, as you learn of the city's tumultuous history. You'll see Cadman's Cottage, the oldest building in Australia, as well as Baranargoo, the newest development in the city. Of course you'll also see the Opera House, Customs House and the Sydney Harbour Bridge, but from a local's perspective, who will give you a funny, entertaining tour filled with local anecdotes. Both lighthearted and entertaining, this is the most enjoyable way to tour the city.
Day 4 - Sydney Bike Tour, Bondi Beach Surfing Lesson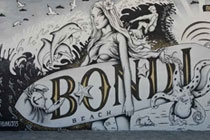 Feel the wind in your face as you breeze along Sydney's easy to navigate bike paths. This easy, guided bike tour features some spectacular harbor views as you cycle past Circular Quay, the Walsh Bay Piers, Hyde Park, the city's famous Darling Harbour and the lush Royal Botanic Gardens.
After a stop for lunch, you'll head to the world-famous Bondi Beach for a private lesson with a local surfing instructor. This is a great fun way of enjoying the city's most popular water-sport and with you should be standing up and ready to ride your first waves by the end of the lesson.
Day 5 - Fly to Melbourne Collect Rental Car, self drive to Apollo Bay (115 miles)
This morning you will be escorted by private vehicle to Sydney's airport for your flight to Melbourne. Your rental car will be waiting for you at the airport for your 5 day Great Ocean Road adventure. The Great Ocean Road is arguably one of the most stunning coastal drives in the world and you'll enjoy traveling this route at a leisurely pace to explore the natural beauty of the area, as well as the quaint seaside towns along the way.
Today you'll travel to Torquay and the start of the Great Ocean Road. Stop at the famous Bells Beach and the beautiful nearby Erskine Falls. This drive towards Apollo Bay is absolutely spectacular.
Day 6 - self drive Apollo Bay to Port Fairy (120 miles)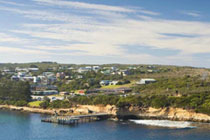 Today, you'll enjoy a leisurely drive from Apollo Bay to Port Campbell. You'll see the amazing rock formations of the world-famous Twelve Apostles and London Bridge. In this area, you'll see some diverse landscapes from the rainforest covered Otway Ranges to the beautifully rugged coast. Stop in the seaside town of Port Campbell for a fresh seafood lunch with the locals at one of the restaurants there before continuing along the 'Shipwreck Coast' to Port Fairy, a charming coastal town where you can shop in the local art and craft shops.
Day 7 - self drive Port Fairy To Robe (190 miles)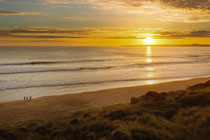 Departing Port Fairy, you'll follow the coastline and cross the state border into South Australia. The area you're driving through forms part of the largest volcanic plain in the country, where you'll find interesting subterranean caves and sinkholes that you can visit. The Coonawarra and Padthaway wine regions are also near here, which produce some of Australia's best table wines. At Mt. Gambier, take time to explore the 'Blue Lake', a water filled crater of an extinct volcano.
Arriving in Robe for your overnight stay, you'll find a town filled with a rich history of being one of the country's most important ports in the 1800s. The town is now a delightful seaside resort, popular with Australian tourists.
Day 8 - self drive Robe to Barossa (220 miles)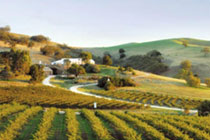 You'll continue along the coast, making your way past the town of Kingston and on to the wetland areas of the Coorong National Park, known for its lagoons and diverse birdlife. After crossing the Murray River, you'll continue to the world-famous Barossa Valley. Barossa is South Australia's gourmet capital. With quaint rural villages, beautiful scenery of farmland, rolling hills and vineyards there's a lot of stunning scenery to appreciate. Enjoy this afternoon at your leisure, perhaps indulging in gourmet food in a farm-to-table restaurant and excellent local wines from one of the 150 wineries in the area. Alternatively, for something different visit the beautiful Lyndoch Lavender Farm to stroll through acres of blossoms filled with butterflies, or simply relax with a spa treatment at your hotel.
Day 9 - self drive Barossa to Adelaide (50 miles)
This morning explore the Barossa Valley, perhaps visiting some of the famous local wineries including Orlando, Yalumba and Penfolds. Visit the German town of Tanunda and spend some time exploring the many local craft shops, before driving up to Menglers Hill for unsurpassed views of the valley. Visit some of the nearby farms that specialize in fine dried fruits, award winning cheeses and other fresh farm to table produce. Arriving in Adelaide, spend the evening at your leisure, enjoying one of the many fine restaurants, before you head into the outback on tomorrow's adventure.
Day 10 - Outback Safari - Kangaluna Camp and Wildlife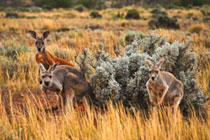 This morning you will be escorted to Adelaide's airport for your short flight to the town of Port Lincoln. Your tour leader will welcome you upon arrival and you will drive to the nearby Mikkira Station where you will visit a colony of wild koalas. After stopping in the town of Wudinna for lunch, you will leave the paved highway and cross into the outback to settle into your luxury safari tent at Kangaluna Camp. This afternoon you will begin your outback adventure, spotting the many animals which thrive here. you can expect to see three species of kangaroo, in addition to emus and many birds. Enjoy sunset drinks at the KolayMirica Rocks before a gourmet camp dinner with wine.
Day 11 - Outback Safari - Lake Gairdner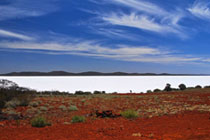 You will be amazed at your first sighting of Lake Gairnder, as from a distance this blinding white salt pan looks more like a piece of Antarctica than the Australian outback. You'll have the surreal opportunity to walk on the surface of the dry lake and look to the north to admire the seemingly endless white plain bordered by the striking ochre surrounds and islands. This afternoon you'll visit 1.6-billion-year old rock formations that are home to a lot of wildlife, including red, western grey and euro kangaroos. Tonight you'll enjoy a stargazing presentation of the southern hemisphere night sky aided by a computerized telescope. The stars here are incredible, with no nearby light pollution to dim the spectacle.
Day 12 - Outback Safari - Baird Bay - Uluru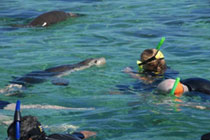 After an early morning drive you will arrive at Baird Bay. Here you'll board a boat for a truly unforgettable wildlife experience to a lagoon at Jones Island. You'll see bottlenose dolphins ride the bow wave of the boat, and have an opportunity to swim with them in shallow water. Across the bay is a resident colony of the rare Australian sea lion, and as you swim in the shallow lagoon, you'll enjoy the amazing experience of swimming and playing face to face with these curious, playful and friendly animals. After lunch, you'll head back to Port Lincoln in time to catch your connecting flight to Uluru.
Upon arrival at Uluru's airport you will be met by your driver and escorted to your hotel in the center of town.
Day 13 - Uluru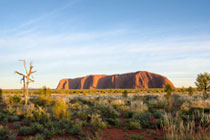 A short drive from your hotel lies the entrance to Uluru Kata Tjuta National Park. Your first up-close sighting of this massive outcrop is unforgettable. As you approach, the true size of the rock will leave you in awe. Your drive around the base will incorporate several stops along the way where you guide will explain the Aboriginal creation stories associated with this sacred site. At the Mutitjulu Waterhole you will learn of the creation stories of the poisonous snake, Liru and Kiniya the python, and their battle for control of Uluru, in addition to many other fascinating Tjukurpa (Aboriginal Dreaming) stories. At one of the stops you will see ancient rock art and learn of why Uluru is suck a significant site for the local Aboriginal people.
Your tour ends with a stop to marvel at the spectacular view of Uluru, with Kata Tjuta in the background before returning to your hotel.
Day 14 - Kata Tjuta
Another treat awaits as you start with an early morning departure from your hotel. From the park entrance, it's 30-minute drive through a remote desert landscape to where you can marvel at the amazing spectacle of the sun rising over the 36 domes that comprise the spiritual site of Kata Tjuta. Enjoy the silence and peace of this amazing place as the glow of the sun gradually brightens and wakes up the desert. This is followed by a gourmet picnic breakfast before driving to the rocks themselves.
On your short, easy hike through the towering rocks, some of which are up to 1500 feet above the desert, your guide will explain the significance of this site to the Aboriginal people, as well as giving a fascinating explanation of the geological forces that carved these rocks from the time of their formation over 500 million years ago.
Returning to your hotel you will have some free time to relax before tonight's Sounds of Silence dinner, where you will dine under the stars with an uninterrupted 360-degree view over the desert landscape. As you enjoy your gourmet dinner, a guide will give a stargazing lecture tour of the spectacular southern night sky.
Day 15 - Fly to Cairns
Welcome to Australia's tropical north! Arguably the most beautiful part of the country, and home to the world-famous Great Barrier Reef, you will find this region to be very warm, welcoming and laid-back. You will be met at the airport by your driver and escorted to your nearby hotel.
Day 16 - Daintree Rainforest Experience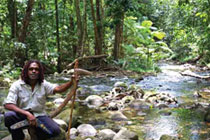 The Daintree is the oldest living rainforest in the world and is a fascinating place to visit. This morning you will drive along a beautiful coastal road via Mossman to Cape Tribulation. Arriving at the Daintree River and the entrance to this lush region, you will begin with an informative river cruise where you will learn about the local estuarine crocodiles and other wildlife found here. You'll experience an intimate view of the rainforest from an elevated boardwalk with a guide to explain the many varieties of flora and fauna surrounding you.
Following lunch, you'll have a unique experience of hand feeding a kangaroo before enjoying a refreshing win in the pristine Emmagen Creek. At Cape Tribulation Beach you can experience where the rainforest meets the reef before returning to your hotel.
Day 17 - Fly/Cruise to the Barrier Reef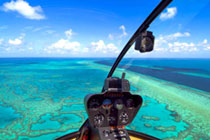 After a leisurely breakfast you will depart late morning for the heliport in the center of town from where you will be whisked away on a spectacular scenic flight over the Great Barrier Reef. Landing on a floating platform on the outer reef you will have a couple of unforgettable hours to snorkel in the otherworldly beauty of the reef, surrounded by huge schools of brightly colored fish and pristine coral. After refreshments you will return to Cairns by boat.
Enjoy the rest of the day at your leisure, relaxing at your hotel's pool or sampling some of the fine cuisine in the many nearby restaurants.
Day 18 - At Leisure in Paradise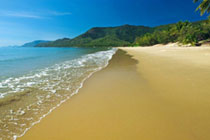 Today is your day off in paradise to enjoy as you please.
Day 19 - Depart for Home / Optional Extension
This morning you will be met by your driver and escorted to Cairns' airport for your flight home, or to continue to another exciting part of Australia.
Hotels listed below are given as suggestions only to illustrate the standard of hotels used.
Sydney - Parkroyal Darling Harbour - 4 Star - Luxury
Located on Darling Harbour, the Parkroyal offers premium accommodation within minutes of the city's most well-known sights and attractions. Many of the hotel's rooms enjoy views over Darling Harbour and nearby landmarks such as Cockle Bay, King Street Wharf and the Sydney Convention Centre. Hotel facilities include a gymnasium and business center as well as a choice of dining options including 24-hour room service.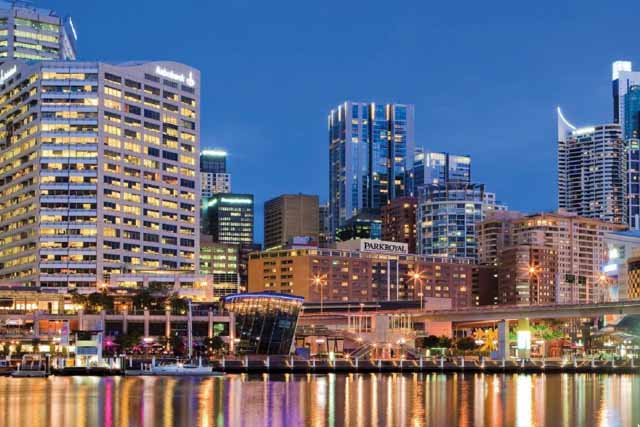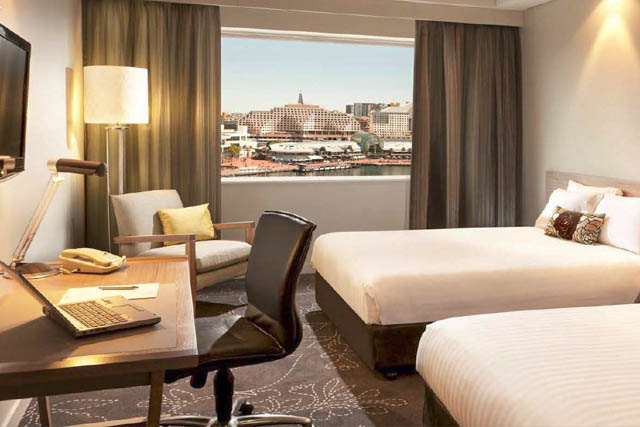 Sydney - Shangri-La Hotel Sydney - 5 star - Deluxe
The Shangri-La's location offers stunning views of Sydney's spectacular harbour, the Sydney Harbour Bridge and the world-famous Sydney Opera House. It is positioned in an elevated location overlooking the interesting, historic Rocks district and offers spacious and inspired luxury guest rooms and suites, with the city center's largest accommodations among Sydney hotels. In addition, the hotel offers some of the city's best dining, including the Altitude Restaurant and Blu Bar, both offering spectacular views of the city.
For accommodations in Apollo Bay, Port Fairy and Robe, there are a number of intimate bed and breakfast inns to choose from. Our travel professionals will be happy to offer recommendations.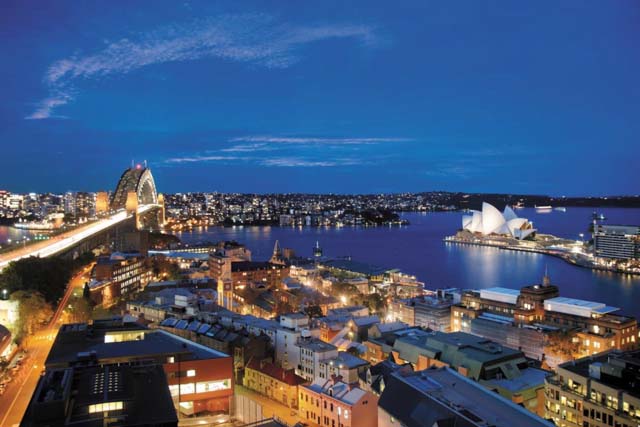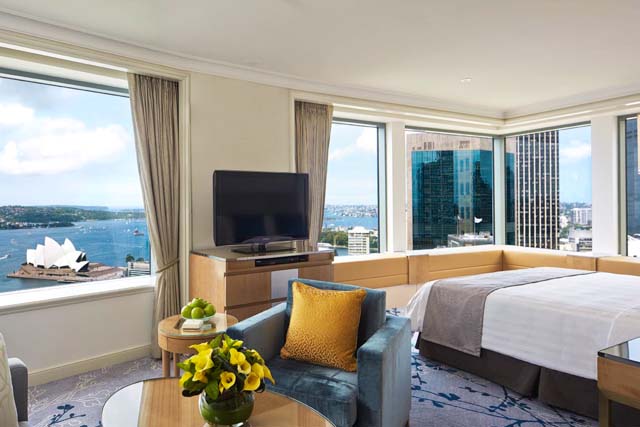 Barossa Valley - Novotel Barossa Valley Resort - 4 Star - Luxury
Nestled among the vines of Australia's oldest and finest wine region, the Barossa Valley Resort offers a restful haven. Located adjacent to the 18 hole Tanunda Pines Golf Course, the hotelboasts panoramic views across the beautiful Barossa Ranges and world-famous Jacobs Creek Vineyards. The hotel features a variety of modern, stylishly furnished accommodations with all the facilities, comforts and services one would expect from a 4-star hotel, including tennis courts, heated swimming pool, a gym and day Spa.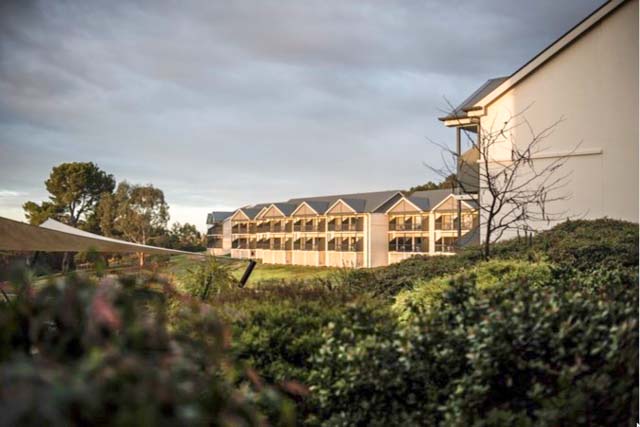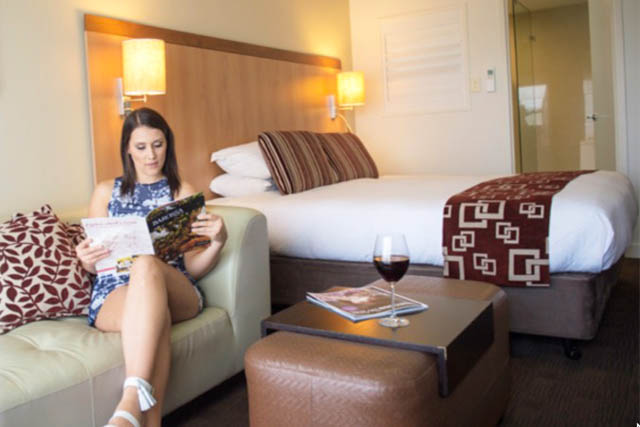 Barossa Valley - The Louise - 5 Star - Deluxe
Staying at The Louise is sure to be a memorable experience. Positioned atop a gentle hill with panoramic vistas across thousands of acres of vineyards, The Louise is home to the internationally acclaimed restaurant 'Appellation'.
Rooms are absolutely beautiful and luxurious, with inspired design, extensive private spaces and private terraces overlooking the vineyards. The restaurant's featured 10-course Wine Flight Tasting Menu and creative à la carte menu combines the freshest seasonal cuisine with excellent service and a world-class wine list.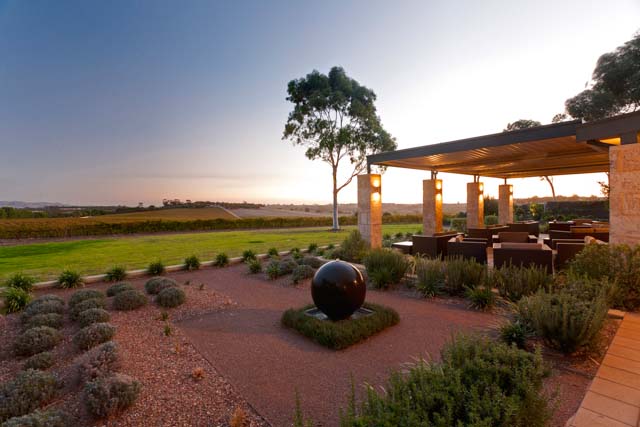 Adelaide - Crowne Plaza Adelaide - 4 Star - Luxury
Convenientlylocated in Adelaide's central business district on Hindmarsh Square, the Crowne Plaza offers recently refurbished, contemporary and stylish accommodations within easy walking distance to shopping, restaurants and nightlife. Deluxe rooms feature floor to ceiling windows and great city and park views from high floors. The hotel's Redsalt Restaurant specializes in the best of contemporary South Australian cuisine, featuring locally sourced produce and fresh, healthy menus.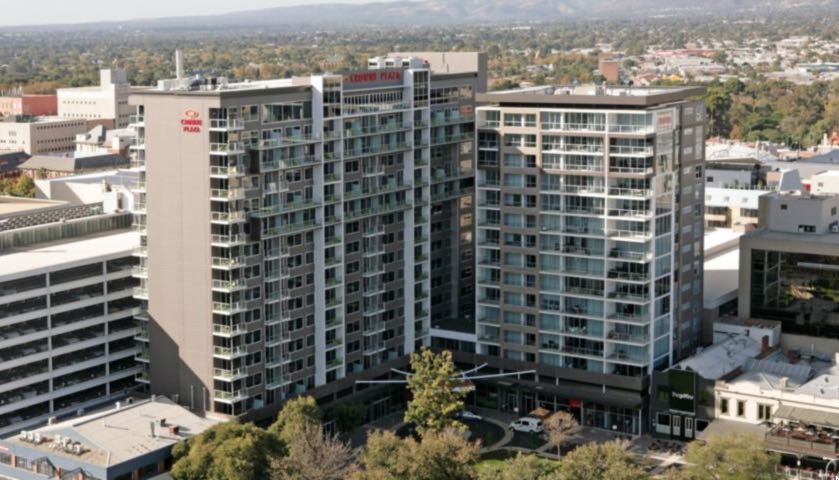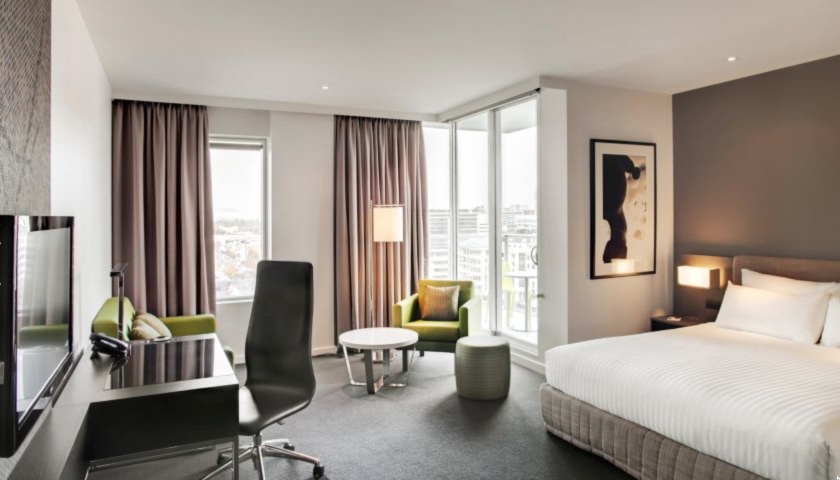 Adelaide - InterContinental Adelaide - 5 Star - Deluxe
Situated in one of the city's best locations, right on the River Torrens the award-winning Intercontinental is one of Adelaide's finest luxury hotels. Rooms are spacious, averaging over 400 square feet and feature all the luxurious that travelers have come to expect from one of the world's leading luxury hotel groups, including with separate walk-in shower and bath as well as generous work areas. The Riverside Restaurant features excellent cuisine from locally sourced produce, while the Shiki teppanyaki restaurant is an excellent ethnic alternative.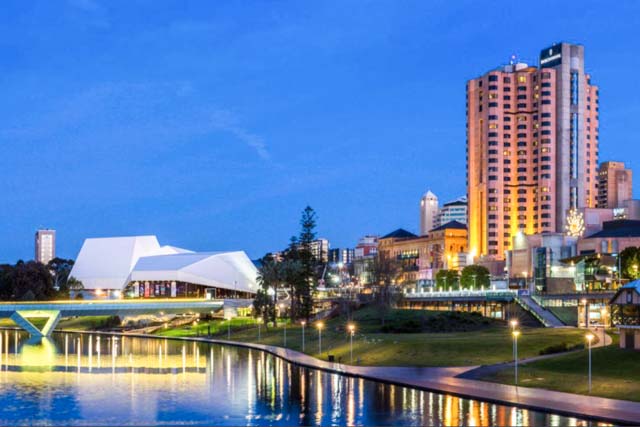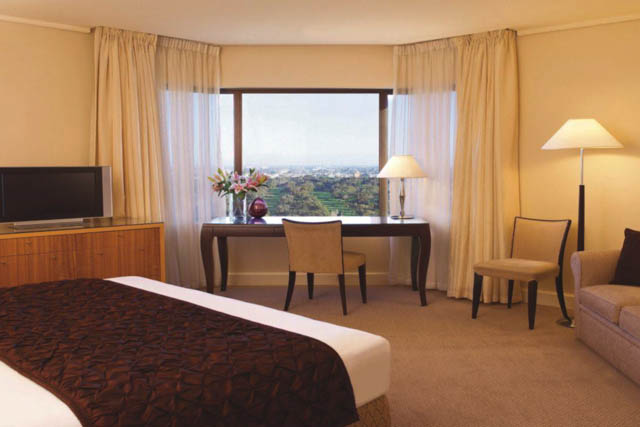 Gawler Ranges Outback - Gawler Ranges Luxury Tented Camp - Luxury Camp
Our exclusive luxury safari camp is set in a spectacular location in the Mallee Wilderness region of the Gawler Ranges. These unique permanent tents are designed to blend in harmony with the local environment. With luxury bedding, private bathrooms with running water and electricity, this is more of a 'glamping' experience than a bush camp. Gourmet meals are served at our open sided dining room, while you watch the incredible variety of wildlife that also calls this camp home. This is a truly amazing, unique experience where you can 'camp' in the bush without having to sacrifice any luxuries.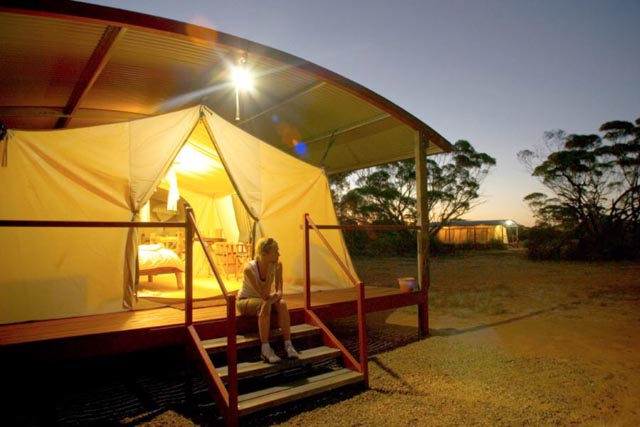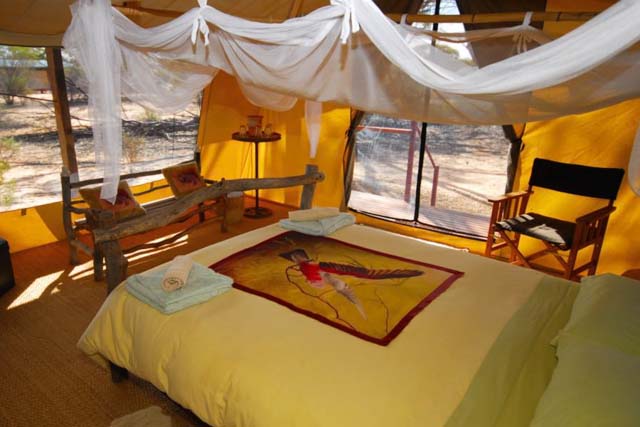 Uluru - Desert Gardens Hotel - 4 Star - Luxury
The Desert Gardens Hotel features comfortable, welcoming rooms and locally inspired dining options. There is a variety of accommodation options including desert view, deluxe rock view rooms and shady poolside rooms under a canopy of towering gum trees and garden beds dotted with native flowers. The hotel offers guests all comforts and conveniences of a 4-star hotel, and rooms can be configured with either one king or 2 double beds.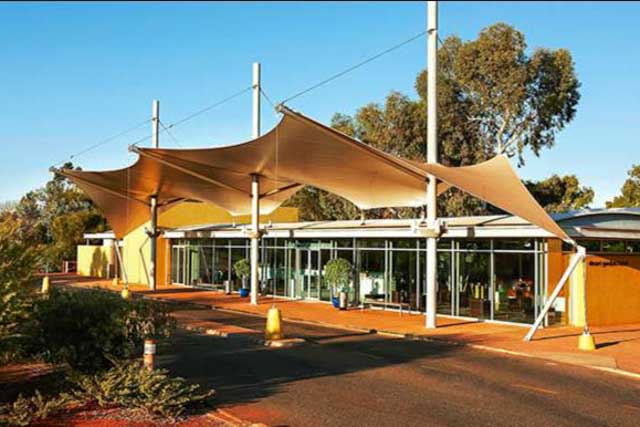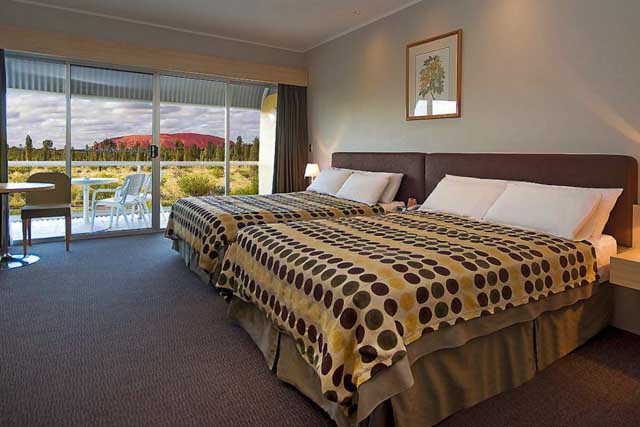 Uluru - Sails in the Desert Hotel - 5 Star - Deluxe
Named for the soaring white sails that crown its roof, this is one of Uluru'spremium hotels. The hotel's interior is decorated in local Aboriginal art, with a gallery in the lobby and artwork by renowned artists throughout the public areas and private rooms. The property also features a beautiful gumtree lined swimming pool and a range of dining options. Rooms are cool, comfortable and modern having been recently refurbished. This is an excellent luxury hotel for a memorable stay at Uluru.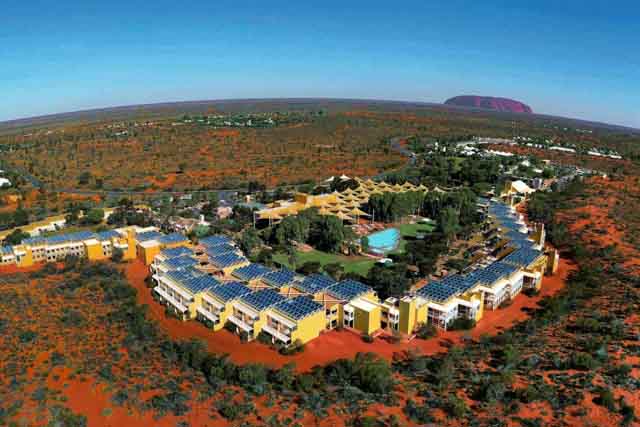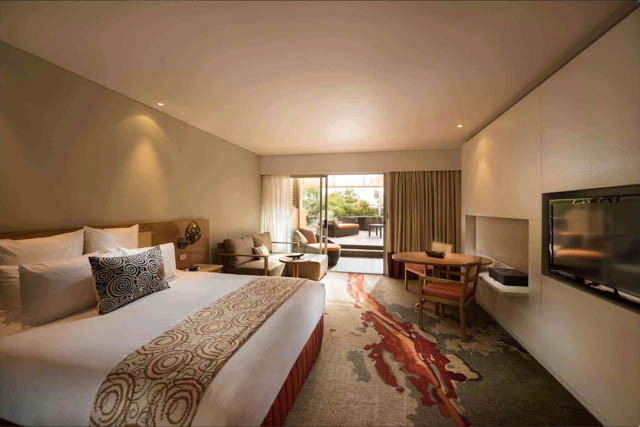 Cairns/Great Barrier Reef - QT Port Douglas - 4.5 Star - Luxury
This vibrant resort boasts quirky design and two hip new food and bar experiences – an interactive marketplace kitchen and a cool cocktail bar. Set in lush tropical gardens just minutes from the town of Port Douglas and Four Mile Beach, the hotel offers a range of stylish hotel rooms. Guests can enjoy the beautiful lagoon-style pool, designer spa and enjoy watching movies in the exclusive outdoor cinema during the cooler the winter months.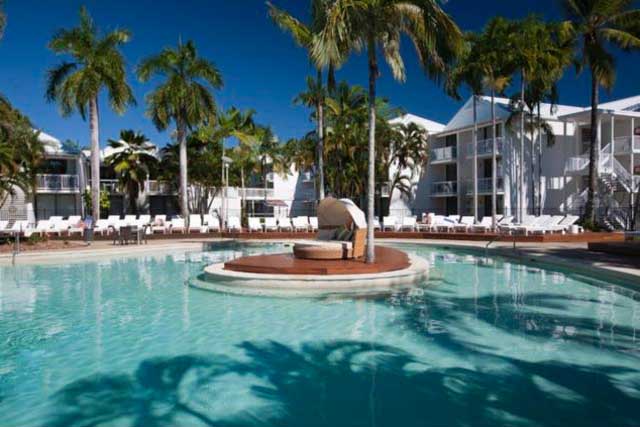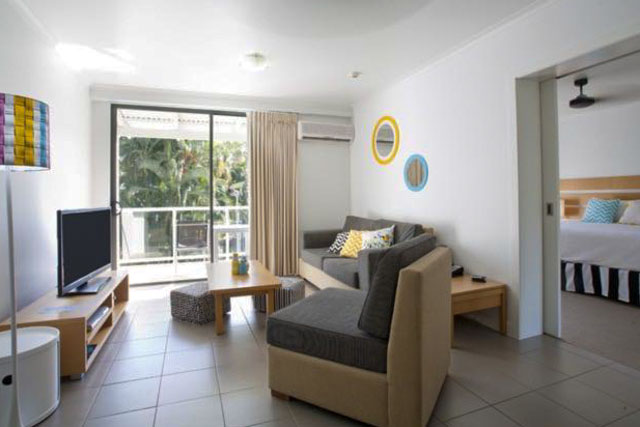 Cairns/Great Barrier Reef - Thala Beach Nature Reserve - 5 Star - Delux
Thala is a beautiful, luxury hotel set in a spectacular beach and rainforest setting close to the natural attractions of Cairns, Port Douglas and offering easy access by boat or aircraft to the Great Barrier Reef. Located an easy 45-minute drive north of Cairns airport and just south of the town of Port Douglas, the hotel offers eco-friendly accommodation options throughout a 145-acre property. All rooms are luxuriously furnished and offer either lush jungle or tropical ocean views. The hotel's restaurant offers modern Australian cuisine and spectacular uninterrupted Coral Sea views.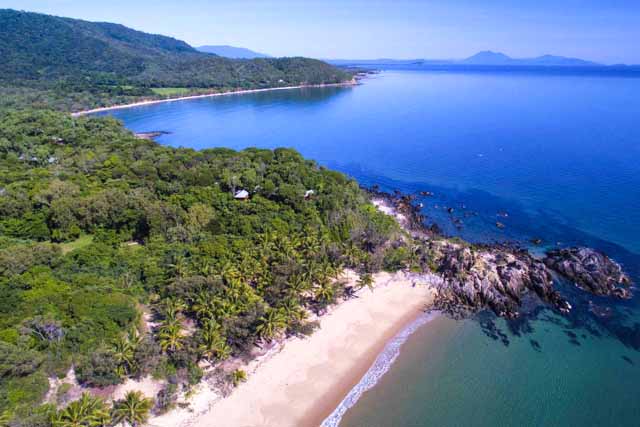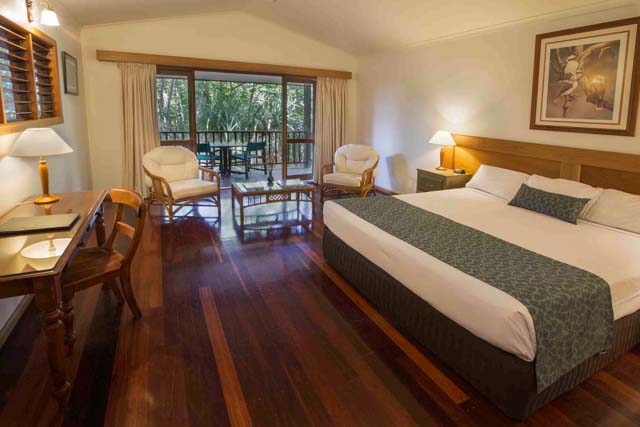 Optional Extensions
Tasmania (3-4 nights)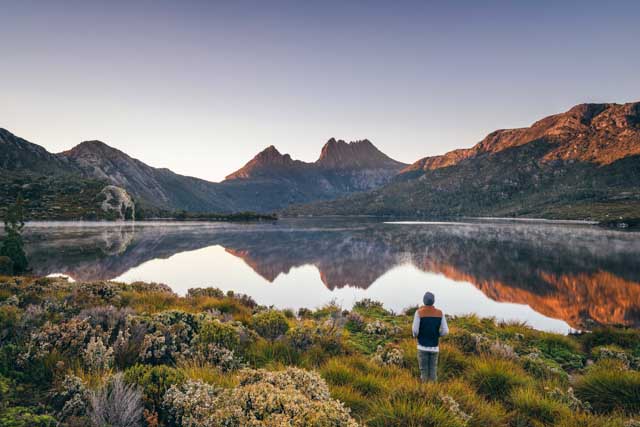 Located in far south-east Australia the island of Tasmania could practically qualify as a separate continent in itself due to its unparalleled diversity. The pristine serenity, spectacular beauty and clean air of its rugged coastlines and mountains make it a destination like no other. There's amazing wildlife here, great food and wine and a rich history, as well as beautiful beaches, stunning scenery everywhere you look and some of the best walks in the world.
3, 4 or 7-night Cruise on the Great Barrier Reef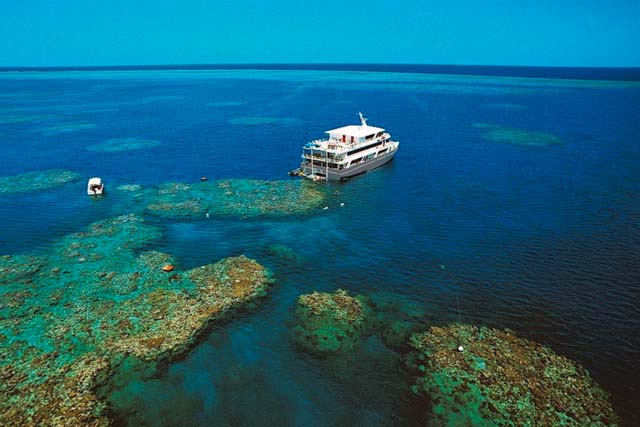 This unforgettable small vessel (44 passengers) cruise to the outer Barrier Reef will allow you to see parts of this pristine ecosystem rarely visited by day trippers from the coast. Every day you will visit a different reef, where you can snorkel, swim or SCUBA dive among coral and fish in clear, tropical waters. A resident marine biologist is on board to give briefings and explanations to further help you learn more about this amazing place. Your spacious and stylish en-suite private accommodation on board features large picture windows and fresh, creative local food is served in the dining room. Attentive service is always on hand from your friendly, well trained Australian and New Zealand crew.
Fully guided, private tours are priced from:
Luxury - US$6995 per person (4 star hotels)
Deluxe - US$8595 per person (5 star hotels)
Ultra-Luxe - US$10600 per person
Prices are per person, based on two people sharing a double room in low season.
Hotels listed on the Hotels Tab are given as suggestions only to illustrate the standard of hotels used.
Price Includes:
All hotels as described in the itinerary
Services of our representatives while in Australia
All transportation and tours as described in the itinerary in air-conditioned vehicles
Sightseeing and entrance fees
Meals as described in the itinerary

Price Excludes:
International flights
Travel insurance
Meals other than those listed in the itinerary
Gratuities for guides and drivers
Sightseeing other than described in the itinerary
Additional room charges of a personal nature in hotels (eg: room service, laundry, phone calls, etc.)