Belize Jungle Adventure
We have created this itinerary for the more adventurous traveler who doesn't mind getting a little wet and dirty on occasion in order to experience some wonderful and spectacular sites in Belize. Your base for the first half of this jungle adventure will be a lodge set in an jungle area containing over 65 caves to safely explore, as well as enjoying jungle hikes, waterfalls and the best natural wonders in the country to enjoy. A trip to the far south of the country to visit some of Belize's best jungle areas and national parks covers the second half of the trip, enjoyed from the comforts of a unique jungle lodge. An optional three-day trip to the Caribbean beaches of Placencia, a jumping off point for visiting the Mesoamerican reef, the second longest barrier reef in the world is easily added on to this fascinating itinerary.
Detailed Itinerary
Day 1 – Arrival in Belize (-)
Upon arrival at Belize City's International Airport you will be warmly welcomed by one of our representatives and escorted to your luxurious jungle lodge, approximately one and a half to two hours drive away, depending on the particular lodge. Enjoy your first evening in Belize with a refreshing drink while listening to the sounds of the tropical forest around you.
Day 2 – A.T.M. Cave (B)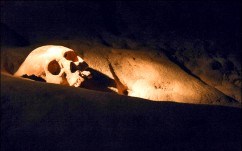 This morning you will awaken to the sounds of the tropical jungle surrounding your cabana, a far cry from where you were this time yesterday. After enjoying a delicious al-fresco breakfast, you will be met by your guide and driven the short distance to the Actun Tunichil Muknal (A.T.M.) Cave.
Also known as the 'Cave of the Crystal Maiden', this is one of the most spectacular natural and archaeological attractions in Central America. This trip is for people who don't mind a little rough going for a great reward. Following a short hike to the cave entrance and a swim into the interior of the cave, you will be able to see ancient Maya pottery as well as the crystallized remains of 14 ancient humans. Amazingly, there are no cordoned-off areas, no pathways, fences or partitions and it's amazing that people are allowed to visit here at all. This is a real highlight of the jungle region of Belize and a fine introduction to this fascinating country.
Day 3 – River Tubing, Jungle hike (B)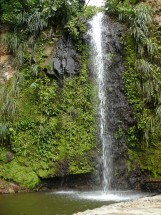 Another fascinating day lies ahead, as here in Belize you can enjoy the unique activity of floating through a cave on an inflatable tube. It's an amazing experience and one you'll remember for a long time. After a short drive you will arrive at the Caves Branch Archaeological Reserve. From here you will hike for about 30 minutes through the rainforest and a couple of dry caves until you come to the opening of the first cave through which the underground Caves Branch River flows. This is where the real fun begins as you begin floating through the caves. It's a short but amazing journey of about 45 minutes to an hour, depending on the amount of recent rainfall and the flow of the river. You will float past millennia old stalagmites and stalactites as your guide expertly explains the geology of the caves and provides fascinating information regarding the region. This afternoon, enjoy hiking one of the numerous jungle trails accessible from your luxurious lodge.
Day 4 – Xunantunich Ruins (B)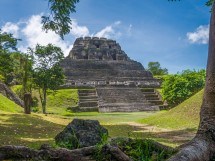 This morning you will enjoy a private guided tour of Xunantunich, one of Belize's most significant Maya sites. This is one of the most impressive Maya ceremonial centers in Central America, resting atop a natural limestone ridge with a great view of the jungle and Guatemala in the distance. Xunantunich is believed to have been constructed around 400B.C. and was deserted around A.D.1000. At its peak, it was home to a population of 7000-10000 Maya. Although it's not the highest Maya structure, El Castillo, the main pyramid here at 135 feet, is the second highest structure of any kind in Belize. This afternoon you will visit the Tropical Wings Nature Center, one of the best and most diverse butterfly ranches in the country.
Day 5 – Fly to Punta Gorda (B)
After a leisurely breakfast you will check out of your hotel and drive to the fascinating Community Baboon Sanctuary, a community based initiative that is set up to protect the black howler monkey (locally known as a baboon). There are 3,000 howler monkeys here, and on an easy 45-minute long walking trail in the forest you will be practically guaranteed to see wild monkeys, in addition to over 100 species of trees and thriving animal life including deer, anteaters, armadillos, iguanas, amphibians, reptiles as well as over 200 species of birds. Leaving here, you will visit the delightful, unique Belize Zoo, known for its natural environment with thick native vegetation and wild, spacious animal compounds housing over 125 animals native to Belize. A short drive away is Belize City's airport where you will check in for a scenic flight to Punta Gorda in the deep south of the country. After checking into your jungle lodge you will have the rest of the afternoon at your leisure.
Day 6 – Río Blanco National Park (B)
This morning you will visit the Río Blanco National Park. This park is an area of spectacular natural beauty and incredible scenery covering 105 acres of beautiful, untouched rainforest thriving with flora and fauna. Trails lead to the spectacular cascading falls of the Rio Blanco which then flow through wide, shallow pools and over smooth slabs of mudstone and sandstone, before pouring over a 15 foot ledge into a deep pool of crystal clear water, a perfect place to enjoy a refreshing swim surrounded by nature. Trees and flowering vegetation encircle the shady cliffs while Blue Morpho butterflies flutter amongst the surrounding trees. The Maya have lived along this river for countless generations and it is still an important part of their daily lives. You are likely to encounter village women washing clothes in the river as their children play in the pools. On the way back to Punta Gorda, you will stop and visit an indigenous Maya village, very typical of the region with thatch hut dwellings and no electricity, where women wear traditional dresses to learn a little more about the way of life here. You will have the rest of the afternoon free to enjoy the delights of your jungle lodge.
Day 7 – Aguacaliente Wildlife Sanctuary (B)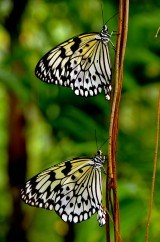 After a leisurely breakfast listening to the sounds of the jungle from your comfortable lodge, you will enjoy a trip to the Aguacaliente Wildlife Sanctuary, encompassing 5,492 acres. The Sanctuary is critical for the preservation of biodiversity in Belize and the region. The numerous lagoons found here are a feeding area for hundreds of waterfowl including wood storks, endangered jabiru storks, black-bellied whistling ducks, sandpipers and about a hundred other species. Many of the birds live year-round in the sanctuary and others use it as a transmigration point on their seasonal journeys through the Mesoamerican Biological Corridor. The forest and savanna areas of the Wildlife Sanctuary provide habitat for an incredible variety of animals including gibnuts, black howler monkeys, white-tailed deer, kinkajous, and endangered tapirs and jaguar, making this a truly unique destination to visit. Returning to your lodge you can enjoy a final dinner in the heart of the jungle before your return home tomorrow.
Day 8 – Return home (B)
After enjoying a final leisurely breakfast in your hotel, you will transfer by private car to Punta Gorda's airstrip for your scenic flight to Belize City, connecting to your international flight home.
Hotels listed below are given as suggestions only to illustrate the standard of hotels used. 
Jungle Lodge - Luxury - Mystic River
On a steep bank of the beautiful Macal River, eco-friendly Mystic River Resort Jungle Lodge offers the best of all worlds to those who travel to Belize. In this oasis of privacy, serenity and rejuvenation, there are no crowds, just the soothing sound of birds, rustling trees and soft breezes. Beautifully furnished by some of the finest local carpenters, all eight luxurious suites feature private patios overlooking the beautiful Macal River, and are some of the most stylish accommodations to be found in Belize's jungle region.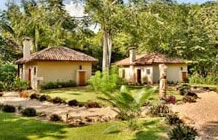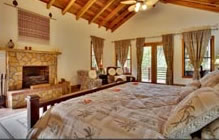 Jungle Lodge - Deluxe - Dream Valley
Newly opened in February of 2012, this luxury designer resort offers opulence, comfort and a perfect equilibrium between nature and luxury, which makes it one the best jungle lodges in the country. Dream Valley is beautifully located in the forests of western Belize and elegantly sits on the bank of the majestic Belize River under the canopy of the lush tropical jungles. The remote jungle setting of Dream Valley makes it a perfect place to relax. Chalets elegantly sit along raised platforms emphasizing the panoramic view of the silent Belize River and rich jungle in a truly breathtaking setting.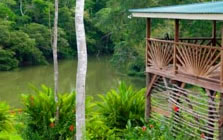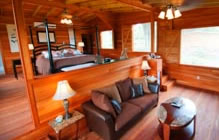 Punta Gorda - Luxury - Cotton Tree
Nestled between unspoiled rainforest and the banks of the Moho River, Cotton Tree Lodge offers a tranquil retreat on 100 private acres in the little visited Toledo District. Only 8 miles from the Caribbean, Cotton Tree offers the best of both worlds, with the ability to get up-close and personal with the rainforest, as well as easy access to the Caribbean Sea to enjoy snorkeling, diving, fishing or relaxing on the beach. Eleven private cabins and five Garden Vista rooms offer all amenities to keep you comfortable and are designed to make you feel as if you are part of the jungle. This is a unique hotel and is a destination in itself.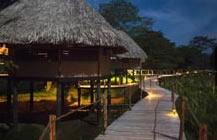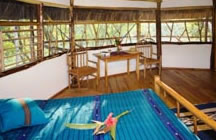 Punta Gorda - Deluxe - Belcampo
Set in the verdant hills above the Caribbean coast, Belcampo is a sanctuary from the everyday world. A Jungle Lodge, organic farm and a 12,000-acre nature reserve, Belcampo offers the best in local food and culture, active adventures, wildlife viewing, saltwater fly-fishing, and world-class hospitality. At the heart of Belcampo is the Main Lodge with The Jungle Farm Restaurant, The Rum Bar, the Jungle Spa, lounge areas, a swimming pool, and observation decks that open to stunning vistas of the coast, the Maya Mountains and a seemingly endless pristine rainforest. The 16 individual, luxurious suites are well appointed with plush beds, screened fresh-air verandas, and spa-style bathrooms with floor to ceiling tropical rainforest views.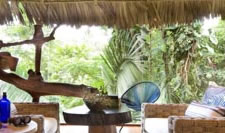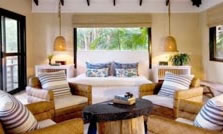 Pricing
From $3295 per person (Luxury Hotels) or $3995 per person (Deluxe Hotels), for a private tour based on two people traveling in low season sharing a room.
Hotels listed on the Hotels Tab are given as suggestions only to illustrate the standard of hotels used. 
Price Includes:
All hotels as described in the itinerary
Services of Blue World Journeys's representatives while in Belize
All transportation as described in the itinerary in a private air-conditioned vehicle with an English speaking driver / guide
Private sightseeing and entrance fees
Meals as described in the itinerary
Bottled water in the vehicle during all transfers 
Price Excludes:
International flights
Travel insurance
Meals other than those listed in the itinerary
Gratuities for guides and drivers
Sightseeing other than described in the itinerary
Additional room charges of a personal nature in hotels (eg: room service, laundry, phone calls, etc.).