Chiapas and Yucatan Grand Tour
Two of Mexico's most fascinating places are combined in this fascinating, unforgettable journey highlighting the Yucatan Peninsula's most vibrant and spectacular colonial cities as well as its finest historical traditions of 19th century convents and haciendas, with the mystical jungles and highlands of Chiapas. Chiapas is without a doubt Mexico's most deeply rooted indigenous state and is a paradise for travelers with an adventurous spirit and a desire to experience some of Mexico's most spectacular natural beauty of lush, tropical jungles, steaming volcanoes, thundering waterfalls and whitewater canyons without sacrificing comfort, staying in unique and luxurious accommodations. Yucatan is crammed full of rich cultural tradition, with spectacular colonial cities, stunning ancient ruins and delightful, friendly Mayan villages that offer a wonderful insight into the culture of this region. Another highlight of this fascinating area are the emerald colored tropical waters of the Caribbean Sea, a place to simply relax and enjoy nature in a beautiful, tropical setting. Two days at your leisure here are included to end this fascinating adventure through one of Mexico's most interesting regions. If lying on a beach isn't your style, we can easily arrange tours to local ruins and the stunning nearby Sian Ka'an Biosphere Reserve during these last two days.
Detailed Itinerary
Day 1 – Arrive in Tuxtla Gutierrez, transfer to San Cristóbal de las Casas (-)
You will be warmly welcomed upon arrival at Villahermosa airport by one of our representatives and driven approximately 60 minutes to your hotel in San Cristóbal de las Casas.
Day 2 – City tour, visit indigenous villages (B)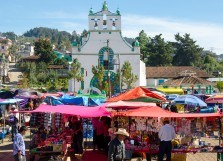 After a leisurely breakfast in your stylish hotel, you will be taken on a private tour of this beautiful city. You will visit the delightful Templo and Ex-Convento of Santo Domingo, San Cristóbal's most beautiful church, followed by the nearby fascinating Na Bolom research center of Chiapas' indigenous cultures and natural environment.  Following a lunch break where you can sample one of the city's fine restaurants, your tour will continue to the Museum of Mayan Medicine, as well as the unique Chiapas Museum of Amber, where you will learn about this local 30 million year old pine resin.  A peaceful and welcoming atmosphere, coupled with an artistic and bohemian flair, characterizes San Cristobal.  The colonial streets and alleyways lined with red-roof tiles and white-washed walls beg wanderers to explore and discover the nooks and crannies; alleyways open up into picturesque arcades and plazas showing off their authentic colonial architecture and hosting churches, museums, cafés, restaurants and artisan workshops, among other delights. This afternoon you will visit the town of San Juan Chamula, home to an independent Tzotzil group known as Chamulans, who carry out some unique, traditional religious practices.  The Templo de San Juan in the plaza is painted white, decorated with a vivid green and blue arch.  Inside the dark interior, candles, incense, a pine needle carpeted floor and traditional worshipers make a powerful impression.  The nearby town of San Lorenzo Zinacantán is the main village of the Tzotzil Zinacantán people, where men wear pink tunics, embroidered with flower motifs and ribboned palm hats, while women wear pink and purple shawls over embroidered blouses.  Amatenango Del Valle is a pottery village, demonstrating traditional, pre-Hispanic methods where a fire is burned around the clay, not inside a kiln.
Day 3 – Cañon del Sumidero (B)
Following breakfast, today's tour will continue to El Aguacero, a beautiful series of waterfalls that plunge into the sheer Rio la Venta canyon.  This afternoon, following a lunch break in the pretty jewel of a colonial town of Chiapa de Corzo, you will take a private 2 hour boat tour through the Cañon Del Sumidero a spectacular fissure in the earth, with a river running through the bottom of the canyon's towering, 800m high rock walls.  After returning to San Cristóbal you will have the evening to enjoy exploring this safe, walkable city center at your leisure. 
Day 4 – Drive to Agua Azul, Misol Ha, continue to Palenque (B)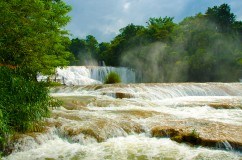 Following a leisurely breakfast this morning you will embark on a half-day trip to visit the aquatic wonders of Agua Azul and Misol-Ha.  Agua Azul is a long series of glittering cascades coursing through lush valleys in the Sierra Madre de Chiapas Mountains.  The powerful, shimmering falls, white water and deep, clear pools, rush through the steaming jungle.  With sparkling turquoise water set against a deep green jungle background, the falls are probably one of the most spectacular natural attractions in Mexico.  A short drive away is Misol-Ha.  Over 100 feet high, these stunning falls empty into a deep, calm pool surrounded by tropical vegetation at the base of jungle-covered cliffs.  Chiapas, with its pine forest highlands and steamy lowland rainforests filled with a huge variety of flora and fauna, is one of Mexico's most beautiful states.  Today's three-hour drive through the mountains and jungle to Palenque will not disappoint.  You will have plenty of opportunities to stop for scenic photos or so simply enjoy the spectacular vistas. 
Day 5 – Tour Palenque ruins, transfer to Campeche (B)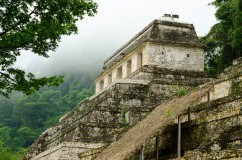 One of the most impressive pre-Hispanic ruin sites in Mexico, Palenque is located in a beautiful primordial jungle setting.  Containing an array of soaring, jungle swathed temples, it was first occupied around 100BC.  However, abandoned around 900AD, and being in one of Mexico's most lush, wet areas, the ruins were quickly overtaken by the surrounding jungle and remained unknown to the western world until 1746.  Your private tour of the ruins today will encompass all of the major temple complexes including the amazing eight level Temple of the Inscriptions, as well as learning about the fascinating pre-Hispanic culture of Mesoamerica.  Following your tour you will drive approximately three hours to the Colonial city of Campeche.  This UNESCO World Heritage listed city features a beautifully renovated historic center with perfectly restored pastel painted buildings and cobblestone streets and is simply one of Mexico's most attractive cities.  The evening will be spent enjoying the city at your leisure.
Day 6 – Campeche (B)
After a leisurely breakfast in your hotel, you will be given a tour of the city center, starting at the Plaza Principal, shaded by carob trees and dating from 1531.  Campeche is famous for its almost unbroken 2km long wall, rising up to 24ft high that took over 50 years to build and surrounds the city center.  The wall was linked with 8 bulwarks, constructed from limestone from nearby caves.  Seven remain and contain a lot of historical artifacts and indigenous handicrafts.  They are climbable and offer sweeping views of the city.  One of them, Santiago Baluarte, houses a Botanical Garden featuring local plants.  La Casa 6 cultural center is in a restored 18th century house and recreates how the city's high society lived in the 19th century.  The Archaeological Museum of Campecheand San Miguel Fort house an excellent archaeological museum, a visit to which will complete the tour.  You will be free to enjoy the evening at your leisure.  As the sun goes down enjoy a drink at La Casa Vieja, a colonnaded balcony restaurant overlooking the Plaza Principal and Cathedral, or some delicious Campechano cuisine in one of the city's fine restaurants.
Day 7 – Ruta de los Conventos, transfer to Merida (B)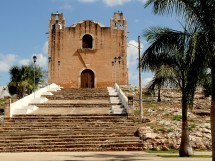 Today you will experience life in the countryside of the Yucatan Peninsula along the delightful 'Convent Route'.  This tour will take you off the beaten path into the real Yucatan, away from modern development and will show you what life is like for the modern day Mayans.  The route meanders through the west-central part of the state, visiting Mayan villages, archaeological sites, colonial churches, cathedrals and convents.  Time for lunch in a local restaurant will give you a taste for the unique and delicious cuisine of Yucatan.  This afternoon, a visit to one of the area's restored haciendas will give an insight into 19th century rural life for the elite landowners and the local workers, before arriving in Merida for a two night stay.
Day 8 – Merida City Tour (B)
Following breakfast in your hotel, you will take a private guided tour around the city of Merida.  This is one of Mexico's finest colonial cities and a real jewel filled with colorful buildings, historic Spanish architecture, narrow, bustling streets and beautiful central plazas.  The Plaza Grande in the center of the city is one of the country's prettiest plazas shaded by huge laurel trees and is a hive of activity all day long.  After lunch, Merida's finest museum will be visited with the rest of the afternoon to enjoy at your leisure.  Tonight, perhaps enjoy the sound and light show at Merida's modern Museum of the Mayan World before enjoying a cocktail while relaxing to some live jazz in a rooftop terrace bar.
Day 9 – Transfer to Izamal, continue to Valladolid (B)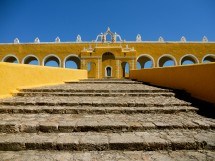 This morning you will be driven to the beautiful, delightful jewel of a colonial town of Izamal.  You will be given a tour around the center of the town in a horse drawn carriage to enjoy this pretty Mayan town, where most buildings around the center of town are painted a bright yellow color to match the Convento de Izamal, an 18th century convent.  Following time for lunch at the delightful Mayan Restaurante Kinich, a one hour drive will take you to Valladolid, another beautiful colonial city, where you will enjoy the experience of visiting a deeply Mayan town, complete with local women dressed in traditional Huipiles, great Yucatecan cuisine and colonnaded, pastel, stucco and cobbled streets that give Valladolid a unique Spanish feel.
Day 10 – Tour Chichén Itzá, continue to Tulum (B)
After breakfast in your hotel this morning, our guide will drive you the short distance to the world-famous ruins of Chichén Itzá.  Getting here early will ensure you beat the crowds while you enjoy a guided morning tour around this spectacular 1500-year-old site, featuring the Great Pyramid of Kukulkán, the Great Ball Court and dozens of other fascinating structures and temples.  Following the completion of the tour, you will be driven approximately two hours through Yucatan's lush forest scenery dotted with traditional Mayan villages to Tulum.  This is one of Mexico's most spectacular coastlines with sugar like sand and jade-green water.  After checking into your hotel for the next three nights, you will have the remainder of the afternoon to enjoy the beach at your leisure.
Days 11, 12 – Tulum (B)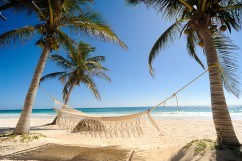 Two days are included to enjoy at your leisure on the beautiful beaches of this lovely region of Yucatan.  However, lying on the beach isn't everybody's idea of a vacation, so we can easily arrange something more interesting.  If you can possibly drag yourself away from the gorgeous white sand directly in front of your hotel room, a very worthwhile day trip to the nearby Sian Ka'an Biosphere Reserve is a wonderful option.  This is a spectacular park and, at 1.3 million acres is the largest protected area in the Mexican Caribbean.  It is an area of pristine natural beauty offering wetlands with a resident population of over 330 bird species, 103 mammal species, and at least 23-recorded Mayan ruin sites.  The opportunity to travel by guided boat or kayak throughout various habitats of the reserve and learn about ecosystems, tropical birds and plants, and Mayan culture and history is a highlight of the reserve and although the reserve lies very close to the Tulum hotel zone, it is so large and under visited that you will feel you have the whole place to yourself. 
Another option is an excursion to Cobá.  The Maya built many intriguing cities in the Yucatán, but few grander than Cobá ("water stirred by wind").  Much of this 67-sq.-km (26-sq.-mile) site remains unexcavated.  As an important city-state, Cobá flourished from A.D. 632 (the oldest carved date found here) until after the rise of Chichén Itzá, around 800.  After the site you will drive to Xel-Ha to enjoy the rest of your day in this amazing and natural aquarium, where there is lots to see and do.  Snorkeling at Xel Ha is as safe as it gets and wildlife is abundant.  Here you can swim with dolphins or take a walk along the myriad of paths through the mangrove forests or maybe take a trip along the underground river.  Feed the fish from the floating bridge to see why this place is so highly rated.  Xel-Ha is a beautiful ecological park that still manages to retain sustainability.
Day 13 – Transfer to Cancun (B)
A private car will transfer you to Cancun airport (approximately 2 hours) and your flight home.
Hotels listed below are given as suggestions only to illustrate the standard of hotels used. 
San Cristóbal De Las Casas - Luxury - Casa Felipe Flores
Casa Felipe Flores is a delightful boutique hotel located in the center of the historic district of San Cristóbal de las Casas, two blocks from a main pedestrian walkway filled with restaurants and bars leading to the main plaza.  This historic landmark features authentic Mexican and Guatemalan furniture throughout, Talavera tile, original artwork and collectibles and books representing the Maya region of Chiapas.  Guests can relax in three flower filled courtyards, or on the rear sun deck.  Each room features a fireplace for those chilly mountain evenings.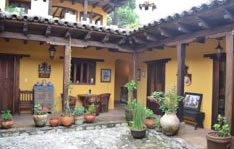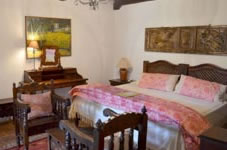 San Cristóbal De Las Casas - Deluxe - Hotel Bo
Hotel Bo is one of the newest, most stylish boutique hotels in San Cristóbal de las Casas.  Tastefully decorated in muted hues, the hotel is an oasis of peace and tranquility, just a five-minute walk from the main plaza.  The rooms are modern and luxurious, centered around a relaxed garden setting and all feature flat screen televisions, Egyptian cotton sheets and Etro toiletries.  The hotel's Lum restaurant serves creative, modern Chiapan and Mexican cuisine.  This is one of our favorite places to stay in the city, and we're sure you'll agree.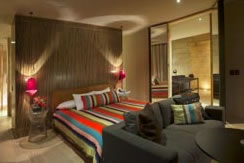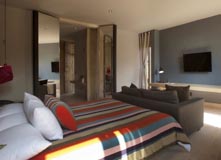 Palenque - Luxury - Villa Mercedes
A modern retreat inspired by the surrounding tropical forest, Villa Mercedes has an exceptional location 5 minutes from the archaeological site of Palenque and a few miles from spectacular landscapes, lakes and waterfalls.  Surrounded by exotic natural beauty and gorgeous gardens, the hotel has been designed for families and business travelers.  Featuring 92 comfortable and modern 4-star rooms and suites for you to enjoy, as well as facilities that include a refreshing pool, temazcal (traditional Mayan sauna), spa and restaurant, among many other elements that make Villa Mercedes a great choice among hotels in Palenque.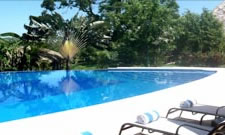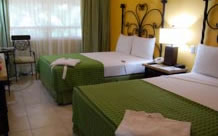 Palenque - Deluxe - Quinta Cha Nab Nal
Located three kilometers from the archaeological site of Palenque, this luxury hotel evokes a Mayan palace complex of the classic period.  Traditional pre-Hispanic design, updated with modern sophistication awaits you.  The rooms are set amidst luxuriant jungle flora and the swimming pool reflects the typical waterfalls found in the ruins of Palenque.  This is without a doubt the most luxurious hotel in the Palenque area, featuring beautifully decorated large rooms, with king-size beds, comfortable sitting areas and Botanicus and Sak Pó toiletries in the bathrooms.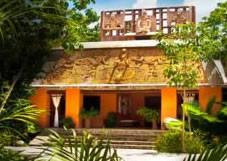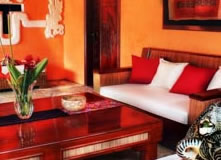 Campeche - Luxury - Don Gustavo Boutique Hotel
With an excellent location on a pedestrian street two short blocks from Campeche's main plaza, this excellent hotel offers luxuriously furnished rooms and suites in a beautifully restored mansion.  The rooms overlook a central courtyard and feature modern amenities while maintaining a traditional architectural style.  Large walk-in showers and plush mattresses make the air-conditioned rooms an oasis of luxury in the city.  The hotel's restaurant serves excellent Campechano cuisine and we are sure you'll agree that this is one of the best places to stay in Campeche's historical center.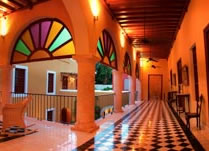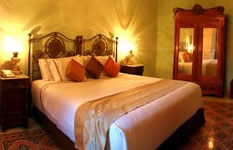 Campeche - Deluxe - Puerta Campeche
A palette of richly chosen colors and an assortment of textures characterize the Hacienda Puerta Campeche.  This luxurious hotel is a gem flawlessly displaying a collection of restored 17th century historical houses.  Wander through corners of deeply colored yellows and oranges, exploring traditional lifestyle with modern
luxuries.  Discover the beauty of this colonial hotel along with attentive, personal service.  The meandering, one-of-a-kind pool has numerous secret alcoves and flows through the hotel.  15 traditionally decorated guest rooms or suites, fully restored in original buildings feature modern technology and 18-foot ceilings with exposed beams and rafters, comfortable beds, and cool tiled floors.  This beautiful hotel is a member of the Starwood Luxury Collection of hotels and offers the finest accommodations in the city.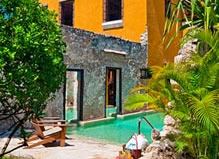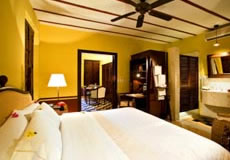 Merida - Luxury - Casa Lecanda
Casa Lecanda is a small, luxury boutique hotel located in the historic center of the beautiful city of Merida, Yucatan. Built in a restored 19th century colonial home, the hotel has been designed to maintain its uniqueness with particular attention to architecture, detail and comfort.  Lovely patios and courtyards in the house offer a variety of comfortable reception areas for relaxing.  Casa Lecanda offers seven distinct rooms uniquely decorated with custom crafted furniture, original clay tile floors, beautifully restored doors and windows. Rooms vary in layouts, sizes, bathrooms and patios to offer guests a complete experience of the Yucatecan home while providing all the amenities of a contemporary luxury hotel.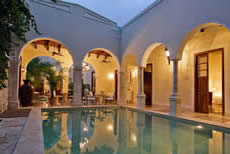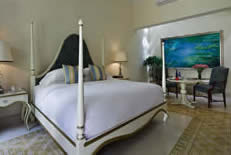 Merida - Deluxe - Rosas y Xocolate
A member of the exclusive Design Hotels International group, Rosas y Xocolate is a uniquely designed, luxurious boutique hotel located on Paseo de Montejo, one of Merida's most exclusive streets a stone's throw from the delightful historic center.  Rooms are cool and modern with touches of traditional architecture and lovely bathrooms featuring private, open air showers and bathtubs.  The restaurant features excellent Yucatecan and Mexican cuisine, while enjoying a cocktail on the rooftop bar while listening to live jazz playing is a wonderful way to end a day of sightseeing around Merida.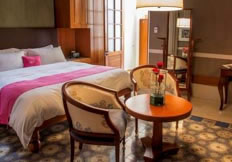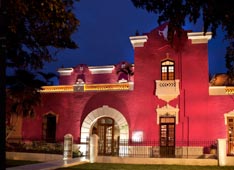 Valladolid - Luxury - Mesón Del Marqués
This stylish hotel is excellently situated on Valladolid's main plaza, in the heart of the city's historic district.  Recently remodeled, the hotel features modern rooms and luxurious, spacious suites in a mix of modern and traditional style.  Its convenient location allows guests to enjoy the culinary and cultural delights of the city's historic center right outside their doorstep, while the Hostería Del Marqués restaurant offers some of the city's finest dining.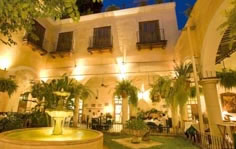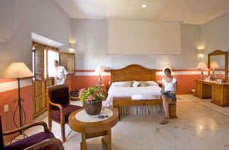 Valladolid - Deluxe - Coqui Coqui
A secluded one-room suite set atop a perfumery, built in the 16th century, Coqui Coqui caters to your senses with the signature scents of their handmade fragrances, creams, oils and candles.  The view from the suite over the beautiful tropical garden, a delightful pool and the tailored spa treatments will pamper you during your stay at this unique property.  The suite benefits from an excellent location, on the historical, charming Calzada de los Frailes, a few blocks away from the main plaza and walking distance form the silent and secluded Convent of San Bernardino de Siena.  As life slows down, your senses will wake up in a new peaceful dimension.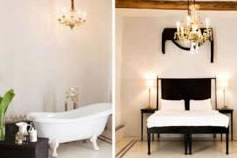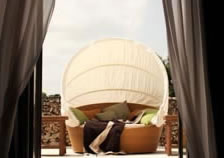 Tulum - Luxury - Las Ranitas
This eco-boutique hotel has been designed with respect for the local environment as an ecologically friendly property with a low environmental impact.  Renewable energy is used to power the stylish, modern rooms and the architecture incorporates natural cross ventilation requiring less of a dependence on air conditioning.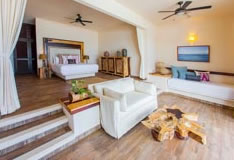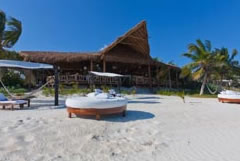 Tulum - Deluxe - Be Tulum
Be Tulum is a modern boutique hotel for travelers seeking total relaxation.  Here, you can immerse yourself in a blend of luxury and nature, in an unparalleled hideaway surrounded by a tropical forest and the ocean.  This stylish beachfront hotel has been designed to blend in with its natural surroundings, between the tropical forest, the white sand and the sea.  Luxurious rooms feature private jacuzzis, air conditioning, balconies and modern furnishings, while suites have individual private plunge pools.  The hotel's beach club offers a variety of services and amenities to make a day at the beach a memorable occasion with a pool, bar, restaurant, restrooms and showers, as well as beach chairs for guests.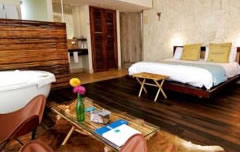 Pricing
From $4995 per person (Luxury Hotels) or $5565 per person (Deluxe Hotels), for a private tour based on two people traveling in low season sharing a room.
Hotels listed on the Hotels Tab are given as suggestions only to illustrate the standard of hotels used. 
Price Includes:
All hotels as described in the itinerary
Services of Blue World Journeys's representatives while in Mexico
All transportation as described in the itinerary in a private air-conditioned vehicle with an English speaking driver / guide
Private sightseeing and entrance fees
Meals as described in the itinerary
Bottled water in the vehicle during all transfers 
Price Excludes:
International flights
Travel insurance
Meals other than those listed in the itinerary
Gratuities for guides and drivers
Sightseeing other than described in the itinerary
Additional room charges of a personal nature in hotels (eg: room service, laundry, phone calls, etc.).