Yucatan's Natural Wonders
The Yucatan Peninsula is a paradise of nature lovers. From 65 million year old cenotes (water filled caves) that are a delight for swimming in, to protected biosphere reserves teeming with birds and mammals, it's little wonder that the area is one of the most fascinating and diverse regions in the Americas for getting intimate with nature. This tour is designed to showcase the most spectacular natural wonders of the area, at an easy-going pace, while simultaneously enjoying some of the region's fascinating culture and history. Two relaxing days on one of the most beautiful beaches in the Americas are included at the end of the tour to enjoy at your leisure. The hotels we have selected for this tour are destinations in themselves, making this tour one of our most popular luxury vacations.
Detailed Itinerary
Day 1 – Arrive in Cancun, Transfer to Valladolid (-)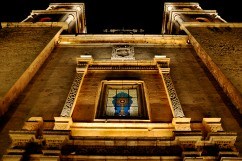 You will be warmly welcomed upon arrival at Cancun airport by one of our representatives. You will leave the bland, mass tourism of Cancun behind as you enjoy an easy two-hour drive through Yucatan's lush countryside to the city of Valladolid, your base for the next three nights.
Day 2 - Valladolid, Ek' Balam (B)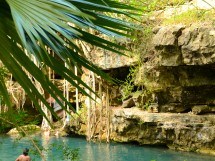 This morning after enjoying a leisurely breakfast in your centrally located hotel, you will be given a private morning tour of the city. Valladolid is a beautiful colonial city, that has the heart of a deeply Mayan town, complete with local women dressed in traditional Huipiles, great Yucatecan cuisine and colonnaded, pastel, stucco and cobbled streets that give the city a unique Spanish feel. The Parque Francisco Canton is the main plaza in the center of this pretty town. Streets flank all sides of the plaza, with a traffic-free, leafy park in the center.
You will visit the Templo de San Bernardino dating from 1560, where the architecture includes beautiful rose-colored walls and pretty arches. Valladolid has some interesting craft workshops that produce leather goods, perfumes, candles and oils, among other things, and a visit to some of these workshops will give you an insight into local craftsmanship. This afternoon we will drive you to the fascinating archaeological site of Ek' Balam, set in the forest north of Valladolid. Vegetation still covers much of the area, however much of the site has been excavated, including the huge 450ft long Acropolis, upon which is built Ek' Balam's main pyramid, a 95ft high structure featuring a huge jaguar mouth. A short drive away is the X-Canché Cenote, where the more adventurous can enjoy a cycling, rappel, zip-line and kayak tour in the forest.
Day 3 - Rio Lagartos (B)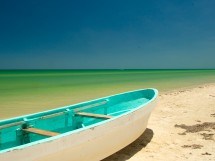 This morning, an early start will be necessary to fully enjoy today's activity, a visit to the Biosphere Reserve of Río Lagartos. Located about 60 miles north of Valladolid. The Maya called this place Holkobén and it was known for its nearby salt mines. Today, however it is better known for its mangrove lined estuary and its dazzling array of bird and mammal life. Between April and September, up to 18,000 flamingoes are in the reserve, which can turn the sky a fiery red as they take flight. Between October and March there are fewer flamingoes but the bird population of the reserve increases to over 300,000 birds (179 resident species and 156 migratory species), as well as a number of crocodiles. Your private boat tour this morning will show you around the reserve. After a leisurely lunch at one of the simple seafood restaurants serving the day's catch, you will drive back to Valladolid, where a refreshing swim in the beautiful Cenote Zamula near the town center is an experience not to be missed. Tonight, enjoy a stroll around the beautiful city center and its peaceful streets as the residents of Valladolid do every evening.
Day 4 – Chichén Itzá, Tulum (B)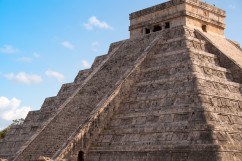 After breakfast in your hotel this morning, our guide will drive you the short distance to the world-famous ruins of Chichén Itzá. Getting here early will ensure you beat the crowds while you enjoy a guided morning tour around this spectacular 1500-year-old site, featuring the Great Pyramid of Kukulkán, the Great Ball Court and dozens of other fascinating structures and temples. Following the completion of the tour, you will be driven approximately two hours through Yucatan's lush forest scenery dotted with traditional Mayan villages to Tulum. This is one of Mexico's most spectacular coastlines, with sugar like sand and jade-green water. After checking into your hotel for the next four nights, you will have the afternoon to enjoy the beach at your leisure.
Day 5 – Sian Ka'an (B)
If you can possibly drag yourself away from the gorgeous white sand directly in front of your hotel room, today will be a very worthwhile excursion to the fascinating Sian Ka'an Biosphere Reserve. This is a spectacular park and is the largest protected area in the Mexican Caribbean (approximately 1.3 million acres). It is an area of pristine natural beauty offering wetlands with a resident population of over 330 bird species, 103 mammal species, and at least 23-recorded Mayan ruin sites. The opportunity to travel by guided boat or kayak throughout various habitats of the reserve and learn about ecosystems, tropical birds and plants, and Mayan culture and history is a highlight of the reserve and although the reserve lies very close to the Tulum hotel zone, it is so large and under visited that you will feel you have the whole place to yourself.
Day 6 – Coba, Xel-Ha (B)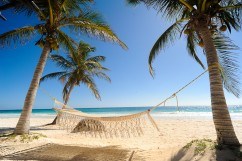 An early start today will be required meet your guide for your excursion to Cobá. The Maya built many intriguing cities in the Yucatán, but few grander than Cobá ("water stirred by wind"). Much of this 67-sq.-km (26-sq.-mile) site remains unexcavated. As an important city-state, Cobá flourished from A.D. 632 (the oldest carved date found here) until after the rise of Chichén Itzá, around 800. After the site you will drive to Xel-Ha to enjoy the rest of your day in this amazing and natural aquarium, where there is lots to see and do. Snorkeling at Xel Ha is as safe as it gets and wildlife is abundant. Here you can swim with the dolphins (not included) or take a walk along the myriad of paths through the mangrove forests or maybe take a trip along the underground river. Feed the fish from the floating bridge to see why this place is so highly rated. Xel-Ha is a beautiful ecological park that still manages to retain sustainability. Following a short drive back to your hotel, you will have the rest of the day to enjoy at your leisure.
Day 7 – Tulum (B)
Today, being your last day of this trip, simply enjoy the pleasures of relaxing on one of Mexico's most beautiful beaches. Perhaps this evening you can celebrate such an enjoyable trip with an evening dinner in one of the excellent restaurants owned by European ex-pats in the area.
Day 8 – Transfer to Cancun (B)
A private car will transfer you to Cancun airport (approximately 2 hours) and your flight home.
Hotels listed below are given as suggestions only to illustrate the standard of hotels used. 
Valladolid - Luxury - Mesón Del Marqués
This stylish hotel is excellently situated on Valladolid's main plaza, in the heart of the city's historic district. Recently remodeled, the hotel features modern rooms and luxurious, spacious suites in a mix of modern and traditional style. Its convenient location allows guests to enjoy the culinary and cultural delights of the city's historic center right outside their doorstep, while the Hostería Del Marqués restaurant offers some of the city's finest dining.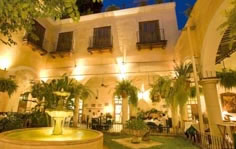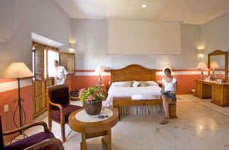 Valladolid - Deluxe - Coqui Coqui
A secluded one-room suite set atop a perfumery, built in the 16th century, Coqui Coqui caters to your senses with the signature scents of their handmade fragrances, creams, oils and candles. The view from the suite over the beautiful tropical garden, a delightful pool and the tailored spa treatments will pamper you during your stay at this unique property. The suite benefits from an excellent location, on the historical, charming Calzada de los Frailes, a few blocks away from the main plaza and walking distance form the silent and secluded Convent of San Bernardino de Siena. As life slows down, your senses will wake up in a new peaceful dimension.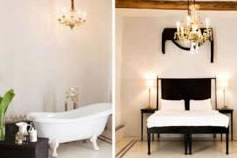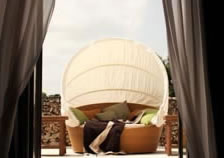 Tulum - Luxury - Las Ranitas
This eco-boutique hotel has been designed with respect for the local environment as an ecologically friendly property with a low environmental impact. Renewable energy is used to power the stylish, modern rooms and the architecture incorporates natural cross ventilation requiring less of a dependence on air conditioning.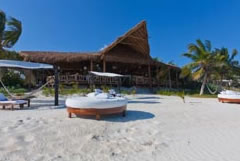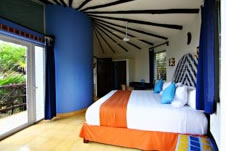 Tulum - Deluxe - Be Tulum
Be Tulum is a modern boutique hotel for travelers seeking total relaxation. Here, you can immerse yourself in a blend of luxury and nature, in an unparalleled hideaway surrounded by a tropical forest and the ocean. This stylish beachfront hotel has been designed to blend in with its natural surroundings, between the tropical forest, the white sand and the sea. Luxurious rooms feature private jacuzzis, air conditioning, balconies and modern furnishings, while suites have individual private plunge pools. The hotel's beach club offers a variety of services and amenities to make a day at the beach a memorable occasion with a pool, bar, restaurant, restrooms and showers, as well as beach chairs for guests.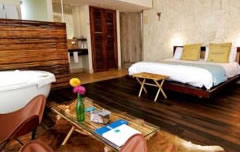 Pricing
From $3695 per person (Luxury Hotels) or $4195 per person (Deluxe Hotels), for a private tour based on two people traveling in low season sharing a room.
Hotels listed on the Hotels Tab are given as suggestions only to illustrate the standard of hotels used. 
Price Includes:
All hotels as described in the itinerary
Services of Blue World Journeys's representatives while in Mexico
All transportation as described in the itinerary in a private air-conditioned vehicle with an English speaking driver / guide
Private sightseeing and entrance fees
Meals as described in the itinerary
Bottled water in the vehicle during all transfers 
Price Excludes:
International flights
Travel insurance
Meals other than those listed in the itinerary
Gratuities for guides and drivers
Sightseeing other than described in the itinerary
Additional room charges of a personal nature in hotels (eg: room service, laundry, phone calls, etc.).