Buenos Aires and the Deserts of Salta
This one-week tour is perfect for anyone short on time who wants to experience the cultural and natural delights of Buenos Aires and the northern Atacama Desert region of Salta.
Buenos Aires, the cosmopolitan 'Paris of South America' needs little introduction. Home of the passionate Tango, fascinating museums, delectable food and beautiful architecture; it's the most vibrant city in Latin America.
By contrast, the desert region surrounding Salta is home to some of the most spectacular natural beauty anywhere in the world. The city of Salta itself is Argentina's cultural capital, one you'll surely fall in love with.
Detailed Itinerary
Day 1 – Arrival in Guatemala (-)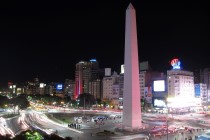 Upon arrival at Buenos Aires' Ezeiza International Airport you will be warmly welcomed by a Blue World Journeyss representative and escorted by private car to your hotel (45-60 mins).
Buenos Aires is the most elegant city in South America. This cosmopolitan city - with great European cultural influence - displays a refined taste in its cooking, in its boutiques and in the casual elegance of its inhabitants. While the city is modern and dynamic, it has managed to preserve old traditions and charming corners. The atmosphere, the individual personality of each of its neighborhoods, the cordiality of its people and the wide selection of its cultural and commercial opportunities are fascinating. You will have the rest of the day to relax from your flight and become familiar with your new surroundings.
Day 2 - Buenos Aires City Tour (B)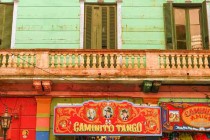 This morning after a leisurely breakfast, you will be met at your hotel by your guide and escorted on a private half-day tour of the city.
During this tour you will visit the famous Casa Rosada (Government House), and the Cabildo (first City Hall, built during Spanish rule). The Metropolitan Cathedral is nearby, where Pope Francis used to celebrate mass when he was Cardinal of Buenos Aires.
Continuing to San Telmo, the oldest district of Buenos Aires, you will have time to stroll around the Plaza Dorrego with its many antique shops. If you're lucky enough to be here on Sunday, the sprawling antiques market is a must-see. Your next stop is La Boca, a colorful and dynamic neighborhood like no other in the city.
Driving along 9 de Julio Avenue, the widest avenue of the world, you will see the Colon Theater, one of the world's best-known opera houses. Continuing to Palermo you will see its beautiful parks, the City Zoo, Botanical Garden, Argentine Horse Track and National Polo Fields.
At the end of the tour you will visit the glamorous Recoleta area. Here you will find the Municipal Cultural Center, elegant boutiques and many excellent restaurants. At the Recoleta cemetery you can look for the grave of Eva Duarte, known in the whole world as Eva Perón (Evita).
Day 3 - Fly to Salta (B)
This morning you will board a flight to the delightful city of Salta. Upon arrival you will be escorted to your hotel. Sophisticated Salta is a favorite of many, with its outstanding museums, plaza-side cafes and the best colonial architecture in Argentina. The city, founded in 1582 is full of history and its setting, at 3200 feet above sea level in the dry desert region of the north west of Argentina gives it an eternal Spring-like climate year-round.
Day 4 - Cafayate (B,L)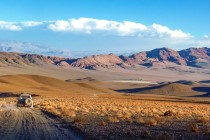 This morning you will drive around two and a half hours to Cafayate. You will drive through the Quebrada del Rio Las Conchas, declared a UNESCO Natural Monument due to the bizarre formations and colors of its hills. Your guide will point out the most interesting rock formations, including La Garganta del Diablo, El Anfiteatro, El Sapo, El Fraile, El Obelisco and Los Castillos. Finally you'll arrive in Cafayate - "land of sun and good wine," which has a lovely microclimate, which governs an extraordinary, colorful landscape full of unusual shapes.
Cafayate is a quiet, clean, little town, with low rainfall, lying between two ranges of Andean foothills and surrounded by vineyards; you you will have the opportunity to sample some wine as well as visit the art and crafts market. Cafayate is famous for its Torrontés, a grape that produces a dry, aromatic white wine and is second only to Mendoza for Argentinian wine production.
After checking into your hotel, you will have the rest of the afternoon and evening to enjoy Cafayate at your leisure.
Day 5 - Calchaqui Valley (B,L)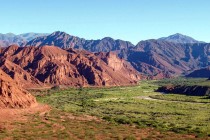 Today you will return to Salta via a different route, across the impressive landscapes of the Calchaquíes Valleys. Departing from Cafayate along Route 40, you will ascend via San Carlos, Angastaco and the incredible landscape offered by the Quebrada de las Flechas.
Continuing through the Calchaqui Valley, you will stop at Molinos, a typical village from Spanish colonial times. From here, you will drive to the village of Cachi. This village is located at 2,210 m (7,251 ft) at the confluence of the Rio Calchaqui and the Rio Cachi at the foot of Nevado de Cachi hill. It is a picturesque village, part of the Calchaqui Valley and is surrounded by hills and mountains of the foothills of the Andes. It has conserved its colonial style mixed with the heritage of its precolonial inhabitants. The village's main square is surrounded by paved streets and interestingly designed stone houses, with adobe walls covered by lime and white sand, wrought iron grids and roofs of cactus or reed covered with mud.
Continue from Cachi you will pass Payogasta, crossing the Los Cardones National Park and the Recta de Tin Tin which represents a gate between two valleys: Lema Valley (deeper and more temperate) and Calchaquíes Valley (higher and more arid).
The highest point of your drive is the Cuesta del Opispo (Bishop's Slope) at 3,348 m (10,984 ft). From here the road descends towards the city of Salta where you will check into your hotel for a one-night stay.
Day 6 - Return to Buenos Aires, Tango Show (B,D)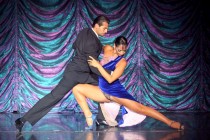 You will be escorted to Salta's airport for your flight to Buenos Aires, arriving in the late morning. Enjoy a final afternoon in the city at your leisure. Explore the stylish boutiques of Palermo, check out some more museums, enjoy some of the city's fine restaurants, or simply take it easy in one of the city's delightful parks.
We can also arrange a fascinating half-day tour to the historic city of Colonia in Uruguay, an easy 45-minute high-speed ferry ride away.
This evening you will enjoy an unforgettable Tango show and dinner at Café de los Angelitos. Located in a traditional Buenos Aires district, this tango house is full of history. Renowned poets and politicians as well as payadores (performers) and malandras (dangerous men) used to meet here. Café de los Angelitos is one of the foremost tango venues Buenos Aires offering a dynamic performance which including orchestra, dancers, musicians, singers, as well as very interesting lighting effects. A full dinner of exquisite international cuisine will be served during the performance.
Day 7 - Farewell to Argentina (B)
Today you will be met by your guide at your hotel and escorted by private car to Buenos Aires' Ezeiza International Airport for your international flight home.
Hotels listed below are given as suggestions only to illustrate the standard of hotels used. 
Buenos Aires - Luxury - Fierro Hotel
Right in the heart of the stylish Palermo neighborhood, the Fierro Hotel is within walking distance of the best of Buenos Aires - top restaurants, popular bars and clubs, boutiques and design stores can all be found close to the hotel.
All rooms feature luxurious linens and duvets, Egyptian cotton towels, 32-inch LCD TVs, universal power outlets, iPod/iPhone docking stations, complimentary iPads and Internet access. The bathrooms are equipped with rain showers, hair dryer, robes and an array of amenities.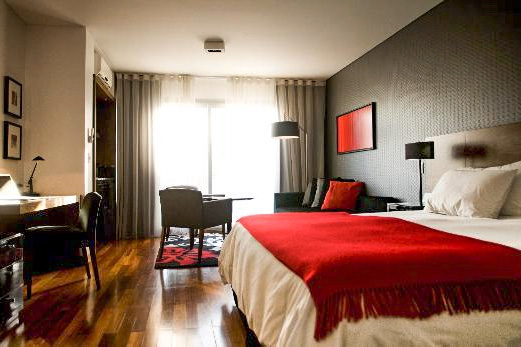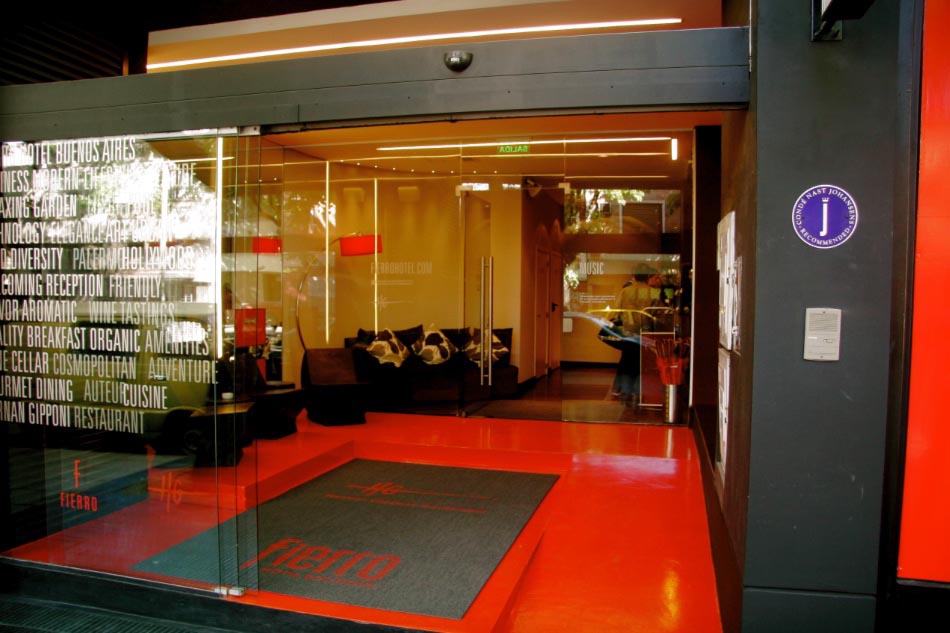 Buenos Aires - Deluxe - Sofitel Buenos Aires
Located right in the heart of Buenos Aires, between the Retiro and Recoleta neighborhoods, surrounded by art galleries and antique stores, the landmark Sofitel is one of the city's finest hotels. All 140 rooms feature luxurious furnishings, air conditioning, cable TV, mini bar and stylish, modern bathrooms.
Restaurants, bars, fitness center and indoor heated pool are all available with our having to leave the hotel.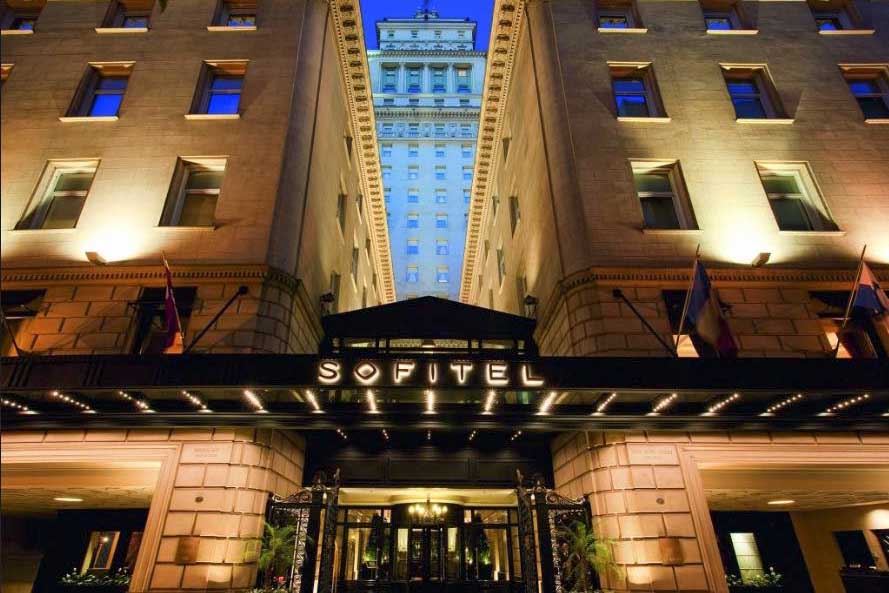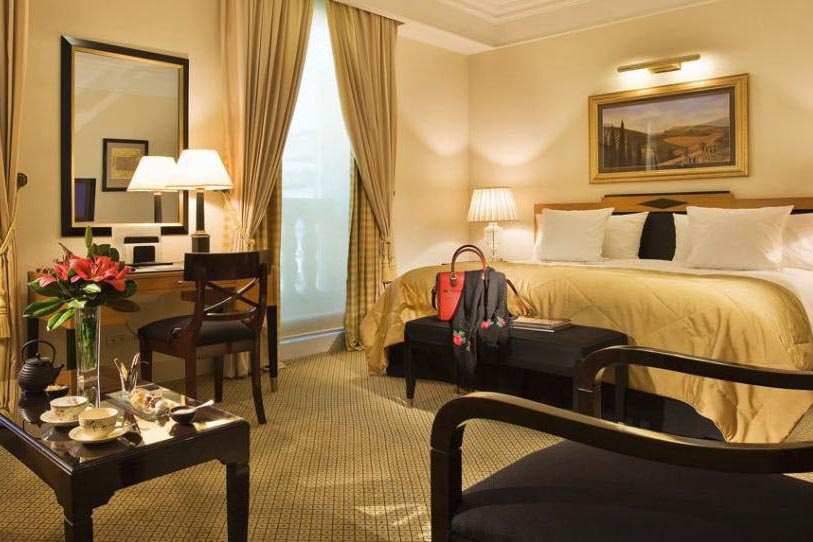 Salta - Luxury - Hotel Almeria
This fine hotel is located right in the city centre, just 5 blocks from 9 de Julio Square, and within easy walking distance to restaurants, bars and nightlife.
The hotel has 66 rooms featuring stylish, modern furnishings, air conditioning, flat-screen TV, minibar, climate control, safe boxes and modern bathrooms with bathtubs.
A restaurant, bar, spa, business center are located near the lobby.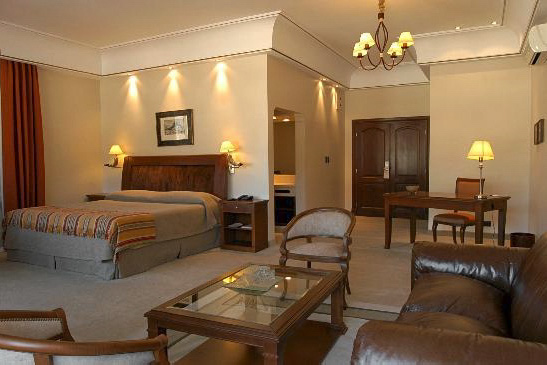 Salta - Deluxe - Hotel Design Suites Salta
This lovely hotel is one of the finer establishments Salta has to offer. Located in the historical centre, right in front of Belgrano Square, the hotel has 51 suites. All are equipped with luxurious furnishings, contemporary design, air conditioning, TV, minibar, CD and DVD player and luxurious bathrooms. In addition, the hotel features an art gallery, Resto Bar and Wine Bar, health club, sauna, gym, indoor and outdoor swimming pool and free wifi.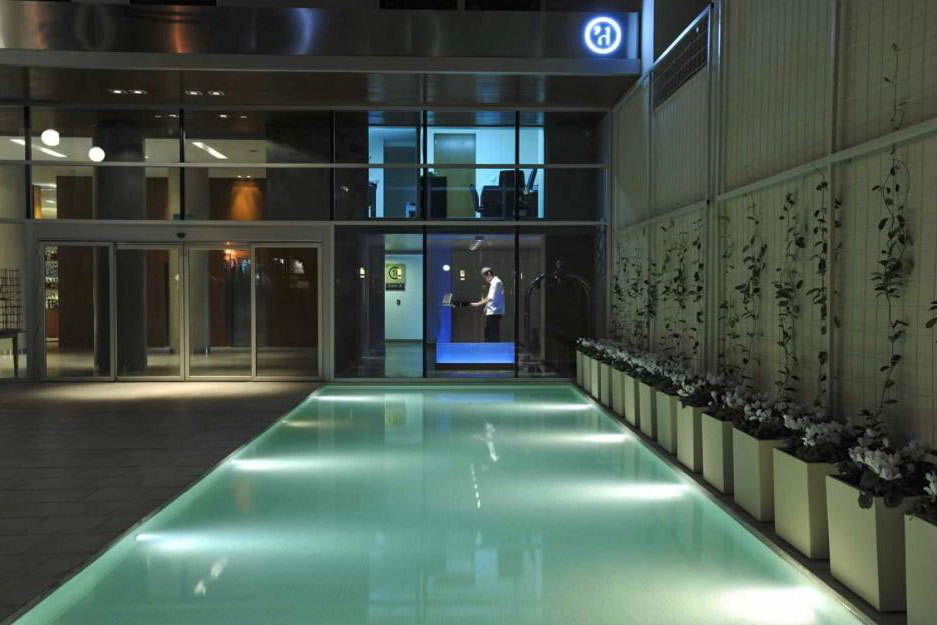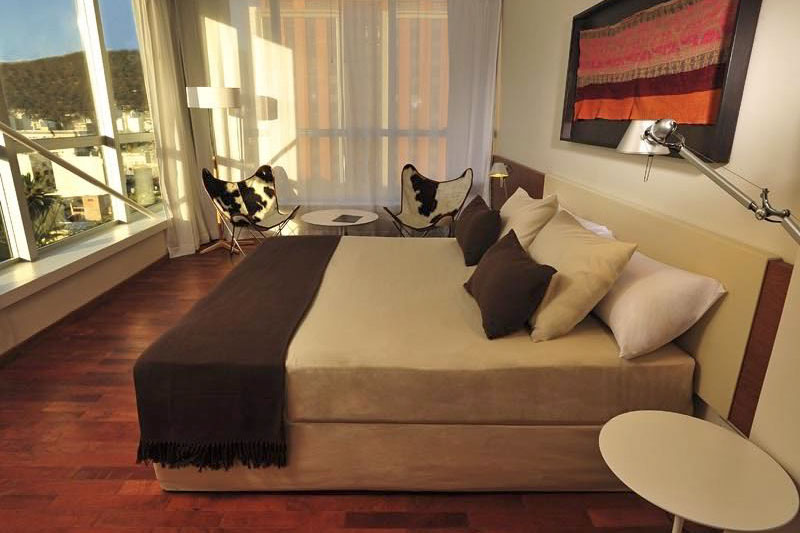 Cafayate - Luxury - Viñas De Cafayate
Located in the city of Cafayate, 2 miles away from the main square, this luxury hotel features 12 standard double rooms. All rooms have a private bathroom with a bathtub, an ante bathroom, a dressing room, and climate control. The rooms have access to a spacious covered balcony overlooking beautiful the vineyards, granite hills, and scenery of the Cafayate Ravine. The hotel has a regional gourmet restaurant, wine cellar, organic garden to supply its kitchen with fresh vegetables, room service, lounge with fireplace and library, interior courtyard, swimming pool and spacious solarium with scenic views of the vineyards and Cafayate.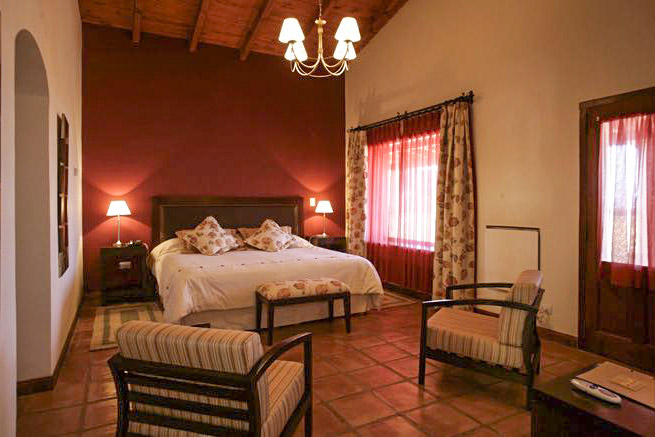 Cafayate - Deluxe - Patios De Cafayate
This beautiful hotel is located in the same grounds as the excellent El Esteco winery, close to the town of Cafayate.
Most of the guest rooms and suites are located in the original building and all have been completely and carefully restored. All rooms are decorated with antique furniture, artisan carpets and tiled ceramic floors.
Seven garden view rooms have direct access to patios and corridors, which connect the entire house. A further seven vineyard view rooms feature beautiful views of the vineyards and hills. The hotel also offers ten Gallery, three Junior and three Master Suites.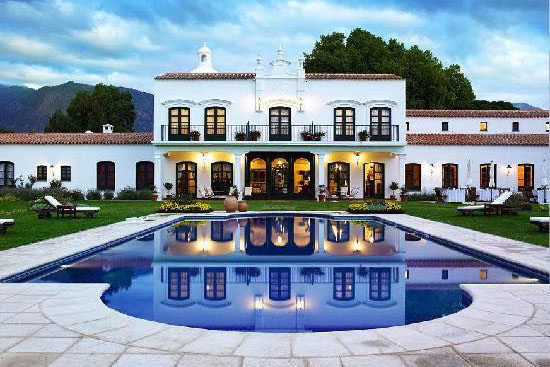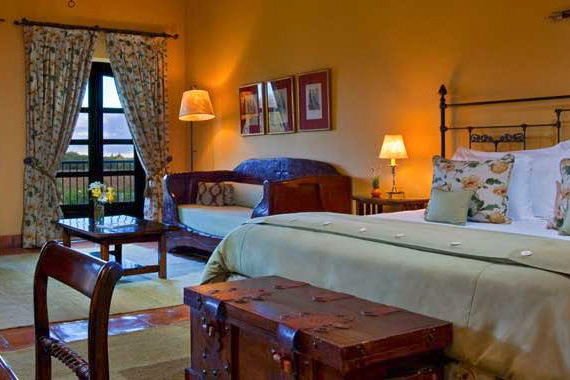 Pricing
From $3395 per person (Luxury Hotels), or $3795 per person (Deluxe Hotels), for a private tour based on two people traveling in low season sharing a room.
Hotels listed on the Hotels Tab are given as suggestions only to illustrate the standard of hotels used. 
Price Includes:
All hotels as described in the itinerary
Services of Blue World Journey's representatives while in Argentina
All transportation and tours as described in the itinerary in a private air-conditioned vehicle with an English speaking driver / guide
Domestic Flights Buenos Aires-Salta-Buenos Aires
Sightseeing and entrance fees
Meals as described in the itinerary
Bottled water in the vehicle during all transfers
Price Excludes:
International flights
Travel insurance
Meals other than those listed in the itinerary
Gratuities for guides and drivers
Sightseeing other than described in the itinerary
Additional room charges of a personal nature in hotels (eg: room service, laundry, phone calls, etc.)