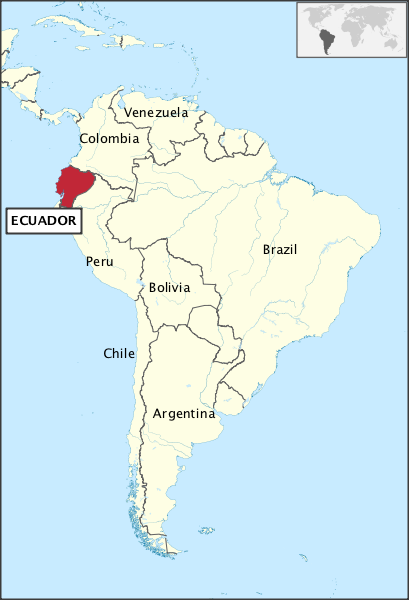 Located on the equator in northwestern South America, Ecuador is one of the most bio-diverse places on the planet. Nowhere else on Earth will you find a greater variety of flora and fauna, geography and climatic zones in such a small area.
The warm, sun-soaked Pacific coast gradually rises toward the snow-capped heights and temperate valleys of the Andes mountains, dropping down to the lush green carpet of the Amazon. Off the coast, the legendary Galapagos Islands are one of the planet's greatest treasures.
Anyone who loves natural beauty should have Ecuador on his or her itinerary. After all, the nation is home to one of the highest ratios of land to protected areas in the world, including no fewer than 45 natural state-protected reserves and tropical areas with more than 1,640 species of birds; 4,500 species of butterflies, 345 species of reptiles, 358 species of amphibians and 258 species of mammals.
The nation ranks second of all countries in the world for endemic vertebrates, third for amphibians, fourth for bird species and fifth for butterflies. Some 10 percent of the world's plant species grow here, and 10.7% of all vertebrate animals on the planet live here. These are especially impressive statistics when considering that Ecuador covers only about 0.2% of the earth's surface. Sustainable tourism is more than just an advertising slogan in Ecuador; it's a way of life and a mantra for development. Both the public and private sectors are deeply committed to protecting the nation's precious natural and cultural diversity, something we hold dear to our hearts here at Blue World Journeys.
The Galapagos is somewhere everybody should see in their lifetime. An archipelago of 14 islands and dozens of islets some 600 miles off the Ecuadorian mainland, the Galapagos Islands are home to a gigantic national park and marine biological reserve. Unique species including iguanas, Galapagos tortoises, albatrosses, boobies and sea lions make their home here, and the unique flora and fauna here inspired scientist Charles Darwin to study the islands as part of his work on the origin of species. The province has been a UNESCO World Natural Heritage Site since 1979. Nowhere else on Earth has a greater concentration of unique flora and fauna in such a small area. Here you will experience the amazing ability to visit uninhabited islands filled with animals who have no fear whatsoever of humans. Snorkeling with sea lions sea turtles and thousands of fish in their natural environment is an experience never to be forgotten.
The Amazon is a name that conjures up many images. A legendary place of lush vegetation and unforgettable wildlife, Ecuador offers the easiest access to this hotspot of biodiversity, via a 45-minute flight from Quito. Among the best places to connect with the magnificent creatures and cultures of the Amazon is Yasuní National Park. The nation's largest mainland national park, Yasuní is the most biodiverse region of the Ecuadorian Amazon. Some 600 species of birds, 170 species of mammals and 120 species of reptiles make their home here, as well as hundreds of thousands of insect species. Incredibly this region, about half the size of Connecticut contains more tree species than exist on the entire North American continent. The park is also home to the Huaorani people, as well as the Tagaeri and the Taromenane, two groups that purposely isolate themselves from modern society, in addition to at least one other indigenous group that has never had any contact with the outside world.
Ecuador offers all of this, and more in a safe environment with luxurious hotels, lodges and Galapagos cruise boats so that you never have to compromise safety or comfort during your visit here.


Prices listed above are per person for a private tour based on two people traveling in low season sharing a room in Luxury category hotels.
Hotels listed above are given as suggestions only to illustrate the standard of hotels used.

Price Includes:

All hotels as described in the itinerary
Services of Blue World Journeys's representatives while in Ecuador
All transportation as described in the itinerary in a private air-conditioned vehicle with an English speaking driver / guide
Private sightseeing and entrance fees
Meals as described in the itinerary
Bottled water in the vehicle during all transfers

Price Excludes:

International flights
Travel insurance
Meals other than those listed in the itinerary
Gratuities for guides and drivers
Sightseeing other than described in the itinerary
Additional room charges of a personal nature in hotels (eg: room service, laundry, phone calls, etc.)