Belize's Reefs, Ruins and Rainforest
This fascinating itinerary combines the best of all three worlds. Belize is home to the 185-mile long Mesoamerican reef, the second longest barrier reef on Earth after Australia's. The underwater scenery here is absolutely spectacular and a delight for snorkelers and SCUBA divers alike. The laid-back village of San Pedro on the island of Ambergris Caye will be your base for exploring this extraordinary underwater world, while enjoying luxurious accommodations and fine cuisine. This region of Central America was home to the ancient Maya civilizations that left behind a legacy of lost cities rising out of the jungle. Based in a luxurious lodge deep in the heart of the jungle, you will have the opportunity to explore the ruined cities of this ancient culture while enjoying the delights of some of the most wonderful and spectacular attractions of this natural paradise. An optional three-day excursion to the majestic, a world-famous ruin of Tikal, across the border in northern Guatemala is easily added on to this itinerary.
Detailed Itinerary
Day 1 – Arrival in Belize (-)
Upon arrival at Belize City's International Airport you will connect to your short, scenic domestic flight to the town of San Pedro on Ambergris Caye. Here you will be welcomed by our representative and escorted to your beachfront hotel for a four-night stay.
Day 2 – San Pedro, Kayaking (B)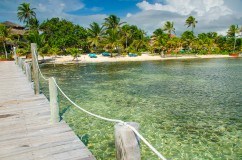 San Pedro is a relaxed, tranquil, ramshackle village on Ambergris Caye's Caribbean coast. It doesn't get much more laid back than this. The town's center is home to a wide variety of quality restaurants, bars and stores. There are more golf carts around town than regular vehicles and an air of relaxation is felt everywhere. There's a small but growing international presence here, which has created some great dining options as well as some excellent boutique hotels. The town's palm-lined beach is fine for swimming, as is your luxury hotel's pool, however a short boat ride will bring you to the barrier reef and some stunning underwater scenery. Today you will experience the enjoyment of paddling the near shore islands, mangroves, rivers and creeks in a kayak, before returning to your hotel. This evening, explore the small town at your leisure, perhaps sampling some of the town's local restaurants ranging from simple Belizean cuisine to fine dining.
Day 3 – Barrier Reef (B)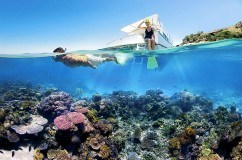 This morning you will enjoy a boat tour to the Mesoamerican Reef, which at 185 miles long, is the second longest barrier reef in the world after Australia's. Here you will find deserted islands of beautiful beaches, swaying palms, amazing snorkeling and swimming with the many varieties of tropical fish in the warm Caribbean waters, including trumpet fish, angelfish, damselfish, rays and beautiful parrotfish. Watch them dart in and out of the abundant and colorful coral reefs. For certified SCUBA divers, the area affords some spectacular dives to vibrant and spectacular coral reefs teeming with colorful fish and coral in one of the most biologically diverse underwater habitats on earth. Returning to San Pedro, you will be able to enjoy the rest of the day at your leisure.
Day 4 – At Leisure in Paradise (B)
We have set aside a day to enjoy paradise in your own style. You can take advantage of the free use of Hobie Cat sailboats, kayaks and snorkeling equipment from your hotel. The hotel's excellent spa is just steps away from the beach, as is the restaurant and bar. If you prefer to do something more active, the laid-back town of San Pedro, with its restaurants and bars is nearby. Alternatively, for a change of scenery we can arrange a variety of day-trips to the interior, ranging from jungle hikes to cave tubing, to Maya ruins and butterfly farms, to name just a few ideas.
Day 5 – Fly to Belize City, Transfer to Jungle Lodge (B)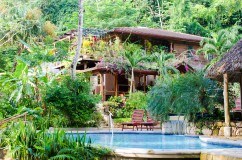 After a short 15-minute flight across the turquoise waters of the barrier reef from San Pedro you will land in Belize City. At the airport you will be met by our representative and escorted to your luxurious jungle lodge, approximately one and a half to two hours drive away, depending on the particular lodge. Enjoy your first evening in the jungle with a refreshing drink while listening to the sounds of the tropical forest around you. You'll feel like you're a million miles away from where you woke up this morning.
Day 6 – Jungle Trail, Xunatunich Ruins (B)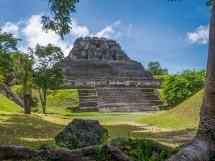 This morning you will awaken to the sounds of the jungle before enjoying a relaxing al-fresco breakfast in your hotel. The grounds of your hotel are a natural paradise and will give you a taste of the jungle you will visit over the next few days. This morning you will enjoy an easy jungle walk along well-maintained trails in the forest spotting some of the amazing flora and fauna of this region. Following a lunch break in the quiet regional hub of San Ignacio, you will have a guided horseback tour of the spectacular 1000-plus year old Mayan ruins of Xunantunich one of Belize's most significant Maya sites. This is one of the most impressive Maya ceremonial centers in Central America, resting atop a natural limestone ridge with a great view of the jungle and Guatemala in the distance. Xunantunich is believed to have been constructed around 400B.C. and was deserted around A.D.1000. At its peak, it was home to a population of 7000-10000 Maya. Although it's not the highest Maya structure, El Castillo, the main pyramid here at 135 feet, is the second highest structure of any kind in Belize.
Day 7 – Blue Hole, Guanacaste National Park (B)
After a relaxed breakfast you will visit the Blue Hole National Park. Covering 575 acres of jungle and rich with wildlife including jaguar, toucan, tapir, peccary, ocelot and hundreds of bird species, it's a fascinating place to spend a few hours while you enjoy a refreshing swim in the Blue Hole – a 300 foot wide collapsed karst sinkhole filled with beautiful blue water. This afternoon you will enjoy a visit to the lovely Guanacaste National Park, one of the most overlooked but most enjoyable destinations in the country. Managed by the Belize Audubon Society, this small park is filled with a great variety of tropical wildlife and vegetation and contains three easy jungle trails leading to a swimming deck on a tributary of the Belize River as well as a raised birding deck.
Day 8 – Botanic Gardens, Butterfly Ranch (B)
Another easy but fascinating day trip awaits you today. After enjoying a leisurely breakfast in your hotel you will drive to the award winning Belize Botanic Gardens, the only one of its kind in the country. Follow an easy rainforest trail through fruit trees, native plants, palm trees, tropical flowers and over 100 species of orchids while learning about the medicinal and ritual plants used by the ancient Maya. After lunch you will visit the delightful Green Hills Butterfly Ranch where around 30 species of butterfly are raised in a 3,000 square foot butterfly house. There is also a lovely hummingbird garden here, as well as an impressive mahogany reforestation project and an interesting tropical garden.
Day 9 – Farewell to Belize (B)
After enjoying a final leisurely breakfast in your hotel, you will transfer by private car to Belize City's International for your international flight home.
Hotels listed below are given as suggestions only to illustrate the standard of hotels used. 
Ambergris Caye - Luxury - Portofino
Portofino Beach Resort is located 6 Miles North from the hustle and bustle of San Pedro Town, accessible via a 20 minute boat ride along the coast. The property covers 4.5 acres, including 330 feet of private, white sand beach. The 15 rooms and cabanas face the beautiful colors of the Caribbean Sea and are provided daily with fresh flowers. Tropical landscaping helps the buildings blend in with the environment, and a lovely beachfront pool is the centerpiece of the gardens. All rooms are stylishly decorated with local artwork and feature private balconies. The hotel also boasts a professional SCUBA diving school on the premises, as well as a gourmet restaurant and spa treatments.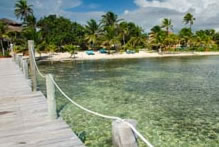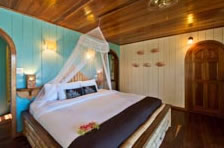 Ambergris Caye - Deluxe - El Secreto
El Secreto is one of the newest hotels on Ambergris Caye. It is a member of 'Design Hotels', 'Small, Elegant Hotels and is on Conde Nast Traveler's 'Hot List' of the 100 best hotels in the world. It's beautifully landscaped gardens and hi-tech, luxurious cabanas put it in a league of its own on the Belizean Caribbean. The hotel nestles 13 exclusive individual thatched roof villas with a smart combination of contemporary and traditional elements. Fine Belizean tropical woods, marble finished bathrooms with a tandem bathtub, and an outdoor private jacuzzi and shower patio. This is a truly spectacular property and possibly the finest beach hotel in the entire country.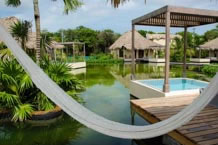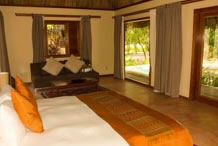 Jungle Lodge - Luxury - Mystic River
On a steep bank of the beautiful Macal River, eco-friendly Mystic River Resort Jungle Lodge offers the best of all worlds to those who travel to Belize. In this oasis of privacy, serenity and rejuvenation, there are no crowds, just the soothing sound of birds, rustling trees and soft breezes. Beautifully furnished by some of the finest local carpenters, all eight luxurious suites feature private patios overlooking the beautiful Macal River, and are some of the most stylish accommodations to be found in Belize's jungle region.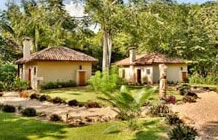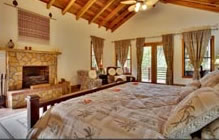 Jungle Lodge - Deluxe - Dream Valley
Newly opened in February of 2012, this luxury designer resort offers opulence, comfort and a perfect equilibrium between nature and luxury, which makes it one the best jungle lodges in the country. Dream Valley is beautifully located in the forests of western Belize and elegantly sits on the bank of the majestic Belize River under the canopy of the lush tropical jungles. The remote jungle setting of Dream Valley makes it a perfect place to relax. Chalets elegantly sit along raised platforms emphasizing the panoramic view of the silent Belize River and rich jungle in a truly breathtaking setting.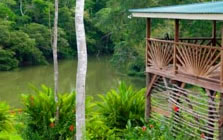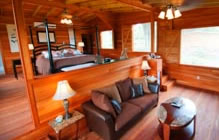 Pricing
From $3295 per person (Luxury Hotels), or $3995 (Deluxe Hotels) for a private tour based on two people traveling in low season sharing a room.
Hotels listed on the Hotels Tab are given as suggestions only to illustrate the standard of hotels used. 
Price Includes:
All hotels as described in the itinerary
Services of Blue World Journeys's representatives while in Belize
All transportation as described in the itinerary in a private air-conditioned vehicle with an English speaking driver / guide
Private sightseeing and entrance fees
Meals as described in the itinerary
Bottled water in the vehicle during all transfers 
Price Excludes:
International flights
Travel insurance
Meals other than those listed in the itinerary
Gratuities for guides and drivers
Sightseeing other than described in the itinerary
Additional room charges of a personal nature in hotels (eg: room service, laundry, phone calls, etc.).