Amazon and the Andes
This imaginatively crafted tour brings together the finest highlights of mainland Ecuador. The city of Quito is one of South America's finest colonial cities with hundreds of years of history and is a delight to stroll around. A tour to the colorful indigenous market at Otavalo follows, giving the opportunity to visit an important market dating from pre-Inca times. The Amazon jungle is also visited, spending three nights in an amazing luxurious lodge deep within the Amazon where you will be led by an expert Kichwa guide to learn about the flora, fauna and indigenous people of this fascinating part of the world. A short flight back to Quito will begin your tour to the highlands of the Andes mountains for a complete contrast, where you will find glaciered mountains, active volcanoes and spectacular mountain peaks reaching up to over 20,000 feet as well as beautifully quaint colonial cities housing bustling, colorful crafts markets and interesting Spanish history.
Detailed Itinerary
Day 1 – Arrival in Quito (-)
Upon arrival at Quito's Mariscal Sucre International Airport you will be warmly welcomed by your guide and driven to your hotel in Quito's historic center.
Day 2 - Quito – Otavalo and Cotacachi (B)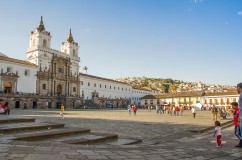 This morning, following an early breakfast in your hotel, you will depart from Quito to the North on the Panamerican Highway to the neighboring province of Imbabura, to visit the sprawling Otavalo market, one of Latin America's largest and most colorful indigenous markets. You can try your hand at haggling for handicrafts, textiles, jewelry, leather products, rugs, "shigras" (colorful straw or linen woven bags), as well as hand-carved wood products and countless other indigenous crafts, while admiring the indigenous local Andeans dressed in their traditional clothing. After a short drive from here you will arrive at the small artisan town of Cotacachi, which is famous for its leather products. Return to Quito and enjoy another evening there, perhaps sampling one of the excellent restaurants found near your hotel.
Day 3 - Flight to Coca and river boat to Amazon lodge (B,L,D)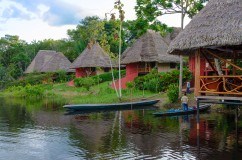 This morning you will be met in your hotel by your guide who will escort you to Quito's airport and assist you with the check-in formalities for your flight to the Amazon. The flight will take around 40 minutes, and on a clear day you will see the change in the landscape as you leave the Andes mountain range and enter the Amazon Jungle. Upon arrival in Coca, you will be escorted to the port located on the river Napo, a tributary of the Amazon River. Here you will board a motorized boat for a journey of approximately two and a half hours. During the trip you will have the opportunity to observe several different bird species as well as the lush jungle bordering the river. Upon arrival at the welcome center of the Napo Wildlife Center you will transfer to a canoe for a trip of about an hour up the Añanguyacu River to Napo Lodge. This is one of the most enjoyable aspects of staying at Napo, as the river is packed full of wildlife and spotting birds, caymans, monkeys and other jungle fauna are practically guaranteed. You will check in to the lodge for a three-night stay.
Day 4 – Wildlife Spotting in the Amazon (B,L,D)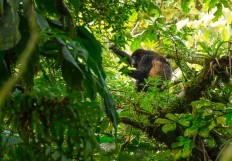 This morning you will awaken to the sounds of the jungle surrounding your cabin. After enjoying breakfast overlooking the beautiful jungle lagoon in front of the lodge, you will travel to one of the lodge's parrot clay licks. If conditions are right you may see up to a thousand brightly colored parrots at close range. This visit is followed by lunch and a fascinating insight into the local Kichwa indigenous tribe who inhabit this region of the Amazon. You will learn about their way of life as well as their customs and the threats to their survival. Another canoe ride up the Añanguyacu River to spot more wildlife will bring you back to Napo Lodge for the evening.
Day 5 – Jungle Observation Tower, Jungle Hike (B,L,D)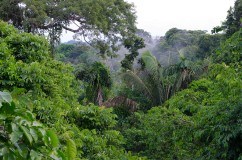 After breakfast this morning, you will leave the hotel in the morning towards the observation tower situated in the river Napo. The tower is over 100 feet high and is located a 15 minute canoe ride followed by an easy 15 minute walk on a well maintained jungle trail from the hotel. There are spectacular views over the jungle canopy from the top. Your keen-eyed guide will assist you in spotting numerous tropical bird species, as well as monkeys and other animals that make the jungle their home. This afternoon you will follow a jungle trail with your guide, looking for lizards, birds, insects, sloths and several species of monkey. The jungle's rivers are full of wildlife and you may be lucky enough to spot the elusive giant river otter as well as aligators. Enjoy a final dinner in the jungle overlooking the beautiful Añanguyacu Lagoon.
Day 6 – Fly to Quito, Drive to Baños (B,BL)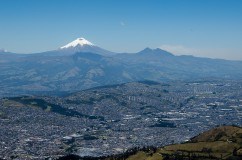 This morning you will reverse the journey you took from Quito to reach here. An easy canoe ride down the black water Añanguyacu River will take you to the Napo Wildlife Welcome Center from where a motorized boat will return you to the town of Coca after approximately two and a half hours in order to connect with your flight to Quito. From here you will drive south into the highlands of the Andes. This region is known as 'the avenue of the volcanoes'. During your approximately two-hour drive to Baños, you will pass by the spectacular Cotopaxi volcano, which at 19,300 feet is Ecuador's second highest mountain. The laid-back town of Baños is set in a spectacular valley shadowed by the 16,479-foot high Tungurahua volcano and is a very relaxed place to spend the next couple of days as you break your journey south. You will enjoy a two night stay in this lovely town, famous all over Ecuador for its thermal hot springs, rich in minerals, which are a delight to soak in.
Day 7 – Visit Salasaca, Pailón del Diablo (B)
After a leisurely breakfast this morning, you will have the opportunity to enjoy some of Baños' unique local adventures. Baños is the center of Ecuador's adventure circuit, and depending on your level of interest, we can arrange for a number of activities ranging from mountain biking, to hiking to white-water rafting, jungle trips, horseback riding and mountain climbing. If you prefer to take it easy, we can plan a fascinating day visiting the Salasaca indigenous community. Here you can observe indigenous textile weavers working on their traditional looms, in a style unchanged in centuries. Nearby is the beautiful Pailón del Diablo waterfall, an easy 15-minute walk along a beautiful forested trail from the main highway near town.
Day 8 – Drive to Riobamba (B)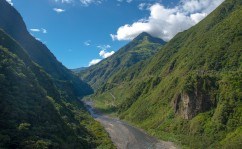 After breakfast this morning, your tour will continue south along the avenue of the volcanoes to the interesting, yet little visited town of Riobamba. This is a modern town with a strong indigenous heart. Upon arrival, your guide will escort you on a brief, but interesting walking tour of the town center, visiting the fascinating market. This is a local's produce, and definitely not a tourist souvenir market. You will gain a fascinating insight into the lives of the Andean indigenous people here as your guide explains the various produce available and their uses in daily life. After checking into your hacienda-style hotel, you will have the opportunity to see the surrounding countryside, either on horseback or on easy walking paths, before perhaps enjoying dinner in the hotel's gourmet restaurant.
Day 9 – Nariz Del Diablo, Ingapirca, Drive to Cuenca (B)
This morning you will drive approximately two hours to the town of Alausí. Just to the south of town is a 2200-foot high wall of granite known as 'The Devil's Nose'. In the early 20th century, engineers devised a way of zigzagging a railway track up the sheer face of the wall, into the side of the mountain. A train runs along this track twice a day, taking approximately two and a half hours round-trip from Alausí to the bottom of the wall and back to town. It's well worth the journey for the views alone. Continuing on your tour, you will then visit the fascinating Inca ruins of Ingapirca, the oldest in Ecuador before continuing to the colonial city of Cuenca.
Day 10 – Cuenca City Tour, Fly to Quito, Fly Home (B)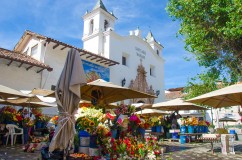 After Quito's old town, Cuenca is Ecuador's most important and beautiful colonial city. Dating from the 16th century, its historic center is a UNESCO World Heritage site, where nuns march along cobblestone streets and historic churches and plazas appear seemingly on every corner. It's a lovely place to walk around and this morning you will enjoy a private guided walking tour of the historic center. Leaving Cuenca, you will have the opportunity to stop at the Mirador de Tuni, to enjoy sublime views views over the city's lovely, romantic skyline. From here you will drive the short distance to Cuenca's airport for your short, scenic flight over the Andes to Quito in order to connect to your flight home.
Hotels listed below are given as suggestions only to illustrate the standard of hotels used. 
Quito - Luxury - Anahi
The Anahí Boutique Hotel brings together the perfect balance of comfort and style. It has been meticulously designed to satisfy the needs of the most demanding traveler, offering fifteen suites that have been tailored with unique and luxurious details. Located in the north-center region of the city, Anahi is close to the most exciting and lively part of the city, yet only a short taxi ride away from the city's beautiful historic center.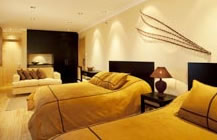 Quito - Deluxe - Swissotel
Swissotel Quito is one of the city's top five-star luxury hotels. Each of the 232 elegant guest rooms and 43 executive apartments are air-conditioned and feature stylish, contemporary design. Luxurious amenities include state-of-the-art technology and free wifi.v Executive rooms and the Swiss Executive Club lounge provide additional luxury and exclusivity. Five excellent restaurants offer a wide variety of international cuisine: Japanese, Swiss, Mediterranean and Ecuadorian: a menu to suit every palate.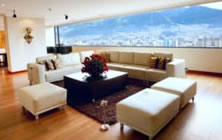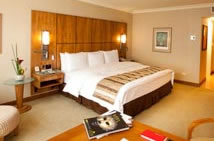 Amazon Jungle - Luxury - Napo Wildlife Center
Amazon Jungle - Deluxe - Napo Wildlife Center
Napo is the Amazon's leading luxury Eco-Lodge. Located by the Añangu Lake, South bank of the Napo River, it is the only lodge within Yasunì National Park, a UNESCO Biosphere Reserve, and the largest tract of intact rain forest in Ecuador. The lodge offers the finest accommodations and privacy of all lodges in Ecuador and one of the best in the entire Amazon. 16 large, individual luxury cabañas each feature private lake and jungle views. Napo offers unrivalled nature attractions and biodiversity, with numerous wildlife viewing facilities including a spectacular 100-foot high canopy observation tower. It is an amazing place, a visit to which will never be forgotten.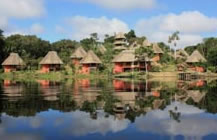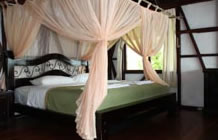 Baños - Luxury - Luna Runtun (Superior Room)
Baños - Deluxe - Luna Runtun (Suite)
Luna Runtun is a beautiful hotel situated on the steep slopes overlooking Baños. The views from here have to be seen to be believed. Rooms and suites are all luxuriously appointed and many offer spectacular views from their private balconies and patios. All rooms are individually designed and feature modern amenities and stylish décor. This is one of our favorite hotels in Ecuador and one that you are sure to remember as a highlight of your visit to the country.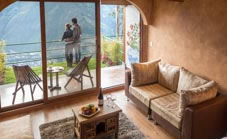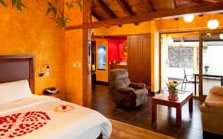 Riobamba - Luxury - Hacienda Abraspungo (Junior Suite)
Riobamba - Deluxe - Hacienda Abraspungo (Master Suite)
The wonderful Hacienda Abraspungo is located at 9035 feet above sea level and is surrounded by the magnificence of the Ecuadorian Andes. The hacienda offers comfortable, charming and high level accommodations and personalized service in the ideal location to enjoy the peace and beauty of the Andes. The architectural style found here offers the best of traditional colonial design often used in the ancestral mansions and haciendas of Ecuador. The 42 rooms rooms incorporate modern interior design elements within the framework of traditional, colonial architecture and are fully equipped with all amenities one would expect from a luxury hotel.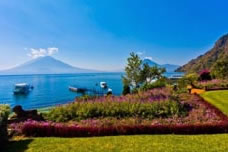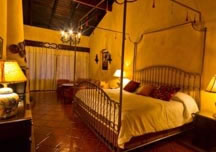 Cuenca - Luxury - Hotel Santa Lucía (Junior Suite)
Hotel Santa Lucía is located in one of the most beautiful historic, commercial and financial areas of Cuenca, at a short walk from the main square. The hotel has been restored in a historic house dating from 1859, with beautiful architectural details from that era. It has 20 modern and comfortable rooms, a trattoria in the central patio, a tea room and a restaurant with some of the city's finest Ecuadorian and international cuisine.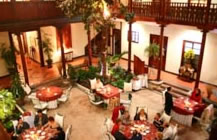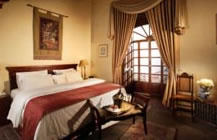 Cuenca - Deluxe - Mansión Alcazar (Suite)
A turn of the century mansion completely restored and transformed into a luxury boutique hotel, in order to satisfy the most discriminating traveler, Mansion Alcazar is located in the heart of the city of Cuenca. The interior decor evokes the style of the century, with careful selection of fine furniture and objets d'art that embellished at one time the most luxurious rooms in one of the most beautiful cities in Ecuador. Personalized service is given not only upon arrival, but also in the intimate Le Bar and Casa Alonso Restaurant, where you can enjoy a drink and the best gourmet cuisine in town.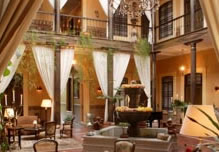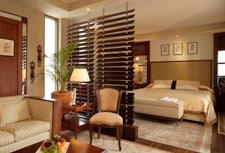 Pricing
From $3795 per person (Luxury Hotels) or $4295 per person (Deluxe Hotels), for a private tour based on two people traveling in low season sharing a room.
Hotels listed on the Hotels Tab are given as suggestions only to illustrate the standard of hotels used. 
Price Includes:
All hotels as described in the itinerary
Services of Blue World Journeys's representatives while in Ecuador
All transportation as described in the itinerary in a private air-conditioned vehicle with an English speaking driver / guide
Domestic flights: Quito-Coca-Quito and Cuenca-Quito
Private sightseeing and entrance fees
Meals as described in the itinerary
Bottled water in the vehicle during all transfers 
Price Excludes:
International flights
Travel insurance
Meals other than those listed in the itinerary
Gratuities for guides and drivers
Sightseeing other than described in the itinerary
Additional room charges of a personal nature in hotels (eg: room service, laundry, phone calls, etc.).