Land Based Galapagos Island Hopping
This is our newest and one of our most popular tours, designed specifically for those who wish to see and experience the best of the Galapagos but who prefer to not travel by cruise vessel.
There are some excellent hotels on the Galapagos, and coupled with our new express fast boat service connecting the islands, you can now enjoy visiting a different island every day, returning to the comfort of your hotel every evening. This tour is perfect for people who only have a week but wish to maximize their time on the islands.
Detailed Itinerary
Day 1 - Arrival in Quito
Upon arrival at Quito's Mariscal Sucre International Airport you will be warmly welcomed by your guide and driven to your hotel in Quito's historic center.
Day 2 - Quito City Tour, Equator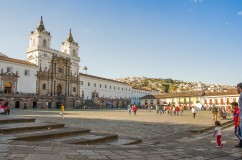 After a leisurely breakfast, you will be escorted on a private tour of Quito's colonial historic center. Declared by UNESCO as a World Heritage Site, Quito is a delightful city to enjoy walking around the Independence Plaza, the Metropolitan Cathedral, the Archbishop's Palace, the Municipality, and the Carondelet Government Palace. You will have the opportunity to visit the lovely church of La Compañía as well as the Convent of San Francisco. Later you will be taken to "El Panecillo", a small hill in the middle of the city with a fabulous view of the city and the surrounding snow-capped volcanoes. This afternoon you will visit the Equator, which is located only 30 minutes from Quito. From here you can jump from the northern to the southern Hemisphere, and visit the fascinating Intiñan Museum where you will be introduced to many of the indigenous cultures of Ecuador.
Day 3 - Fly to the Galapagos
This morning you will be escorted to Quito's airport for your flight to the town of Puerto Ayora, the largest town in the Galapagos. After checking into your hotel, you will visit Primacias Ranch, a privately owned area of 150 acres where giant land tortoises can be seen at close range as they go in search of shade, food or safe locations to incubate their eggs.
This afternoon you will visit the Charles Darwin Research Station, where you will learn about the evolution of the islands and visit a breeding center of giant tortoises. You will see different generations of tortoise and also the remains of the famous Lonesome George who was the only survivor of his species on Pinta Island.
Day 4 - Isabella Island
Isabella is one of the most beautiful and diverse islands in the Galapagos. You will be given a full day tour of this fascinating island starting with the tortoise breeding center, where you will learn more about these fascinating native animals. Nearby, the salt and brackish lagoons of Flamingo Lake are home to an astounding variety of coastal and sea birds. You will also see the largest concentration of flamingoes in the islands.
This afternoon you will visit the Tintoreras Islet, home to a great variety of local wildlife. The pristine, turquoise waters here are inhabited by white-tipped reef sharks, marine turtles, Galapagos penguins and sea lions. On the beaches you will see marine and land iguanas in large numbers.
Day 5 - Floreana Island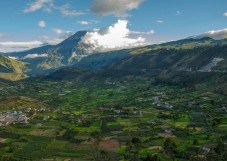 Floreana is a lovely island, with a small settlement that is home to around 100 people. Asilo de la Paz is a hill overlooking the town where you will visit old pirate caves, as well as a freshwater spring that provides water for the island. These caves were home to the pirate Patrick Watkins, who lived there in the early 1700s. In 1929, Germans Heinz and Margaret Wittmer gave birth to their son Rolf, the first 'Galapagueño'. You will hear some fascinating stories of survival and mystery that are part of the history of this island.
After lunch you will visit La Lobería, a small beach that is home to a sea lion colony. You will also see black marine iguanas as well as green sea turtles nesting on the beach. The opportunity to swim and snorkel with these animals in their natural habitat is an unforgettable experience.
Day 6 - Visit to North Seymour Island
North of Baltra is the small islet of North Seymour. The two islands are very similar in appearance, both created from geological uplift and having typical arid vegetation including prickly pear cactus, palo santos trees and salt bushes. The visitor trail on North Seymour is approximately a mile and a half in length, crossing island and giving visitors the opportunity to explore the rocky coast. Along the way you will pass colonies of blue-footed boobies and magnificent frigate birds. The magnificent frigate bird, a large black bird with a long wingspan, and a hooked beak, is extremely fast and has excellent vision and is a delight to observe gliding on thermals. Male frigate birds are known for the large, inflatable red pouch on their necks. During mating season they throw back their heads, inflate the pouch (sometimes to the size of a soccer ball), and shake trying to capture the attention of female frigates. The island is also populated with marine as well as land iguanas and many large sea lions.
Day 7 - Visit Twin Craters, Fly to Quito
Located on Santa Cruz Island, Los Gemelos (the twins) are two volcanic sinkholes. They are surrounded by scales forest and are a habitat to many native birds including eight species of Charles Darwin finches.
Following your visit, you will transfer to Baltra's airport for your flight to Quito connecting to your international flight home, or perhaps a fascinating 3 day extension to an Amazon jungle lodge, or a visit to the spectacular Andes mountains around the city if you haven't had enough of this fascinating country.
Hotels listed below are given as suggestions only to illustrate the standard of hotels used. 
Quito Luxury - Anahi
The Anahi boutique hotel brings together the perfect balance of comfort and style. It has been meticulously designed to satisfy the needs of the most demanding traveler, offering fifteen suites that have been tailored with unique and luxurious details. Located in the north-center region of the city, Anahi is close to the most exciting and lively part of the city, yet only a short taxi ride away from the city's beautiful historic center.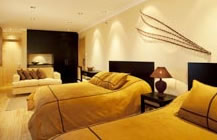 Quito Deluxe - Swissotel
Swissotel Quito is one of the city's top five-star luxury hotels. Each of the 232 elegant guest rooms and 43 executive apartments are air-conditioned and feature stylish, contemporary design. Luxurious amenities include state-of-the-art technology and free wifi.v Executive rooms and the Swiss Executive Club lounge provide additional luxury and exclusivity. Five excellent restaurants offer a wide variety of international cuisine: Japanese, Swiss, Mediterranean and Ecuadorian: a menu to suit every palate.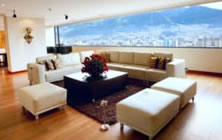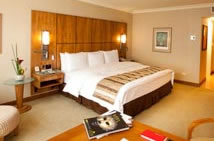 Galapagos Islands Luxury - Red Mangrove Inn (Standard Room)
Galapagos Islands - Deluxe - Red Mangrove Inn (Superior Room)
Red Mangrove is the leading hotel in Santa Cruz. The hotel's owners are committed to maintaining an eco-friendly operation and have received certification for sustainable management. All rooms are furnished with comfortable beds, contemporary décor and all modern amenities that discerning travelers expect in a comfortable, modern hotel, including air conditioning, modern private bathroom, biodegradable toiletries, cable TV, and CD player. The hotel's restaurant features a choice of Japanese or Galapagos fusion cuisine and is the best restaurant in town.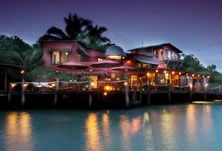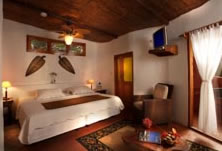 Pricing
From $4395 per person (Luxury Hotels) or $4995 per person (Deluxe Hotels), for a private tour based on two people traveling in low season sharing a room.
Hotels listed on the Hotels Tab are given as suggestions only to illustrate the standard of hotels used.
Price Includes:
Hotels as described in the itinerary
Services of Blue World Journey's representatives while in Ecuador
All transportation as described in the itinerary in a private air-conditioned vehicle with an English speaking driver / guide
Domestic flights: Quito-Galapagos-Quito
Private sightseeing and entrance fees
Meals as described in the itinerary
Bottled water in the vehicle during all transfers
Price Excludes:
International flights
Travel insurance
Meals other than those listed in the itinerary
Gratuities for guides and drivers
Sightseeing other than described in the itinerary
Additional room charges of a personal nature in hotels (eg: room service, laundry, phone calls, etc.).