Guatemala's Jungles and Volcanoes
This wonderful tour to one of the most fascinating countries in the world highlights the natural as well as cultural riches of the region. Beginning with a visit to one of the most impressive indigenous markets in the world, the tour continues to the stunning Lake Atitlán, referred to as 'the closest thing to Eden on Earth' by Lonely Planet guidebooks where the lake's strikingly deep blue water contrasts with three perfectly conical volcanoes encircling the lake. A boat tour and a visit to some of the indigenous villages on the lakeshore is included. A visit to the north of Guatemala follows, where an ancient Mayan city rises out of the forest canopy deep in the jungle. The nearby jungle lagoons, filled with an amazing variety of flora and fauna where you can explore lesser-known Mayan sites are truly unforgettable. The tour continues with a visit to the beautiful historic city of Antigua, undoubtedly the loveliest colonial city in Central America, where you will enjoy a private city tour followed by the unique experience of climbing a nearby active volcano. This is one of our favorite Guatemala itineraries and one that you'll surely never forget.
Detailed Itinerary
Day 1 - Arrival in Guatemala (-)
You will be warmly welcomed upon arrival at Guatemala City airport by one of our representatives and escorted to your hotel in the modern city center.
Day 2 - Visit Chichicastenango Market, Drive to Lake Atitlán (B)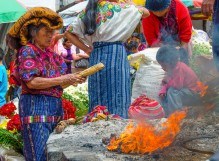 After a leisurely breakfast in your hotel you will drive approximately 2 hours to the delightfully named Maya K'iche town of Chichicastenango. This is a magical town of cobbled streets and red tiled rooftops, with traditional spiritual and shamanistic tones, set in a valley and surrounded by mountains frequently enveloped in highland mists, however the main reason for visiting is the twice-weekly market. This is Guatemala's finest highland market experience, where traders from a dozen surrounding outlying Mayan villages come to sell their goods. The result is one of the most colorful, vibrant and most enchanting outdoor market experiences anywhere in the world. The market sprawls over the whole town center and is a delight to experience as your senses are bombarded with colors, smells and the sound of indigenous languages in a scene that has been going on for hundreds of years. This afternoon, you will continue driving for approximately 90 minutes to Lake Atitlan. This 12-mile long, 6-mile wide stunning crater lake surrounded by three conical volcanoes, is widely believed to be one of the most beautiful lakes in the world.
Day 3 - Lake Atitlán Boat Tour, Indigenous Villages (B)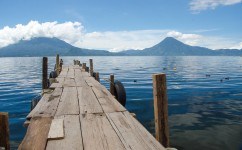 This morning you will awaken to a surprise vista of one of the most beautiful lakes in the world directly outside your hotel room window. After enjoying a delicious Guatemalan breakfast overlooking the idyllic shores of this impossibly blue lake, you will begin a private boat tour around some of the thirteen indigenous villages that encircle Atitlán. From the boat you will gain a wonderful perspective of the three conical Tolimán, San Pedro and Atitlán volcanoes that encircle this lake, called 'the closest thing to Eden on Earth' by Lonely Planet guidebooks. Mayan villagers, many of whom still dress in a riot of technicolored traditional clothing, populate the friendly and welcoming indigenous villages around the lake. You will hear the Mayan languages of Tz'utujil and Kaqchikel spoken here more than you will hear Spanish. Each village has its own feel and the local markets are great places to shop for the colorful textiles and handicrafts produced locally. This evening you will return to Guatemala City for an overnight stay.
Day 4 - Fly to Flores, Visit Tikal (B)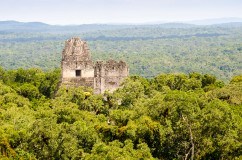 An early start will be required this morning in order to take a flight to the northern jungles. The Petén region of Guatemala contains one of the largest remaining continuous tracts of tropical forest in the Americas. Following breakfast, you will be given a private guided tour of Tikal. This is one of the most impressive ancient ruins in the world. It was the Mayan civilization's greatest city and is located in a spectacular, remote jungle setting with pyramids rising above the forest canopy.
Settled around 800 BC and occupied continuously until records ended in AD 869, it once covered an area of 12 square miles and had a population of at least 100,000 people. The jungle reclaimed Tikal after it was abandoned and the city remained unknown to the western world until its rediscovery in the 17th century. Tikal boasts an amazing variety of flora and fauna, with abundant wildlife viewable early and late in the day. Over 400 bird species have been recorded here. The pyramids here are some of the few in the Americas that you can climb from where you can marvel in the beautiful scenery and spectacular views from over 200 feet above the floor of the jungle. This afternoon you will drive to the nearby Mayan site of Yaxhá, an amazing place to watch the sunset over the jungle before returning to your hotel.
Day 5 - Petén Area - Ceibal - Petexbatún (B,L,D)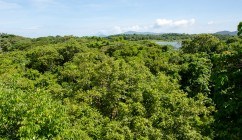 Following a leisurely breakfast overlooking the beautiful Lake Petén Itzá from your lakeside hotel, you will drive to Sayaxché, gateway to the beautiful Río La Pasión. This is a lovely area, rarely visited by tourists to Guatemala where you will feel like a true adventurer as you travel down the jungle-flanked river to explore the Mayan site of Ceibal. Dating from 830AD, the site is surrounded by a particularly striking protected forest reserve, home to many of the large Ceiba trees that give the site its name. After lunch will continue down the river to the placid waters of Petexbatún Lagoon, a real tropical paradise with abundant wildlife including several species of fish, freshwater turtles, howler monkeys, crocodiles and dozens of species of birds including egrets, kingfishers and herons. This afternoon you will continue to your comfortable jungle lodge, located on a fortified artificial island built by the ancient Maya to defend themselves during the latter stages of their occupation in this region.
Day 6 - Petexbatún Lagoon, Aguateca, Fly to Guatemala City, Drive to Antigua (B,L)
Following a leisurely breakfast marveling at the beautiful view of the lagoon while listening to the sounds of the jungle from the open-air restaurant of your lodge, you will return to your boat for a short journey across the lagoon to the archaeological site of Aguateca. The site sits at the southern end of the lagoon on a high outcrop. Only discovered in 1957, it is notable for a natural chasm that splits the site in two and features exuberant vegetation. Two lookout points afford wonderful lake views. After returning to the lodge for lunch, you will drive back to Flores to catch your early evening flight to Guatemala City, from where you will drive approximately 45 minutes to the lovely historic city of Antigua.
Day 7 - Antigua City Tour, Finca Filadelfia (B)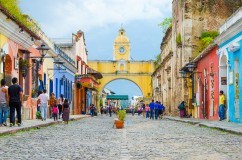 Antigua is undoubtedly the most impressive colonial city in Central America and boasts a huge variety of architectural riches. Following a leisurely breakfast in your hotel, you will be given a private walking tour through this delightful city, visiting its finest attractions including the Church and ex-convent of Las Capuchinas, the lovely, shaded main plaza, the Arco de Santa Catalina, a beautiful 17th century arch perfectly framing Volcán Agua, one of the three volcanoes encircling the town. This afternoon a visit to the delightful Finca Filadelfia, where a guided coffee plantation tour, as well as a wonderful walk through forested nature trails to view tropical bird species will introduce you to the natural delights of this fertile, volcanic region.
Day 8 - Pacaya Volcano (B)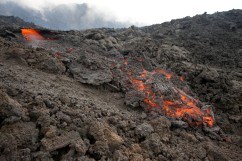 The Guatemala highlands are one of the few places in the world where you can have the amazing experience of climbing an active volcano with relative ease. An early start is required for this half-day guided trip. You will drive to the town of San Francisco de Salas, from where a well-maintained trail leads to the summit and the most spectacular view you've ever seen after 2-3 hours. No technical climbing is involved and although you don't have to be super fit to make the summit you must be in good health and have an adventurous spirit. Enjoy your final evening in Guatemala with a stroll through the beautifully lit historic center of the city, perhaps sampling the cuisine from one of the excellent restaurants here.
Day 9 - Farewell to Guatemala (B)
This morning you will be driven by private car to Guatemala City airport for your flight home.
Guatemala City - Luxury - Princess Hotel
The Princess Hotel boasts an excellent location in the heart of Guatemala City's affluent Zona Viva, where there are many excellent bars, shopping and dining options. This fine hotel has been recently updated and features 104 luxurious rooms, each designed with modern European decor with one king-size or two queen-size beds, air-conditioning and flat-screen tv. The Garden Court restaurant features a different style of cuisine every night from Guatemalan, to Caribbean to International, while Clancy's English Pub offers a warm and unique atmosphere.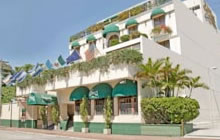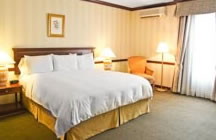 Guatemala City - Deluxe - Intercontinental Hotel
This luxury hotel is the perfect accommodation for business, entertainment and relaxation. Enjoy the recently renovated restaurants and leisure areas. Indulge yourself with more than 260 menu options from fouur creative restaurants - The Market, Picasso, Tanoshii, Saint Honoré and the vibrant Maya Lounge. Unwind in your spacious suite, rejuvenate in the new spa and fitness center. You will love staying at this hotel, our favorite in the city, renowned for its service and unparalleled location in the affluent Zona Viva. Rooms are stylish and modern featuring comfortable beds, Agraria toiletries and all luxuries one would expect from this world-renowned hotel chain.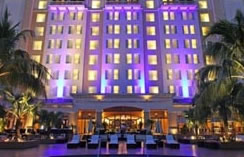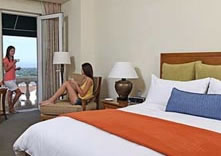 Lake Atitlán - Luxury - Hotel Atitlan
This stylish, historic hotel graces the shores of Lake Atitlan, one of the most beautiful lakes in the world. High quality local fabrics are used for bed covers, curtains and cushions, made specifically to echo the ambience of the lake, while modern amenities such as high quality sheets, pillows, blankets, and hypoallergenic down comforters make your stay as pleasant as possible. Bathrooms at Hotel Atitlan feature high quality cotton towels as well as fine soaps, shampoo and conditioners. The hotel's beautiful Botanical Gardens, filled with hundreds of varieties of plants as well as countless colorful tropical birds are a delight to stroll through before enjoying a delicious Guatemalan meal at the lake view restaurant.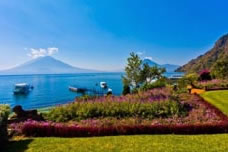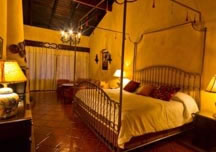 Lake Atitlán - Deluxe - Casa Palopo
Perched above spectacular Lake Atitlan with a view of three volcanoes and located in the Guatemalan Highlands, Casa Palopó offers two distinct brands of romantic relaxation for the sophisticated traveler. All suites offer unbroken views of the scenic volcanoes and lake as well as first-rate amenities such as Italian luxury bed linens and L'Occitane products. This beautiful hotel is undoubtedly the finest accommodations in the Lake Atitlan region.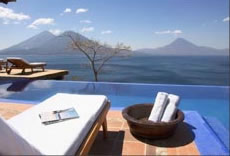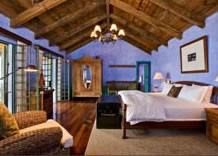 Flores - Luxury - Camino Real (Standard Room)
Flores - Deluxe - Camino Real (Superior Room)
The Camino Real is located between two indigenous villages and the national reserve of Cerro Cahuí on the shores of Lake Peten Itza. It offers private access to the second largest lake in Guatemala and the nature that surrounds it.The hotel is a tropical retreat located in the heart of the Petén jungle, with excellent facilities and comfort that will ensure an unforgettable experience. Air-conditioning, cable tv, internet and fine linens are standard amenities for all rooms, while the Nakún restaurant serves a delicious selection of Guatemalan and International cuisine.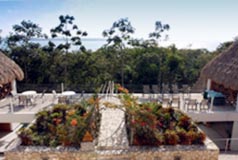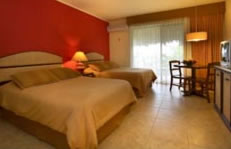 Petexbatún - Luxury - Chiminos Island Ecolodge
Petexbatún - Deluxe - Chiminos Island Ecolodge
Chimino's Island Lodge is located on the beautiful Petexbatun Lagoon in the Guatemalan jungle. The lodge offers 5 comfortable mahogany bungalows, each perfectly blended into the rainforest and several hundred feet away from each other, so you can enjoy your own private jungle withbeautiful views over the lagoon. Each bungalow has a private en suite bathroom, hot water and is completely protected from the insects and other animals outside. We are certain that you will be pleasantly surprised by the comfort and cleanliness that characterize this lodge, in a spectacular setting that goes beyond what you may expect to find in the middle of the jungle.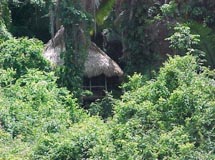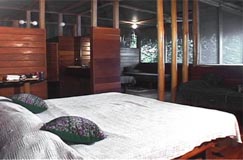 Antigua - Luxury - Camino Real
The Camino Real is a beautiful hotel located within Antigua's historic center. Recently updated and refurbished, the hotel features 97 luxurious rooms and suites designed around five colonial-style courtyards. Each room has two queen size beds, presented with fine linens and a menu of pillows. The hotel's restaurant serves a delicious selection of Guatemalan and International gourmet cuisine and the gardens are lush and tropical. This is a highly recommended luxury hotel that we're sure you'll enjoy.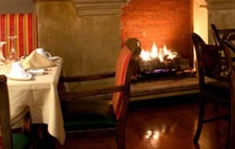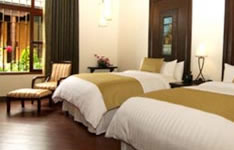 Antigua - Deluxe - El Convento
Awarded the 'Most Excellent Hotel in Mexico and Central America' award by Conde Nast Johansens in 2013, El Convento welcomes visitors to an oasis of stunning elegance and unparalleled comfort. The hotel is the perfect base from which to discover La Antigua, with its intriguing architecture and countless cultural landmarks. Many suites feature fireplaces, and some offer romantic outdoor terraces and Jacuzzis. Rejuvenate your mind, body and spirit with a spa service, or sample delicious food at the hotel's Elu Restaurant with its imaginative cuisine, impressive wine list, and awe-inspiring outdoor terrace.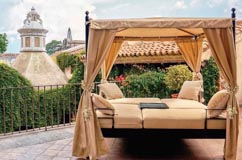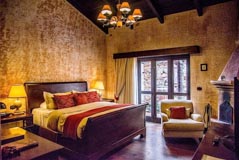 Pricing
From $3180 per person (Luxury Hotels) or $3440 per person (Deluxe Hotels), for a private tour based on two people traveling in low season sharing a room.
Hotels listed on the Hotels Tab are given as suggestions only to illustrate the standard of hotels used. 
Price Includes:
All hotels as described in the itinerary
Services of Blue World Journeys's representatives while in Guatemala
All transportation as described in the itinerary in a private air-conditioned vehicle with an English speaking driver / guide
Private sightseeing and entrance fees
Meals as described in the itinerary
Bottled water in the vehicle during all transfers 
Price Excludes:
International flights
Travel insurance
Meals other than those listed in the itinerary
Gratuities for guides and drivers
Sightseeing other than described in the itinerary
Additional room charges of a personal nature in hotels (eg: room service, laundry, phone calls, etc.).