Oaxaca and Chiapas Grand Tour
This fascinating tour highlights two of Mexico's most indigenous and interesting regions. Oaxaca is a beautiful colonial city and makes a delightful place to spend a few days, soaking up the mountain scenery and culture. Here you can sample Oaxaca's delicious, exotic cuisine, including each of its seven 'moles' (sauces containing up to 25 ingredients served over meats), as well as 'chapulines' (surprisingly tasty fried grasshoppers) for the more adventurous. The city's markets are a wonderful introduction to the local regional produce and a great place to practice your bartering skills as you stock up on chilies, textiles, pottery, arts and crafts. Leaving here, you will fly to Chiapas. This is Mexico's most geographically beautiful state and you will be escorted on a fascinating tour through the Sierra Madre de Chiapas Mountains and into the steamy lowland rainforests. Chiapas is an ecotourism paradise where lush, jungle clad mountains hide remnants of ancient pre-Hispanic cities and beautiful colonial towns and cities thrive in the fresh, clear highland air. This is also Mexico's most deeply rooted indigenous state and is a paradise for travelers with an adventurous spirit and a desire to experience some of Mexico's most spectacular natural beauty of lush, tropical jungles, steaming volcanoes, thundering waterfalls and whitewater canyons without sacrificing comfort, staying in unique and luxurious accommodations.
Detailed Itinerary
Day 1 - Arrive in Oaxaca (-)
You will be warmly welcomed upon arrival at Oaxaca airport by one of our representatives and escorted to your hotel in the historic center of the city.
Day 2 - Oaxaca City Tour (B)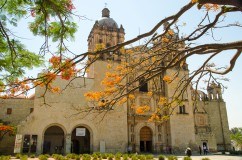 Following a leisurely breakfast in your hotel, you will be met by your guide and escorted on a city tour. Oaxaca has a beautiful colonial core of lovely tree-lined streets and is one of Mexico's most captivating cities. The Zócalo (main plaza) is free of traffic and is full of life, day and night. Leading off the Zócalo, Calle Alcalá is a highlight of the historic center - one of Mexico's most delightful pedestrian streets, featuring dozens of restaurants, cafes, museums, art galleries, clothing stores and mezcalerías. At the end of this street you will find Templo De Santo Domingo, Oaxaca's most beautiful church, completed in 1608. The nearby Botanical gardens set in former monastic grounds and feature plants from all around the state including an amazing variety of cacti. Following a delicious Oaxacan lunch in one of the many restaurants in the área, you will visit the Museum of Oaxacan Culture. This is a fascinating, expansive museum in a beautiful ex-monastery and is one of the best regional museums in Mexico, featuring the history of Oaxaca from pre-Hispanic to the present day. Following this, a visit to the interesting Oaxacan Textile Museum will give you an understanding of Oaxaca's rich textile tradition. The rest of the afternoon will be at your leisure to shop and enjoy the delights of this beautiful city.
Day 3 - Market Villages, Monte Albán (B)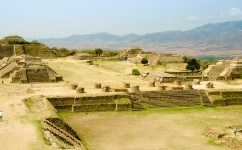 An early start will be necessary this morning in order to maximize your time for the busy day ahead. Many local villages have a market day where people from surrounding, more remote villages come to sell their produce. A visit to one of these is an experience not to be missed as your senses are bombarded with colors, sounds, smells and indigenous languages in a scene that has been going on for over a thousand years. You will visit whichever local village is holding their market this morning. Following this unique experience, you will drive to Teotitlán Del Valle a famous weaving village with a weaving tradition that goes back to pre-Hispanic times. There are a huge variety of styles on display, with traditional dyes made from indigo, cochineal and moss. This afternoon, you will be given a private tour around the spectacular ruins of Monte Albán. This ancient Zapotec capital stands on a flattened hilltop, 400m above the valley floor overlooking Oaxaca, and is one of the most impressive ancient sites in Mexico. Upon your return to the city, perhaps enjoy dinner and an evening stroll around the Zócalo, immersed in the activity of life here.
Day 4 - Fly to Tuxtla Gutierrez, Transfer to San Cristóbal de las Casas (B)
This morning you will be driven by private car to the airport in Oaxaca for your flight to the state of Chiapas via Mexico City. You will be met upon arrival at Tuxtla Gutierrez airport by one of our representatives and driven approximately 60 minutes to your hotel in San Cristóbal de las Casas.
Day 5 - City Tour, Visit Indigenous Villages (B)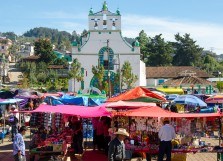 After a leisurely breakfast in your stylish hotel, you will be taken on a private tour of this beautiful city. You will visit the delightful Templo and Ex-Convento of Santo Domingo, San Cristóbal's most beautiful church, followed by the nearby fascinating Na Bolom research center of Chiapas' indigenous cultures and natural environment. Following a lunch break where you can sample one of the city's fine restaurants, your tour will continue to the Museum of Mayan Medicine, as well as the unique Chiapas Museum of Amber, where you will learn about this local 30 million year old pine resin. A peaceful and welcoming atmosphere, coupled with an artistic and bohemian flair, characterizes San Cristóbal. The colonial streets and alleyways lined with red-roof tiles and white-washed walls beg wanderers to explore and discover the nooks and crannies; alleyways open up into picturesque arcades and plazas showing off their authentic colonial architecture and hosting churches, museums, cafés, restaurants and artisan workshops, among other delights. This afternoon you will visit the town of San Juan Chamula, home to an independent Tzotzil group known as Chamulans, who carry out some unique, traditional religious practices. The Templo de San Juan in the plaza is painted white, decorated with a vivid green and blue arch. Inside the dark interior, candles, incense, a pine needle carpeted floor and traditional worshipers make a powerful impression. The nearby town of San Lorenzo Zinacantán is the main village of the Tzotzil Zinacantán people, where men wear pink tunics, embroidered with flower motifs and ribboned palm hats, while women wear pink and purple shawls over embroidered blouses. Amatenango Del Valle is a pottery village, demonstrating traditional, pre-Hispanic methods where a fire is burned around the clay, not inside a kiln.
Day 6 - Cañon del Sumidero (B)
Following breakfast, today's tour will continue to El Aguacero, a beautiful series of waterfalls that plunge into the sheer Rio la Venta canyon. This afternoon, following a lunch break in the pretty jewel of a colonial town of Chiapa de Corzo, you will take a private 2 hour boat tour through the Cañon Del Sumidero, a spectacular fissure in the earth, with a river running through the bottom of the canyon's towering, 800m high rock walls. After returning to San Cristóbal you will have the evening to enjoy exploring this safe, walkable city center at your leisure.
Day 7 - Drive to Agua Azul, Misol Ha, Continue to Palenque (B)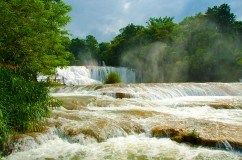 Following a leisurely breakfast this morning you will embark on a half-day trip to visit the aquatic wonders of Agua Azul and Misol-Ha. Agua Azul is a long series of glittering cascades coursing through lush valleys in the Sierra Madre de Chiapas Mountains. The powerful, shimmering falls, white water and deep, clear pools, rush through the steaming jungle. With sparkling turquoise water set against a deep green jungle background, the falls are probably one of the most spectacular natural attractions in Mexico. A short drive away is Misol-Ha. Over 100 feet high, these stunning falls empty into a deep, calm pool surrounded by tropical vegetation at the base of jungle-covered cliffs. Chiapas, with its pine forest highlands and steamy lowland rainforests filled with a huge variety of flora and fauna, is one of Mexico's most beautiful states. Today's three-hour drive through the mountains and jungle to Palenque will not disappoint. You will have plenty of opportunities to stop for scenic photos or so simply enjoy the spectacular vistas.
Day 8 - Tour Palenque Ruins (B)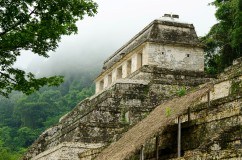 One of the most impressive pre-Hispanic ruin sites in Mexico, Palenque is located in a beautiful primordial jungle setting. Containing an array of soaring, jungle swathed temples, it was first occupied around 100BC. However, abandoned around 900AD, and being in one of Mexico's most lush, wet areas, the ruins were quickly overtaken by the surrounding jungle and remained unknown to the western world until 1746. Your private tour of the ruins today will encompass all of the major temple complexes including the amazing eight level Temple of the Inscriptions, as well as learning about the fascinating pre-Hispanic culture of Mesoamerica. Enjoy a free final afternoon relaxing poolside at your stylish hotel.
Day 9 - Transfer to Villahermosa Airport (B)
This morning after an al-fresco breakfast, a private car will transfer you to Villahermosa airport (approximately 90 minutes) and your flight home.
Oaxaca - Luxury - Hotel Los Siete Balcones
This lovely hotel in Oaxaca is no ordinary hotel, no mere stopover when you venture to the Central Valleys of southern Mexico. It is a glimpse into the colorful local lifestyle here. Located just 2 blocks from the Zocalo, this colonial-style hotel is characteristic of the historic city's splendid architecture. Feast your eyes on the elaborate details evident in the stylish rooms, featuring Spanish and Mexican architecture. Each room is fitted with essentials like cable TV and full air-conditioning, as well as individual private balconies overlooking the lively streets of the historic center. This is a beautiful, exclusive hotel where you will feel a true part of Oaxacan culture without sacrificing any luxuries whatsoever.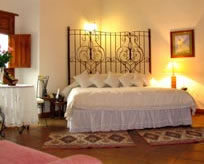 Oaxaca - Deluxe - Quinta Real Oaxaca
A beautifully restored former convent located in the heart of Oaxaca's historic center, the Quinta Real is widely regarded as the city's premier luxury hotel. Its lovely gardens adorned with terraces, fountains and arches make the grounds a delight to stroll through. Built in 1576, this stunning property retains its original frescoes and tile floor designs, restored to their original splendor. Beautifully appointed rooms, with authentic colonial touches and lovely views over the gardens and internal patios are luxurious and modern. The city's Zocalo (main square), a hive of activity day and night, is a short stroll away and the nearby delightful pedestrianized streets of the city's colonial heart make this a fine choice of hotel.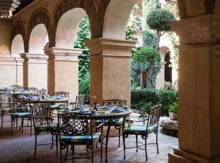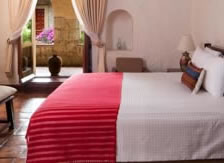 San Cristóbal De Las Casas - Luxury - Casa Felipe Flores
Casa Felipe Flores is a delightful boutique hotel located in the center of the historic district of San Cristóbal de las Casas, two blocks from a main pedestrian walkway filled with restaurants and bars leading to the main plaza. This historic landmark features authentic Mexican and Guatemalan furniture throughout, Talavera tile, original artwork and collectibles and books representing the Maya region of Chiapas. Guests can relax in three flower filled courtyards, or on the rear sun deck. Each room features a fireplace for those chilly mountain evenings.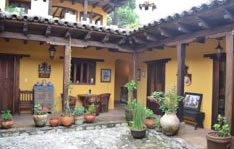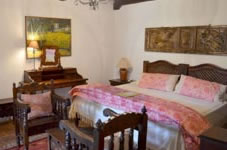 San Cristóbal De Las Casas - Deluxe - Hotel Bo
Hotel Bo is one of the newest, most stylish boutique hotels in San Cristóbal de las Casas. Tastefully decorated in muted hues, the hotel is an oasis of peace and tranquility, just a five-minute walk from the main plaza. The rooms are modern and luxurious, centered around a relaxed garden setting and all feature flat screen televisions, Egyptian cotton sheets and Etro toiletries. The hotel's Lum restaurant serves creative, modern Chiapan and Mexican cuisine. This is one of our favorite places to stay in the city, and we're sure you'll agree.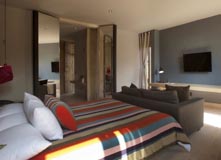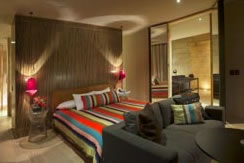 Palenque - Luxury - Villa Mercedes
A modern retreat inspired by the surrounding tropical forest, Villa Mercedes has an exceptional location 5 minutes from the archaeological site of Palenque and a few miles from spectacular landscapes, lakes and waterfalls. Surrounded by exotic natural beauty and gorgeous gardens, the hotel has been designed for families and business travelers. Featuring 92 comfortable and modern 4-star rooms and suites for you to enjoy, as well as facilities that include a refreshing pool, temazcal (traditional Mayan sauna), spa and restaurant, among many other elements that make Villa Mercedes a great choice among hotels in Palenque.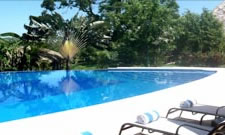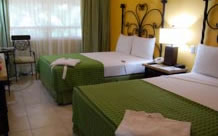 Palenque - Deluxe - Quinta Cha Nab Nal
Located three kilometers from the archaeological site of Palenque, this luxury hotel evokes a Mayan palace complex of the classic period. Traditional pre-Hispanic design, updated with modern sophistication awaits you. The rooms are set amidst luxuriant jungle flora and the swimming pool reflects the typical waterfalls found in the ruins of Palenque. This is without a doubt the most luxurious hotel in the Palenque area, featuring beautifully decorated large rooms, with king-size beds, comfortable sitting areas and Botanicus and Sak Pó toiletries in the bathrooms.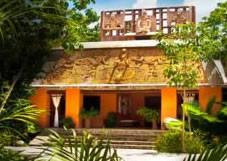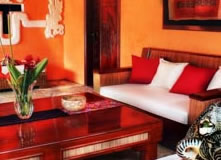 Pricing
From $3795 per person (Luxury Hotels) or $4295 per person (Deluxe Hotels), for a private tour based on two people traveling in low season sharing a room.
Hotels listed on the Hotels Tab are given as suggestions only to illustrate the standard of hotels used. 
Price Includes:
All hotels as described in the itinerary
Services of Blue World Journeys's representatives while in Mexico
All transportation as described in the itinerary in a private air-conditioned vehicle with an English speaking driver / guide
Private sightseeing and entrance fees
Meals as described in the itinerary
Bottled water in the vehicle during all transfers 
Price Excludes:
International flights
Travel insurance
Meals other than those listed in the itinerary
Gratuities for guides and drivers
Sightseeing other than described in the itinerary
Additional room charges of a personal nature in hotels (eg: room service, laundry, phone calls, etc.).