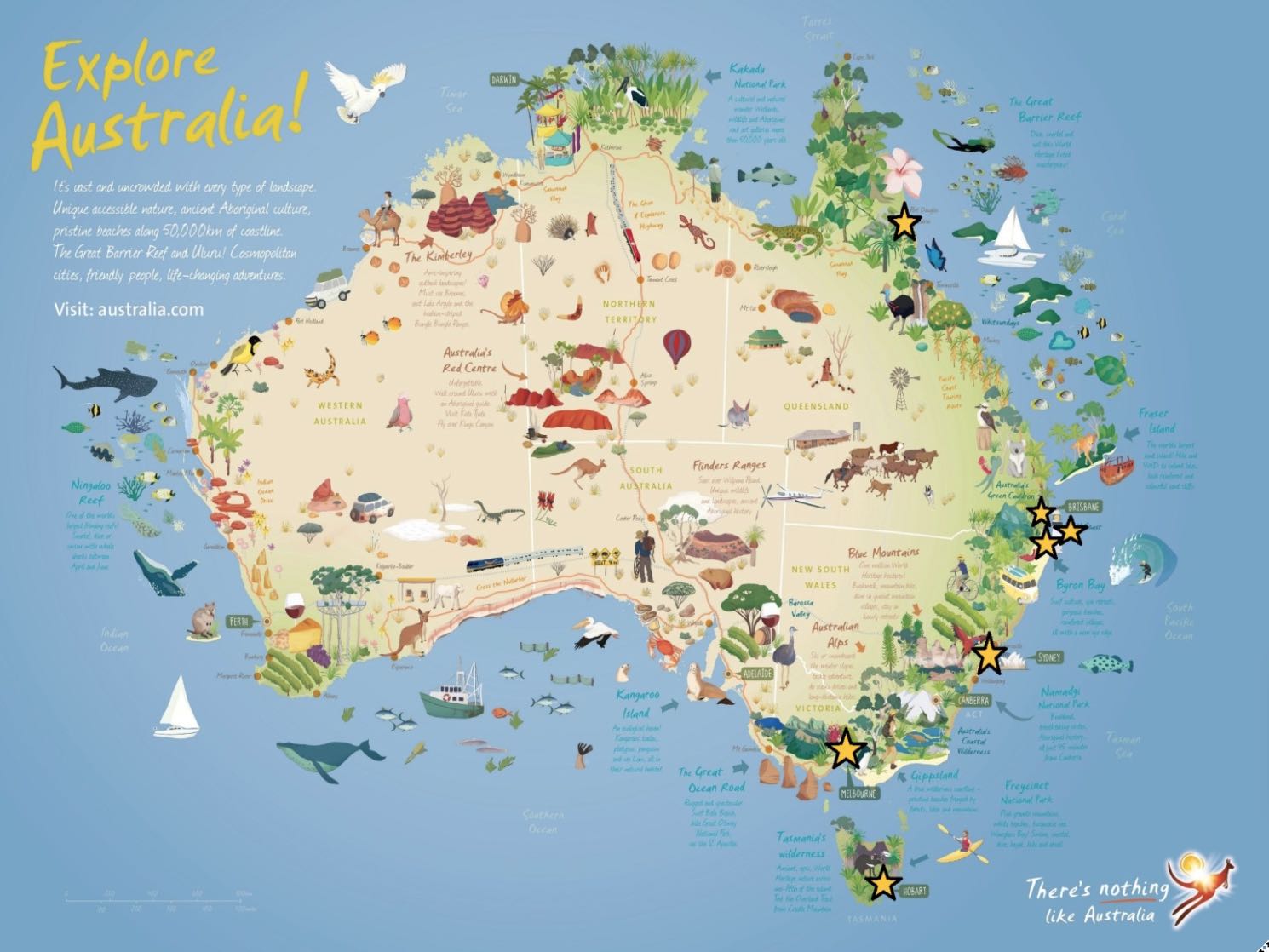 Australia should be right at the top of everyone's list of places to visit. Consistently ranked high on the list of the friendliest and safest destinations for visitors, Aussies welcome outsiders with open arms. Always quick to share a joke and very approachable, interactions with Australians are often a highlight of every visit.
Sydney is Australia's premier urban destination and is a great place to begin an Australian vacation. With an unrivaled natural setting, its beautiful harbor of shimmering blue waters, spanned by the iconic Sydney Harbour Bridge overlooking the even more iconic Sydney Opera House, there are stunning sights everywhere you look and many great Australian tours begin in Sidney. Take a boat cruise around the harbor, or for the more adventurous, a guided kayak tour with a picnic on a nearby deserted beach with the city's skyline in the distance is an unforgettable experience. Sample some of the city's excellent restaurants from Modern Australian to every ethnic cuisine you can imagine.
Close to the exciting, vibrant city of Melbourne lies the beautiful Great Ocean Road, one of the world's most beautiful coastal drives with some of Australia's most dramatic scenery. Don't be intimidated by driving on the left and rent a car for a few days to explore this lovely region of rugged, rocky cliffs pounded by the Southern Ocean, sleepy fishing villages, beautiful beaches and friendly people.
No vacation to Australia would be complete without a visit to the country's famous Outback. The easiest way to experience this is to visit the spectacular monolith of Uluru (Ayers Rock). Impressive to even the most jaded traveler, this is possibly Australia's most famous landmark. With a remote outback location, stunning natural beauty and deep cultural significance, a visit here is a must. In addition to Uluru, the region offers great scenery, the equally captivating Kata Tjuta, Aboriginal cultural experiences and unforgettable desert sunrises and sunsets.
Much less visited, but even more beautiful is the island of Tasmania, without a doubt Australia's best kept secret. This lovely island, famous for its natural beauty offers visitors breathtaking scenery at every turn. It is home to some of the planet's cleanest air and cleanest waters. Tasmania has its own cuisine based on the many microclimates found here as well as some fine vineyards producing world-class wines. The amazing 415,000-acre World-Heritage site of Cradle Mountain - Lake St Clair National Park is one of the continent's most heavily glaciated areas and offers many of the finest hikes in the world.
With a history dating back over 40,000 years, Australia's Aboriginal Culture is the oldest in the world. Learning about this history first hand from an Aboriginal guide is a wonderful way to broaden your knowledge of this fascinating, deeply rooted indigenous culture.
Queensland's tropical north is home to the Daintree. This is the world's oldest rainforest and one of Australia's most popular places to tour. A fascinating and remote tropical wilderness that is home to incredible biodiversity and is surprisingly easily accessed. The huge draw in this region, though is Australia's biggest attraction - The Great Barrier Reef. With its tropical paradise setting of rainforest fronted coastline, beautiful islands and underwater reef, it's an amazing place to visit. Home to an incredible abundance of marine life and comprising over 3000 individual reef systems, coral cays and tropical islands, it's one of the world's most desirable destinations. Over 1500 miles long, there's plenty to explore, from the multicultural hub of Cairns to remote, deserted islands, warm, crystal clear waters of every shade of turquoise you can imagine teeming with fish, coral and some of the best snorkeling and diving in the world.
Australia has something for everyone. A visit here is an unforgettable vacation of a lifetime that you'll surely remember forever. With easy access via nonstop overnight flights from the west coast of the US and Canada, it's a lot easier to travel to Australia for a custom luxury trip than you may think.

We specialize in tailor-made travel to Australia.

All of our Australian tours can be customized to your requirements – here are some tour ideas to inspire your Australian vacation!



Please click on any tour for detailed information

Prices are based on a private tour for on two people traveling in low season sharing a room.
Hotels listed on the Hotels Tab are given as suggestions only to illustrate the standard of hotels used.

Price Includes:

All hotels as described in the itinerary
Services of our representatives while in Australia
All transportation and tours as described in the itinerary in air-conditioned vehicles
Sightseeing and entrance fees
Meals as described in the itinerary

Price Excludes:

International flights
Domestic flights within Australia
Travel insurance
Meals other than those listed in the itinerary
Gratuities for guides and drivers
Sightseeing other than described in the itinerary
Additional room charges of a personal nature in hotels (eg: room service, laundry, phone calls, etc.)