Quito, The Amazon and 7-day Galapagos Cruise
This amazing tour takes advantage of the astounding diversity of Ecuador's geography. Nowhere else in the world can you see so much in such a small land area. A visit to Quito and its delightful historic center is a great introduction to this fascinating country. Here you will enjoy the sights of South America's loveliest colonial city, surrounded by the mountains and volcanoes of the Andes. A short flight away is the town of Coca, the gateway to the Ecuadorian Amazon, from where you will travel to the spectacular Yasuní National Park, one of the most bio-diverse places on the planet while staying in a luxury jungle lodge. A cruise to the world famous Galapagos Islands follows where you will experience unforgettable, close-up wildlife encounters like nowhere else on Earth. Convenient domestic flights within Ecuador make this tour attractive to people who don't want to spend many hours driving through the country.
Detailed Itinerary
Day 1 - Arrive in Quito (-)
Upon arrival at Quito's Mariscal Sucre International Airport you will be warmly welcomed by your guide and driven to your hotel in Quito's historic center.
Day 2 - Quito City Tour, Equator (B)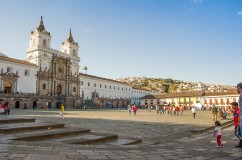 Today you will be escorted on a private tour of Quito's colonial historic center. Declared by UNESCO as a World Heritage Site, Quito is a delightful city to enjoy walking around the Independence Plaza, the Metropolitan Cathedral, the Archbishop's Palace, the Municipality, and the Carondelet Government Palace. You will have the opportunity to visit the lovely church of La Compañía as well as the Convent of San Francisco. Later you will be taken to "El Panecillo", a small hill in the middle of the city with a fabulous view of the 45 km long and 4 km wide city and the surrounding snow-capped volcanoes. This afternoon we will visit the Equator, which is located only 30 minutes from Quito. From here you can jump from the Northern Hemisphere to the Southern Hemisphere. At the visitor's center, you will be able to visit the fascinating Intiñan Museum where you will be introduced to many of the indigenous cultures of Ecuador.
Day 3 - Flight to Coca, River Boat to Amazon Lodge (B,L,D)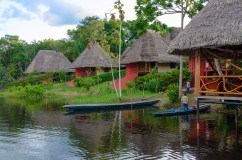 This morning you will be met in your hotel by your guide who will escort you to Quito's airport and assist you with the check-in formalities for your flight to the Amazon. The flight will take around 40 minutes, and on a clear day you will see the change in the landscape as you leave the Andes mountain range and enter the Amazon Jungle. Upon arrival in Coca, you will be escorted to the port located on the river Napo, a tributary of the Amazon River. Here you will board a motorized boat for a journey of approximately two and a half hours. During the trip you will have the opportunity to observe several different bird species as well as the lush jungle bordering the river. Upon arrival at the welcome center of the Napo Wildlife Center you will transfer to a canoe for a trip of about an hour up the Añanguyacu River to Napo Lodge. This is one of the most enjoyable aspects of staying at Napo, as the river is packed full of wildlife and spotting birds, caymans, monkeys and other jungle fauna are practically guaranteed. You will check in to the lodge for a three-night stay.
Day 4 - Wildlife Spotting in the Amazon (B,L,D)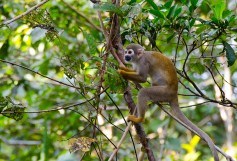 This morning you will awaken to the sounds of the jungle surrounding your cabin. After enjoying breakfast overlooking the beautiful jungle lagoon in front of the lodge, you will travel to one of the lodge's parrot clay licks. If conditions are right you may see up to a thousand brightly colored parrots at close range. This visit is followed by lunch and a fascinating insight into the local Kichwa indigenous tribe who inhabit this region of the Amazon. You will learn about their way of life as well as their customs and the threats to their survival. Another canoe ride up the Añanguyacu River to spot more wildlife will bring you back to Napo Lodge for the evening.
Day 5 - Jungle Observation Tower, Jungle Hike (B,L,D)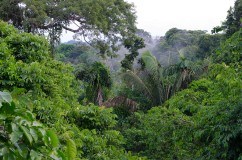 After breakfast this morning, you will leave the hotel in the morning towards the observation tower situated in the river Napo. The tower is over 100 feet high and is located a 15 minute canoe ride followed by an easy 15 minute walk on a well maintained jungle trail from the hotel. There are spectacular views over the jungle canopy from the top. Your keen-eyed guide will assist you in spotting numerous tropical bird species, as well as monkeys and other animals that make the jungle their home. This afternoon you will follow a jungle trail with your guide, looking for lizards, birds, insects, sloths and several species of monkey. The jungle's rivers are full of wildlife and you may be lucky enough to spot the elusive giant river otter as well as aligators. Enjoy a final dinner in the jungle overlooking the beautiful Añanguyacu Lagoon.
Day 6 - Return to Quito, Free Afternoon (B,L)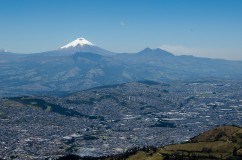 This morning you will reverse the journey you took from Quito to reach here. An easy canoe ride down the black water Añanguyacu River will take you to the Napo Wildlife Welcome Center from where a motorized boat will return you to the town of Coca after approximately two and a half hours in order to connect with your flight to Quito. This afternoon you will enjoy an afternoon at your leisure to enjoy this fascinating city, perhaps sampling some of its varied Andes cuisine or simply strolling the historic streets of the lovely old town.
Day 7 - Fly to Galapagos, Join Cruise, Visit Santa Cruz (B,L,D)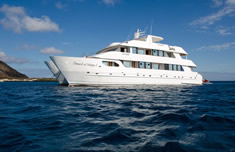 This morning your guide will meet you at your hotel and drive you to Quito's international airport. You will be assisted during the check-in formalities for your flight to the Galapagos Islands to join your cruise on the luxurious 101-foot long, 16-passenger catamaran the 'Treasure of Galapagos'. This is one of the most stylish, luxurious vessels cruising the waters of the Galapagos Islands, with a high reputation for service and comfort. Highlights of each day's shore excursions follow:
Morning: Fly to San Cristóbal, join the cruise, lunch on board.
Afternoon: Charles Darwin Station: Charles Darwin Station, giant tortoises, Opuntia cactus. Degree of difficulty: easy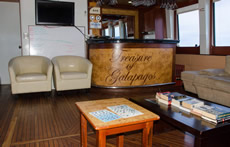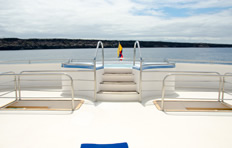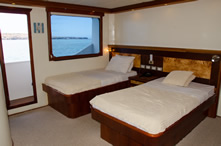 Day 8 - Santa Cruz (B,L,D)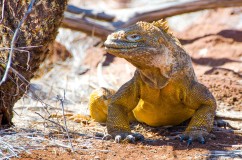 Morning: Ballena Bay: Sandy beach, ceramic relics. Difficulty: moderate
Afternoon: Dragon Hill: Land iguanas. Degree of difficulty: moderate
Day 9 - Isla Isabela: Tintoreras - Humedales (B,L,D)
Morning: Tintoreras: Small bay of calm turquoise waters, sea lions, sea turtles, marine iguanas, rays, crystal clear water, allows viewing of reef sharks swimming with other small fish and sea lions. Degree of difficulty: easy
Afternoon: Humedales: Coastal mangroves and brackish water lagoons, Galapagos penguins, green turtles, flamingo, oystercatcher, gallinula, ghost crabs, fiddler crabs. Degree of difficulty: easy
Day 10 - Punta Moreno - Urbina Bay (B,L,D)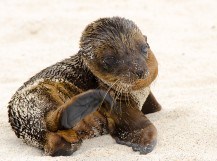 Morning: Punta Moreno: Coastal lagoons, many species of birds, views of 3 active volcanoes. Degree of difficulty: easy
Afternoon: Urbina Bay: Exposed coral, shells, very colorful land iguanas, giant tortoises, Alcedo Volcano. Degree of difficulty: moderate
Day 11 - Punta Espinoza - Caleta Tagus (B,L,D)
Morning: Punta Espinoza: Flightless cormorants, Galapagos penguins, sea lions, waders and the world's largest colony of spiny marine iguanas thriving on the edge of a barren lava flow, yellow warblers, Darwin finches, large billed flycatchers, Galapagos hawks and nesting brown pelicans. Degree of difficulty: moderate
Afternoon: Caleta Tagus: 1 mile long nature trail, formerly a favorite place for pirates and whalers. Degree of difficulty: moderate
Day 12 - Puerto Egas - Rabida (B,L,D)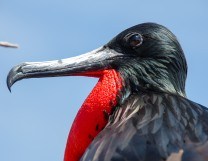 Morning: Puerto Egas - Santiago: One of the most popular sites in the Galapagos Archipelago - beautiful black sand beach, sea lions, chameleons, lizards and herons. Degree of difficulty: easy
Afternoon:Rabida: Salt lagoon with flamingoes, pelicans and boobies. Degree of difficulty: easy
Day 13 - Saturday: Sullivan Bay and Bartolome (B,L,D)
Morning: Las Bachas: Deserted white sand beach, flamingos and migratory birds, sea turtles, snorkeling, swimming. Degree of difficulty: easy.
From here you will drive to Baltra Airport for your flight to Quito to connect with your international flight home.
Quito - Luxury - Anahi
The Anahí Boutique Hotel brings together the perfect balance of comfort and style. It has been meticulously designed to satisfy the needs of the most demanding traveler, offering fifteen suites that have been tailored with unique and luxurious details. Located in the north-center region of the city, Anahi is close to the most exciting and lively part of the city, yet only a short taxi ride away from the city's beautiful historic center.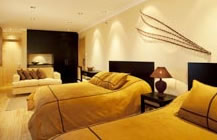 Quito - Deluxe - Swissotel
Swissotel Quito is one of the city's top five-star luxury hotels. Each of the 232 elegant guest rooms and 43 executive apartments are air-conditioned and feature stylish, contemporary design. Luxurious amenities include state-of-the-art technology and free wifi.v Executive rooms and the Swiss Executive Club lounge provide additional luxury and exclusivity. Five excellent restaurants offer a wide variety of international cuisine: Japanese, Swiss, Mediterranean and Ecuadorian: a menu to suit every palate.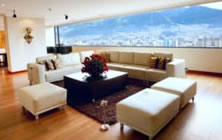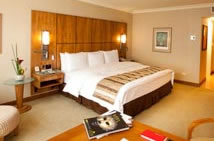 Amazon Jungle - Luxury - Napo Wildlife Center
Amazon Jungle - Deluxe - Napo Wildlife Center
Napo is the Amazon's leading luxury Eco-Lodge. Located by the Añangu Lake, South bank of the Napo River, it is the only lodge within Yasunì National Park, a UNESCO Biosphere Reserve, and the largest tract of intact rain forest in Ecuador. The lodge offers the finest accommodations and privacy of all lodges in Ecuador and one of the best in the entire Amazon. 16 large, individual luxury cabañas each feature private lake and jungle views. Napo offers unrivalled nature attractions and biodiversity, with numerous wildlife viewing facilities including a spectacular 100-foot high canopy observation tower. It is an amazing place, a visit to which will never be forgotten.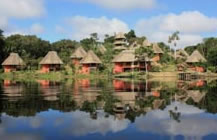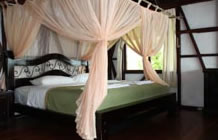 Galapagos Cruise - Treasure Of Galapagos
Pricing
From $5795 per person (Luxury Hotels) or $6495 per person (Deluxe Hotels), for a private tour based on two people traveling in low season sharing a room.
Hotels listed on the Hotels Tab are given as suggestions only to illustrate the standard of hotels used. 
Price Includes:
All hotels as described in the itinerary
Services of Blue World Journeys's representatives while in Ecuador
All transportation as described in the itinerary in a private air-conditioned vehicle with an English speaking driver / guide
Domestic flights: Quito-Coca-Quito and Quito-Galapagos-Quito
Private sightseeing and entrance fees
Meals as described in the itinerary
Bottled water in the vehicle during all transfers 
Price Excludes:
International flights
Travel insurance
Meals other than those listed in the itinerary
Gratuities for guides and drivers
Sightseeing other than described in the itinerary
Additional room charges of a personal nature in hotels (eg: room service, laundry, phone calls, etc.).