Andes and Land Based Galapagos
This fascinating itinerary combines the best of the central and southern highlands of Ecuador's Andes region with the world-renowned Galapagos Islands. In the highlands you will find glaciered mountains, active volcanoes and spectacular mountain peaks reaching up to over 20,000 feet as well as beautifully quaint colonial cities housing bustling, colorful crafts markets and interesting Spanish history. As a complete contrast to this, the world famous Galapagos Islands are only a short flight away and will introduce you to a spectacular world of unique wildlife encounters possible nowhere else on Earth. You will be amazed at how close you can be to the animals here, as they do not perceive humans as a threat. Don a mask and snorkel and you will find yourself in a natural aquarium surrounded by thousands of fish, and, with a little luck, giant sea turtles and sea lions.
Detailed Itinerary
Day 1 - Arrival in Quito (-)
Upon arrival at Quito's Mariscal Sucre International Airport you will be warmly welcomed by your guide and driven to your hotel in Quito's historic center.
Day 2 - Quito City Tour, Equator (B)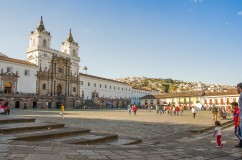 Today you will be escorted on a private tour of Quito's colonial historic center. Declared by UNESCO as a World Heritage Site, Quito is a delightful city to enjoy walking around the Independence Plaza, the Metropolitan Cathedral, the Archbishop's Palace, the Municipality, and the Carondelet Government Palace. You will have the opportunity to visit the lovely church of La Compañía as well as the Convent of San Francisco. Later you will be taken to "El Panecillo", a small hill in the middle of the city with a fabulous view of the 45 km long and 4 km wide city and the surrounding snow-capped volcanoes. This afternoon we will visit the Equator, which is located only 30 minutes from Quito. From here you can jump from the Northern Hemisphere to the Southern Hemisphere. At the visitor's center, you will be able to visit the fascinating Intiñan Museum where you will be introduced to many of the indigenous cultures of Ecuador.
Day 3 - Drive to Baños (B)
This morning you will say goodbye to the city and drive south into the highlands of the Andes. This region is known as 'the avenue of the volcanoes'. During your approximately two-hour drive to Baños, you will pass by the spectacular Cotopaxi volcano, which at 19,300 feet is Ecuador's second highest mountain. The laid-back town of Baños is set in a spectacular valley shadowed by the 16,479-foot high Tungurahua volcano and is a very relaxed place to spend the next couple of days as you break your journey south. You will enjoy a two night stay in this lovely town, famous all over Ecuador for its thermal hot springs, rich in minerals, which are a delight to soak in.
Day 4 - Visit Salasaca, Pailón del Diablo (B)
After a leisurely breakfast this morning, you will have the opportunity to enjoy some of Baños' unique local adventures. Baños is the center of Ecuador's adventure circuit, and depending on your level of interest, we can arrange for a number of activities ranging from mountain biking, to hiking to white-water rafting, jungle trips, horseback riding and mountain climbing. If you prefer to take it easy, we can plan a fascinating day visiting the Salasaca indigenous community. Here you can observe indigenous textile weavers working on their traditional looms, in a style unchanged in centuries. Nearby is the beautiful Pailón del Diablo waterfall, an easy 15-minute walk along a beautiful forested trail from the main highway near town.
Day 5 - Drive to Riobamba (B)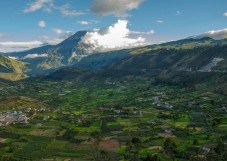 After breakfast this morning, your tour will continue south along the avenue of the volcanoes to the interesting, yet little visited town of Riobamba. This is a modern town with a strong indigenous heart. Upon arrival, your guide will escort you on a brief, but interesting walking tour of the town center, visiting the fascinating market. This is a local's produce, and definitely not a tourist souvenir market. You will gain a fascinating insight into the lives of the Andean indigenous people here as your guide explains the various produce available and their uses in daily life. After checking into your hacienda-style hotel, you will have the opportunity to see the surrounding countryside, either on horseback or on easy walking paths, before perhaps enjoying dinner in the hotel's gourmet restaurant.
Day 6 - Nariz del Diablo, Ingapirca, Drive to Cuenca (B)
This morning you will drive approximately two hours to the town of Alausí. Just to the south of town is a 2200-foot high wall of granite known as 'The Devil's Nose'. In the early 20th century, engineers devised a way of zigzagging a railway track up the sheer face of the wall, into the side of the mountain. A train runs along this track twice a day, taking approximately two and a half hours round-trip from Alausí to the bottom of the wall and back to town. It's well worth the journey for the views alone. Continuing on your tour, you will then visit the fascinating Inca ruins of Ingapirca, the oldest in Ecuador before continuing to the colonial city of Cuenca.
Day 7 - Cuenca, Drive to Guayaquil (B)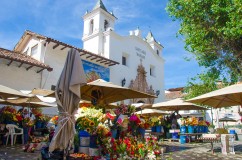 After Quito's old town, Cuenca is Ecuador's most important and beautiful colonial city. Dating from the 16th century, its historic center is a Unesco World Heritage site, where nuns march along cobblestone streets and historic churches and plazas appear seemingly on every corner. It's a lovely place to walk around and this morning you will enjoy a private guided walking tour of the historic center. Leaving Cuenca, you will have the opportunity to stop at the Mirador de Tuni, to enjoy sublime views views over the city's lovely, romantic skyline. From here a drive of around four hours, descending over 8,000 feet from the heart of the Andes southern highlands to the tropical Pacific coast will take you to Guayaquil, Ecuador's largest city to begin the next stage of this fascinating tour.
Day 8 - Fly to the Galapagos Islands (B)
This morning you will drive to the airport in Guayaquil to fly approximately two hours to the town of Puerto Ayora, the largest town in the Galapagos. This afternoon you will visit the Charles Darwin Research Station, where you will learn about the evolution of the islands and visit a breeding center of giant turtles. You will see different generations of turtles and also the remains of the famous Lonesome George who was the only survivor of his species on Pinta Island.
Day 9 - Visit Plazas or Seymour Island (B, L)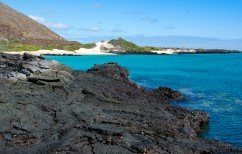 This morning, after a leisurely breakfast in your hotel, your visit to South Plazas Island begins with a dry landing. A rocky trail circumnavigates the island displaying the combination of dry and coastal vegetation zone. The island is home to enormous prickly pear cactus and the endemic succulent sesuvian. These succulents with almond-shaped leaves are green during the rainy season December-May. Then become red during the dry season giving the island an unusual appearance. South Plaza has one of the largest populations of land iguanas in the Galapagos. These iguanas are found in huge numbers all over the island.
OR
Visit to North Seymour Island - North of Baltra is the small islet of North Seymour. The two islands are very similar in appearance both created from geological uplift and having typical arid vegetation including prickly pear cactus, palo santos trees and salt bushes. The visitor trail on North Seymour is approximately (2 km) in length crossing the inland of the island and exploring the rocky coast. Along the way you will pass colonies of blue-footed boobies and magnificent frigate birds. The magnificent frigate bird, a large black bird with a long wingspan, and a hooked beak, is extremely fast and has excellent vision and a delight to observe gliding on thermals. Male Frigate birds are known for the large, inflatable red pouch on their necks. During mating season they throw back their heads, inflate the pouch (sometimes to the size of a soccer ball), and shake trying to capture the attention of female frigates. The island is also populated with marine as well as land iguanas and many large sea lions.
Day 10 - Visit Tortuga Bay (B)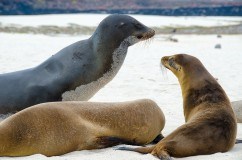 Tortuga Bay, with its white sand beach is the rival of any in South America. What makes it unique though, are the sheer numbers of marine iguanas, pelicans and sea lions that can be observed here. The animals have no fear of humans and you will have the unique opportunity of getting up-close and personal with them in a manner that would be impossible anywhere else in the world. You can also swim in the ocean and if you're lucky will have the opportunity to see sea lions and turtles swimming and feeding underwater at close range. This afternoon will be at your leisure to enjoy strolling the streets of the delightful town of Puerto Ayora, visiting many of its craft stores and restaurants.
Day 11 - Visit Primicias, Fly Home (B)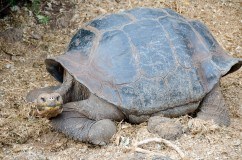 This morning after breakfast you leave Puerto Ayora and will be driven to the airport of Baltra. On the way you will stop for a brief visit of the unique Primicias Ranch, home to dozens of giant tortoises where you will observe these giant animals in their natural habitat and also enjoy a beautiful view over the island. Nearby is a series of impressive lava tunnels, up to a kilometer in length, which can also be visited. From here you will continue to Baltra airport for your flight back to the mainland to connect with your international flight home.
Quito - Luxury - Anahi
The Anahí Boutique Hotel brings together the perfect balance of comfort and style. It has been meticulously designed to satisfy the needs of the most demanding traveler, offering fifteen suites that have been tailored with unique and luxurious details. Located in the north-center region of the city, Anahi is close to the most exciting and lively part of the city, yet only a short taxi ride away from the city's beautiful historic center.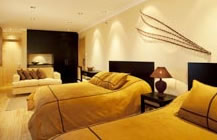 Quito - Deluxe - Swissotel
Swissotel Quito is one of the city's top five-star luxury hotels. Each of the 232 elegant guest rooms and 43 executive apartments are air-conditioned and feature stylish, contemporary design. Luxurious amenities include state-of-the-art technology and free wifi.v Executive rooms and the Swiss Executive Club lounge provide additional luxury and exclusivity. Five excellent restaurants offer a wide variety of international cuisine: Japanese, Swiss, Mediterranean and Ecuadorian: a menu to suit every palate.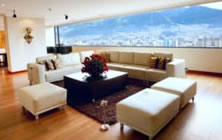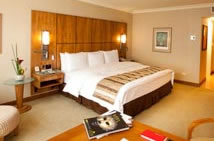 Baños - Luxury - Luna Runtun (Superior Room)
Baños - Deluxe - Luna Runtun (Suite)
Luna Runtun is a beautiful hotel situated on the steep slopes overlooking Baños. The views from here have to be seen to be believed. Rooms and suites are all luxuriously appointed and many offer spectacular views from their private balconies and patios. All rooms are individually designed and feature modern amenities and stylish décor. This is one of our favorite hotels in Ecuador and one that you are sure to remember as a highlight of your visit to the country.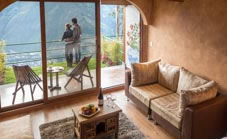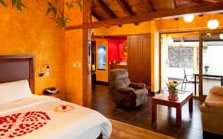 Riobamba - Luxury - Hacienda Abraspungo (Junior Suite)
Riobamba - Deluxe - Hacienda Abraspungo (Master Suite)
The wonderful Hacienda Abraspungo is located at 9035 feet above sea level and is surrounded by the magnificence of the Ecuadorian Andes. The hacienda offers comfortable, charming and high level accommodations and personalized service in the ideal location to enjoy the peace and beauty of the Andes. The architectural style found here offers the best of traditional colonial design often used in the ancestral mansions and haciendas of Ecuador. The 42 rooms rooms incorporate modern interior design elements within the framework of traditional, colonial architecture and are fully equipped with all amenities one would expect from a luxury hotel.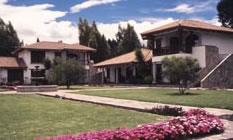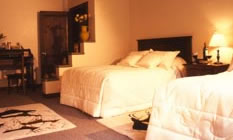 Cuenca - Luxury - Hotel Santa Lucía (Junior Suite)
Hotel Santa Lucía is located in one of the most beautiful historic, commercial and financial areas of Cuenca, at a short walk from the main square. The hotel has been restored in a historic house dating from 1859, with beautiful architectural details from that era. It has 20 modern and comfortable rooms, a trattoria in the central patio, a tea room and a restaurant with some of the city's finest Ecuadorian and international cuisine.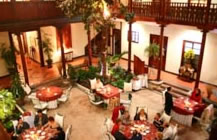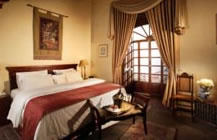 Cuenca - Deluxe - Mansión Alcazar (Suite)
A turn of the century mansion completely restored and transformed into a luxury boutique hotel, in order to satisfy the most discriminating traveler, Mansion Alcazar is located in the heart of the city of Cuenca. The interior decor evokes the style of the century, with careful selection of fine furniture and objets d'art that embellished at one time the most luxurious rooms in one of the most beautiful cities in Ecuador. Personalized service is given not only upon arrival, but also in the intimate Le Bar and Casa Alonso Restaurant, where you can enjoy a drink and the best gourmet cuisine in town.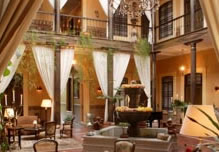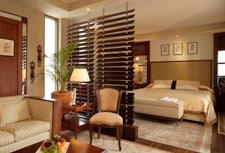 Guayaquil - Luxury - Man Ging Hotel (Superior Room)
The Galeria Man Ging offers 94 modern, comfortable rooms in the heart of Guayaquil's tourist, financial and commercial center. Modern architectural details add an artistic flair to the hotel. Rooms and suites feature modern artwork in a stylish, elegant environment, and include all amenities that one would expect from a luxury hotel.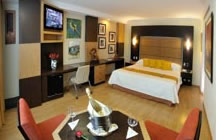 Guayaquil - Deluxe - Hilton Colon Guayaquil (Deluxe Room)
Guayaquil's leading hotel, the Hilton has 294 luxurious guest rooms featuring details designed to create a relaxing and satisfying environment for the business and leisure traveler. All rooms and suites have A/C with individual control, modern work area with three phone sets, answer machine, broadband and wireless internet, hair dryer, mini bar, safety boxes, soundproof windows, sprinklers, smoke detectors, electronic locks, among other amenities. With six restaurants and three bars, all tastes are sure to be satisfied.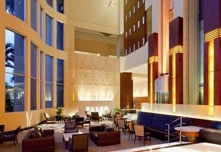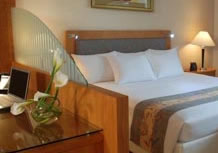 Galapagos Islands - Luxury - Red Mangrove Inn (Standard Room)
Galapagos Islands - Deluxe - Red Mangrove Inn (Superior Room)
Red Mangrove is the leading hotel in Santa Cruz. The hotel's owners are committed to maintaining an eco-friendly operation and have received certification for sustainable management. All rooms are furnished with comfortable beds, contemporary décor and all modern amenities that discerning travelers expect in a comfortable, modern hotel, including air conditioning, modern private bathroom, biodegradable toiletries, cable TV, and CD player. The hotel's restaurant features a choice of Japanese or Galapagos fusion cuisine and is the best restaurant in town.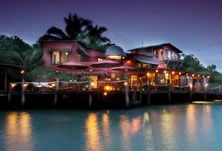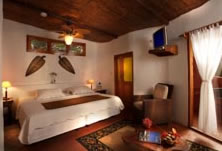 Pricing
From $4395 per person (Luxury Hotels) or $4995 per person (Deluxe Hotels), for a private tour based on two people traveling in low season sharing a room.
Hotels listed on the Hotels Tab are given as suggestions only to illustrate the standard of hotels used. 
Price Includes:
All hotels as described in the itinerary
Services of Blue World Journeys's representatives while in Ecuador
All transportation as described in the itinerary in a private air-conditioned vehicle with an English speaking driver / guide
Domestic flights: Guayaquil-Galapagos and Galapagos-Quito
Private sightseeing and entrance fees
Meals as described in the itinerary
Bottled water in the vehicle during all transfers 
Price Excludes:
International flights
Travel insurance
Meals other than those listed in the itinerary
Gratuities for guides and drivers
Sightseeing other than described in the itinerary
Additional room charges of a personal nature in hotels (eg: room service, laundry, phone calls, etc.).