The Mayan World
This fascinating tour is a must for anybody interested in the history of the ancient Mayans. While it has a strong emphasis on ancient Mayan sites and ruins, you will also gain a thorough understanding of modern-day Yucatan through its delightful colonial towns and cities that you will use as a base while exploring the heart of the Mayan empire. A relaxing few days at the end of the tour will be spent on the beautiful white-sand beaches of Tulum from where you will be able to visit the Mayan ruins of Coba, set deep in the jungle, as well as the spectacular Sian Ka'an Biosphere reserve – a unique and fascinating natural wonderland of wetlands, flora, fauna and Maya ruins.
Detailed Itinerary
Day 1 - Arrive in Cancun (-)
You will be warmly welcomed upon arrival at Cancun airport by one of our representatives. You will leave the bland, mass tourism of Cancun behind as you enjoy an easy two-hour drive through Yucatan's lush countryside to Chichén Itzá for an overnight stay.
Day 2 - Chichén Itzá, Merida (B)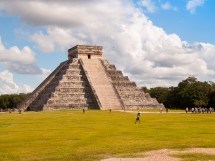 After breakfast in your hotel, our guide will drive you the short distance to the world-famous ruins of Chichén Itzá. Here you will enjoy a guided morning tour around this spectacular 1500-year-old site, featuring the Great Pyramid of Kukulkán, the Great Ball Court and dozens of other fascinating structures and temples. Following the completion of the tour, you will be driven approximately two hours to the beautiful city of Mérida. This evening enjoy exploring this safe, pretty colonial city at your leisure, perhaps sampling some of the local Yucatecan cuisine in one of the city's fine restaurants.
Day 3 - Merida (B)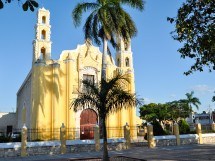 After a leisurely breakfast you will be given a private guided tour around the city by horse drawn carriage. This is one of Mexico's finest colonial cities and a real jewel filled with colorful buildings, historic Spanish architecture, narrow, bustling streets and beautiful central plazas. The Plaza Grande in the center of the city is one of the country's prettiest plazas shaded by huge laurel trees and is a hive of activity all day long. After lunch, Merida's modern Museum of the Mayan World, in preparation for tomorrow's full day exploring ancient ruins in the countryside south of the city. This evening, at your leisure, you can enjoy a delightful evening stroll among Merida's friendly people, as well as the opportunity to browse the many traditional Mayan handicraft stores in the city center.
Day 4 - Uxmal and the Ruta Puuc (B)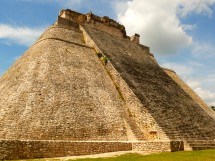 This morning you will drive south of Merida to the amazing Mayan ruins of Uxmal. This site, although overshadowed in popularity by Chichén Itzá, is no less impressive. The 120ft high Magician's House is the focal point of Uxmal and the Governor's Palace, with its 300ft long façade is finest structure at Uxmal. Your private tour will show you all the ins and outs of this fascinating site. Uxmal is set in the pretty Puuc (hill) region and is the epicenter of a chain of Mayan ruin sites including Sayil, Kabah, Xlapak and Labná that are easily explored on today's tour. The beauty of this is that other than Uxmal, you may have several of the other sites all to yourself, especially if visiting mid-week. This afternoon, following lunch in the Mayan market town of Oxcutzkab you will visit the Cacao museum, as well as the Grutas de Loltún underground caverns before returning to Merida.
Day 5 - Izamal, Valladolid (B)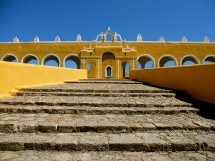 This morning you will be driven to the beautiful, delightful jewel of a colonial town of Izamal. You will be given a tour around the center of the town in a horse drawn carriage to enjoy this pretty Mayan town, where most buildings around the center of town are painted a bright yellow color to match the Convento de Izamal, an 18th century convent. Following lunch at the delightful Mayan Restaurante Kinich, a one hour drive will take you to Valladolid, another beautiful colonial city, where you will enjoy the experience of visiting a deeply Mayan town, complete with local women dressed in traditional Huipiles, great Yucatecan cuisine and colonnaded, pastel, stucco and cobbled streets that give Valladolid a unique Spanish feel. A refreshing swim in the beautiful Cenote Zamula near the town center is an experience not to be missed.
Day 6 - Ek' Balam (B)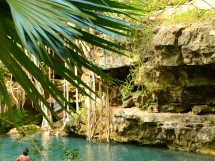 Following breakfast this morning, we will drive you to the fascinating archaeological site of Ek' Balam, set in the forest north of Valladolid. Vegetation still covers much of the area, however much of the site has been excavated, including the huge 450ft long Acropolis, upon which is built Ek' Balam's main pyramid, a 95ft high structure featuring a huge jaguar mouth. A short drive away is the X-Canché cenote, where the more adventurous can enjoy a cycling, rappel, zip-line and kayak tour in the forest. This evening you can enjoy a stroll around the colorful streets and around the lovely main plaza of Valladolid, a time-honored tradition among families who live in the city.
Day 7 - Tulum (B)
This morning you will drive approximately two hours through Yucatan's lush forest scenery dotted with traditional Mayan villages to the spectacular Mayan ruins of Coba, set in lush rainforest. This ancient city once had a population of over 40,000 people, peaking between 800 and 1000AD and resembles the style of Mayan architecture more commonly found further south in Guatemala. Continuing another two hours, you will arrive at the beach town of Tulum. Your hotel is located on one of Mexico's most spectacular coastlines, with sugar like sand and jade-green water. You will have the afternoon to enjoy the beach at your leisure.
Day 8 - Tulum Ruins (B)
After waking up this morning to the sounds of the waves of the Caribbean Sea gently lapping the shore, enjoy a leisurely al-fresco breakfast overlooking the beautiful beach. You will then drive you to the spectacular nearby Mayan ruins of Tulum. Considered to be one of the most beautiful Mayan archaeological sites, Tulum is by no means the largest, but its location serves as a striking backdrop to its history. The only Mayan archaeological site to be in use at the time of the Spanish conquest, Tulum, means wall in Mayan. Also known as Zama, or city of dawn, this beautiful site sits on 15-meter high cliffs above the sea. Primarily in use from 1200 to 1450, it was the major commercial port for Coba and other cities in the interior. Although abandoned by the 16th century, local people still visited the temples to burn copal and pray until recent times. Returning to your stylish boutique hotel you will have another opportunity to relax at the beach.
Day 9 - Sian Ka'an (B)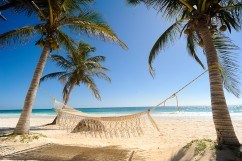 If you can possibly drag yourself away from the gorgeous white sand directly in front of your hotel room, today will be a very worthwhile excursion to Sian Ka'an. This is a spectacular biosphere reserve, and the largest protected area in the Mexican Caribbean (approximately 1.3 million acres). It is an area of pristine natural beauty offering wetlands with a resident population of over 330 bird species, 103 mammal species, and at least 23-recorded Mayan ruin sites. The opportunity to travel by guided boat or kayak throughout various habitats of the reserve and learn about ecosystems, tropical birds and plants, and Mayan culture and history is a highlight of the reserve.
Day 10 - Transfer to Cancun (B)
A private car will transfer you to Cancun airport (approximately 2 hours) and your flight home.
Chichén Itzá - Luxury - Hacienda Chichén
This boutique hotel has an ideal location, giving you easy access to visit the world famous ruins of Chichen Itza at your own pace. In addition, the hotel offers a wealth of eco-cultural activities within its own grounds. Be captivated by its varied flora and fauna as well as Maya medicinal plants; and, at the hotel's Yaxkin Spa, you will find a variety of natural wellness spa therapies and Maya Spa treatments to relax, refresh, revitalize your body and mind and to delight your soul. The hotel's restaurant offers the opportunity for a romantic candle-lit dinner with live romantic guitar music and a varied menu of exquisite Yucatecan and international cuisine.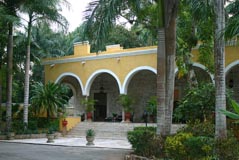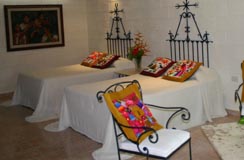 Chichén Itzá - Deluxe - The Lodge At Chichén Itzá
The Lodge at Chichen Itza is the area's finest hotel, as well as the only one that does not accept tour buses or large groups of any kind. Here you are guaranteed total peace and tranquility, away from day trip visitors. The hotel sits on 100 acres of beautifully landscaped gardens in the heart of the archaeological park, with its own entrance to the Mayan temples. Clustered around secluded swimming pools, the 39 bungalows are an extension of the gardens in which they are located. Built in traditional Mayan style with wood, stone, native marble and thatch, they were created for guests who wish to commune with nature.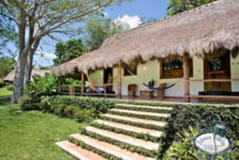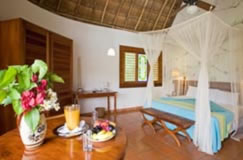 Merida - Luxury - Casa Lecanda
Casa Lecanda is a small, luxury boutique hotel located in the historic center of the beautiful city of Merida. Built in a restored 19th century colonial home, the hotel has been designed to maintain its uniqueness with particular attention to architecture, detail and comfort. Lovely patios and courtyards in the house offer a variety of comfortable reception areas for relaxing. Each room is uniquely decorated with custom crafted furniture, original clay tile floors and beautifully restored doors and windows, offering guests the complete experience of the Yucatecan home while providing all the amenities of a contemporary luxury hotel.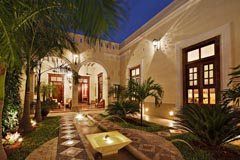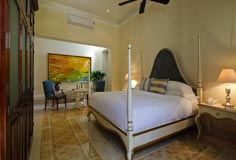 Merida - Deluxe - Rosas y Xocolate
A member of the exclusive Design Hotels International group, Rosas y Xocolate is a uniquely designed, luxurious boutique hotel located on Paseo de Montejo, one of Merida's most exclusive streets a stone's throw from the delightful historic center. Rooms are cool and modern with touches of traditional architecture and lovely bathrooms featuring private, open air showers and bathtubs. The restaurant features excellent Yucatecan and Mexican cuisine, while enjoying a cocktail on the rooftop bar while listening to live jazz playing is a wonderful way to end a day of sightseeing around Merida.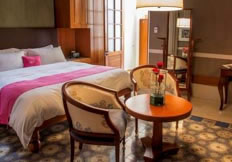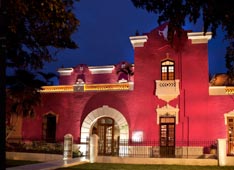 Valladolid - Luxury - Mesón Del Marqués
This stylish hotel is excellently situated on Valladolid's main plaza, in the heart of the city's historic district. Recently remodeled, the hotel features modern rooms and luxurious, spacious suites in a mix of modern and traditional style. Its convenient location allows guests to enjoy the culinary and cultural delights of the city's historic center right outside their doorstep, while the Hostería Del Marqués restaurant offers some of the city's finest dining.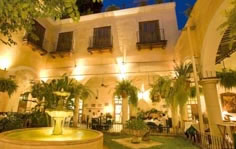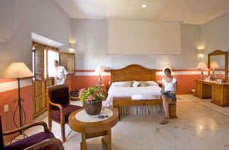 Valladolid - Deluxe - Coqui Coqui
A secluded one-room suite set atop a perfumery, built in the 16th century, Coqui Coqui caters to your senses with the signature scents of their handmade fragrances, creams, oils and candles. The view from the suite over the beautiful tropical garden, a delightful pool and the tailored spa treatments will pamper you during your stay at this unique property. The suite benefits from an excellent location, on the historical, charming Calzada de los Frailes, a few blocks away from the main plaza and walking distance form the silent and secluded Convent of San Bernardino de Siena. As life slows down, your senses will wake up in a new peaceful dimension.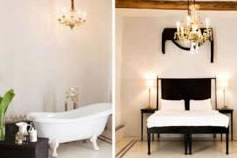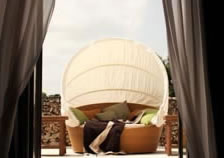 Tulum - Luxury - Las Ranitas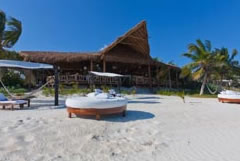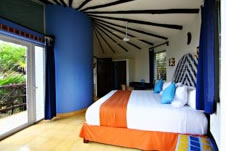 Tulum - Deluxe - Be Tulum
Be Tulum is a modern boutique hotel for travelers seeking total relaxation. Here, you can immerse yourself in a blend of luxury and nature, in an unparalleled hideaway surrounded by a tropical forest and the ocean. This stylish beachfront hotel has been designed to blend in with its natural surroundings, between the tropical forest, the white sand and the sea. Luxurious rooms feature private jacuzzis, air conditioning, balconies and modern furnishings, while suites have individual private plunge pools. The hotel's beach club offers a variety of services and amenities to make a day at the beach a memorable occasion with a pool, bar, restaurant, restrooms and showers, as well as beach chairs for guests.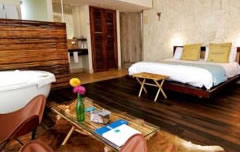 Pricing
From $4195 per person (Luxury Hotels) or $4595 per person (Deluxe Hotels), for a private tour based on two people traveling in low season sharing a room.
Hotels listed on the Hotels Tab are given as suggestions only to illustrate the standard of hotels used. 
Price Includes:
All hotels as described in the itinerary
Services of Blue World Journeys's representatives while in Mexico
All transportation as described in the itinerary in a private air-conditioned vehicle with an English speaking driver / guide
Private sightseeing and entrance fees
Meals as described in the itinerary
Bottled water in the vehicle during all transfers 
Price Excludes:
International flights
Travel insurance
Meals other than those listed in the itinerary
Gratuities for guides and drivers
Sightseeing other than described in the itinerary
Additional room charges of a personal nature in hotels (eg: room service, laundry, phone calls, etc.).