All tours are fully customizable to your requirements
Australia by Private Aircraft
We are excited to announce our newest, most unique product - Ultra-Luxe tours by small private aircraft.
Our 10 seat C441 pressurized twin-turboprop offers the ultimate in luxury travel experiences in Australia. Being partnered with Australia's Sharp Airlines ensures that our aircraft exceeds all Australian and international air safety standards.
The aircraft's 340mph cruise speed allows us to cover great distances in a short time, while its size gives us unparalleled access to remoter airstrips to get you right where you want to go instead of spending hours in road vehicles.
Our tours have been carefully crafted to offer the finest travel experiences in the country.
With local guides at each stop you'll gain an in-depth understanding of your destinations..
Our set departure dates offer specific tours optimized around seasons.
Private aircraft, fully customized charter tours from day trips to bespoke multi-day all-inclusive ultra-luxe tours are also possible to anywhere in Australia. Please contact us for further details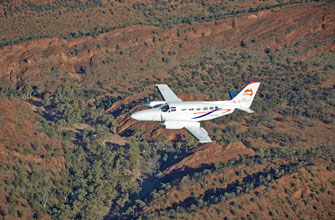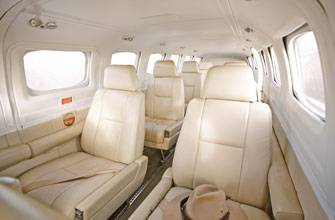 Our all-inclusive pricing includes
All private charter flights
Best-available, 5-star plus accommodations
Meals and drinks (from bottled water to fine wines with dinner)
All entries, permits, admissions and tips
All tours, transfers and activities
Experienced crew including a tour host
Expert local and indigenous guides at every stop
Here is an overview of our exclusive private aircraft fixed departure date tours for 2018
Flyaway Faraway Tour (14 days)
June 11-24
June 28-July 11
July 12-25
Tour Highlights:

Visit Mary River National Park with opportunities for wildlife watching, bushwalking and incredible photography.

Experience life on the remote outback station of Bullo River

Helicopter flight over the mighty King George Falls

Travel to remote outback locations that are only accessible by plane

Enjoy a Picnic lunch by helicopter

Spend 3 nights at one of the last true wilderness areas on Earth - the Berkley River Lodge

Explore the Flinders Ranges

Private aircraft travel and finest available accommodations throughout the tour
Cape York & The Gulf (14 days)
June 27-July 10
July 12-25

Tour Highlights:

Stand on the northern tip of Australia

Fly direct to remote northern Australian outer islands to experience indigenous life on these isolated outposts

Explore the remote Quinkan Country, with its 20,000-year-old Aboriginal rock art

Explore the Daintree, the oldest rainforest in the world while stating at the luxurious Silky Oaks Lodge

Stay in an African safari inspired luxury tented camp in the spectacular Carnarvon Gorge

Spot abundant crocodiles on a Norman River cruise and enjoy a fresh seafood picnic lunch on a tiny sand island

Private aircraft travel and finest available accommodations throughout the tour
Western Wedge Wildflower Safari (14 days)
September 20

Tour Highlights:

Immerse yourself in the incredible wildflowers of Kalbarri with a local guide

Explore some of Australia's most beautiful remote beaches

Exclusive access to tour the Super Pit mine in Kalgoorliet

Experience the spectacular beauty and wildlife of Kangaroo Island

Stay at the spectacular, unique luxury lodge of Sal Salis set in the dunes of the stunning Ningaloo Reef

Enjoy a private whale watching cruise

Savor fresh, locally inspired cuisine with a private dining experience at the Vasse Felix Winery

Stay at the luxurious Cape Lodge, one of the finest hotels in Australia

Private aircraft travel and finest available accommodations throughout the tour
The Greatest Escape (14 days)
September 3-16

Tour Highlights:

Cruise a spectacular section of the Kimberley coast on the super-deluxe MV Great Escape for 4 nights, with an on-board helicopter for exploring

Enjoy excellent gourmet cuisine while on board

Stay at the amazing El Questro Homestead, one of the finest lodges in Australia

Explore the gorges and ranges of Pilbara, including a visit to a working iron ore mine

Discover the beauty of the Flinders Ranges

Enjoy a tour of the night sky, far from any light pollution

Stay at the luxurious Cicada Lodge at Katherine Gorge, located in the sacred lands of the Jawoyn Aboriginal people in Nitmiluk National Park

Private aircraft travel and finest available accommodations throughout the tour
Iconic Australia (10 days)
August 11-20

Tour Highlights:

Visit the most inspiring and iconic destinations in Australia's outback

Stay at the iconic Birdsville Hotel

Explore the most amazing Aboriginal art sites in Australia

Visit the largest salt lake in Australia, guided by an Aboriginal elder

Experience the real outback - on this tour the most populated location you will visit has a population of only 60 people!

Experience life on the remote outback station of Bullo River

Enjoy a Picnic lunch by helicopter

Stay at the lavish and super remote Bush Camp on the Kimberley Coast, where your nearest neighbor is over 100 miles away

Explore the spectacular Flinders Ranges

Private aircraft travel and finest available accommodations throughout the tour
Tasmania All Over (10 days)
November 4-13

Tour Highlights:

Explore Tasmania's beautiful and remote outer islands of Flinders, King and Bruny

Explore the prairie wilderness areas of Freycinet and Cradle Mountain

Explore the little-visited Tarkine Wilderness with a cruise along the serene Pieman River

Stay at the luxurious Freycinet Lodge

Explore the thought-provoking Museum of Old and New Art in Hobart

Savor the fresh produce from sea, land and vine that Tasmania is so well recognized for

See spectacular scenery unlike anywhere else on Earth

Enjoy the wide open spaces of Tasmania's National Parks with easy guided walks

Private aircraft travel and finest available accommodations throughout the tour
Southern Island Hop (5 days)
March 10-14
November 17-21
Tour Highlights:

Fly direct to the little-visited Bass Strait Islands between Australia and Tasmania and be shown around by local experts

Walk along isolated beaches, picturesque clifftops with spectacular views

Spot koalas in their natural habitat

Enjoy expertly prepared, gourmet meals highlighting the freshest local produce

Stay at Australia's finest luxury coastal retreat, the Southern Ocean Lodge

Private aircraft travel and finest available accommodations throughout the tour
Wet Season Spectacular (5 days)
March 6-10

Tour Highlights:

See the Northern Territory's Top End in the 'green season', with raging waterfalls and swollen floodplains

Enjoy private guided tours of Kimberley and KakaduwithAboriginal rock art experts and cattle station owners

Stay on the 500,000 acre Bullo River Station and explore the surrounding area by helicopter

Stay within an Aboriginal sacred site in Arnhem Land at the luxurious Mt Borradaile Safari Lodge

Private aircraft travel and finest available accommodations throughout the tour
Flinders and Gawler Ranges (5 days)
October 13-17

Tour Highlights:

Experience a 4WD tour along the Ridge Top to one of the most spectacular scenic points in the Flinders Ranges

See the unique formation of Wilpena Pound (a huge amphitheater of mountains) from the air and ground

Explore the dazzling white salt flats of Lake Gairdner

Stay at the luxurious Kangaluna tented camp and enjoy expertly guided tours into the heart of the Gawler Ranges

Private aircraft travel and finest available accommodations throughout the tour
Lake Eyre, Dig Tree & The Prairie (3 days)
April 22-24

Tour Highlights:

Land at the historic site of the Burke & Wills Dig Tree

Be guided along the famous Oodnadatta Track by an Aboriginal elder

Stay at the stylish Prairie Hotel

Enjoy fresh, creative cuisine of local produce

Private aircraft travel and finest available accommodations throughout the tour
Our ultra-luxe tours by private aircraft include accommodations at some of the country's finest hotels and lodges. Many of these are unlike any other hotels in the country, or even the world.
Some, like the Prairie Hotel in Parachilna are unique, historic icons of Australia, while others like the Mt. Borradaile Safari Lodge is notable for its incredible, remote setting far from any civilization. The Southern Ocean Lodge (below) is regarded as one of the country's finest hotels, while the spectacular, unique Sal Salis on the Ningaloo Reef (below) is a hotel unlike anyhere else in the world, with its exquisite, luxurious private tented suites featuring claw-foot bathtubs and exceptional, unobtrusive service.
Southern Ocean Lodge, Kangaroo Island
The Southern Ocean Lodge was Australia's first true luxury lodge, offering a unique and exclusive experience on spectacular Kangaroo Island in South Australia. Situated atop a dramatic cliff on a rugged stretch of coast, the lodge commands uninterrupted views of the wild Southern Ocean and the pristine Kangaroo Island wilderness.
Sensitive, intimate and sophisticated, the Southern Ocean Lodge is a sanctuary of refined comfort and luxury, Kangaroo Island style. 21 luxe suites, all commanding mesmerizing views of the Southern Ocean, create the ultimate fusion between the breathtaking wilderness setting and unbridled creature comforts.
Interiors feature lavish king size beds, sunken lounges, dramatic glass-walled bathrooms featuring Southern Spa amenities and outdoor terraces with daybeds. This is a truly exceptional property and one that will make your visit to Kangaroo Island unforgettable.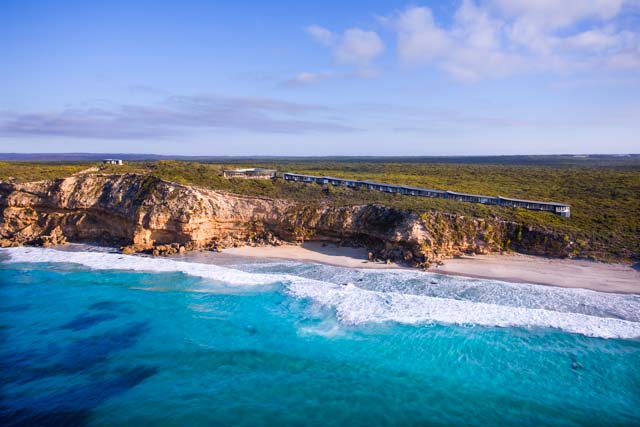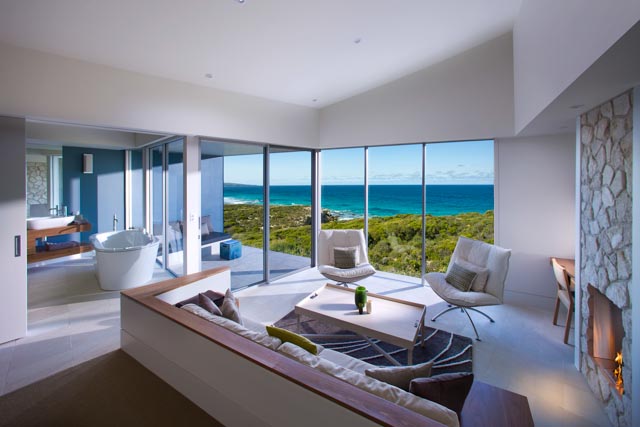 Park Hyatt, Sydney
Possibly the finest city hotel in the entire country, the Park Hyatt, Sydney is seated majestically overlooking one of the world's most beautiful harbors. The hotel perfectly combines contemporary harborside luxury with its spectacular location between the iconic Sydney Opera House and the Sydney Harbor Bridge. Reminiscent of an exclusive harborside residence and offering intimate surroundings with architecture, art and contemporary design that reflect the Australian landscape, the hotel is the best address in Sydney.
The 155 spacious guestrooms and luxurious suites, many of which enjoy spectacular views of the harbor and Opera House,offer contemporary interiors and floor-to-ceiling glass windows and 24-hour butler service.
The Dining Room restaurant and The Living Room bar feature direct harbor views, while the day spa and recreational facilities have been enhanced to reinforce Park Hyatt Sydney's position as the leading urban hotel in Australia.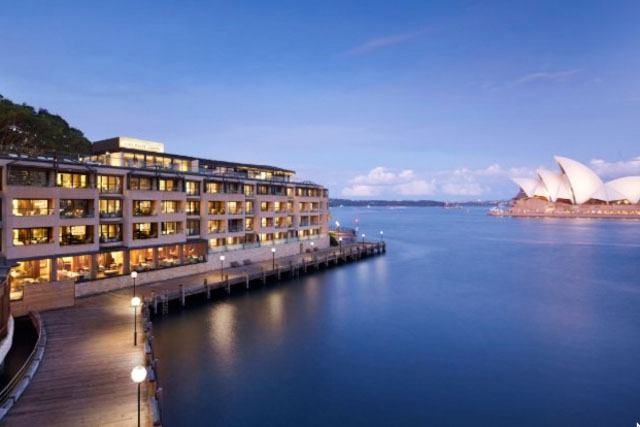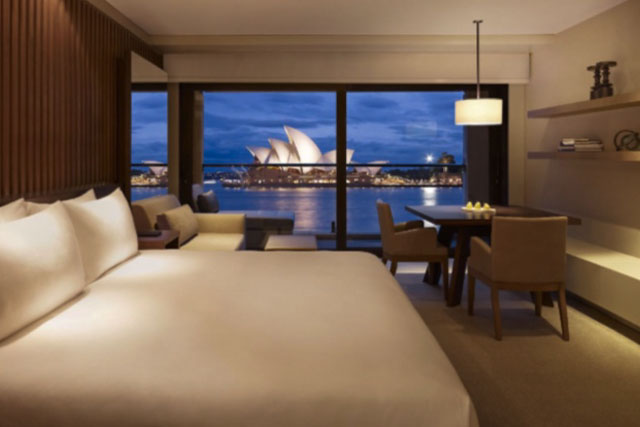 Silky Oaks Lodge - Daintree Rainforest, Queensland
Silky Oaks Lodge is one of Australia's most outstanding luxury lodges, offering a uniqueexperience in the heart of the Daintree rainforest. The lodge is conveniently located within easy access from Cairns airport and only a 15 minute drive from Port Douglas.
With its spectacular location on the Mossman Gorge River, the eco luxury lodge offers the ideal location to enjoy the natural tropical environment with a choice of unique, luxurioustreehouse accommodations.
The Lodge's open-sided Treehouse restaurant perches high above the surrounding rainforest offers anexquisite, award winning dining experience. Sitamid the rainforest canopy while you enjoy a refreshing cocktail at the bar and dine on fresh Australian produce with innovative seasonal menus.
The Healing Waters Spa offers a place for relaxation while imparting a sense of wellbeing of the spirit and mind.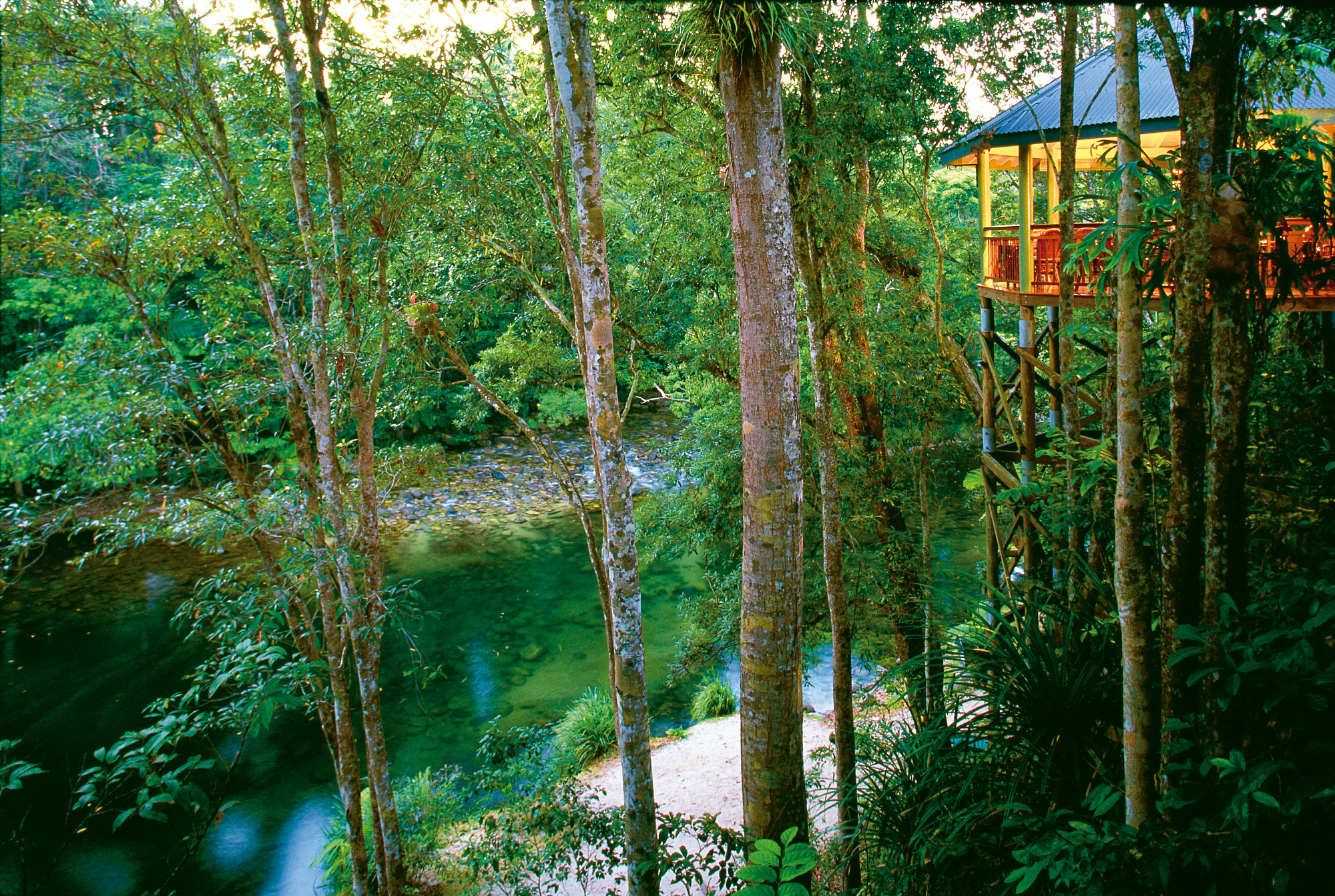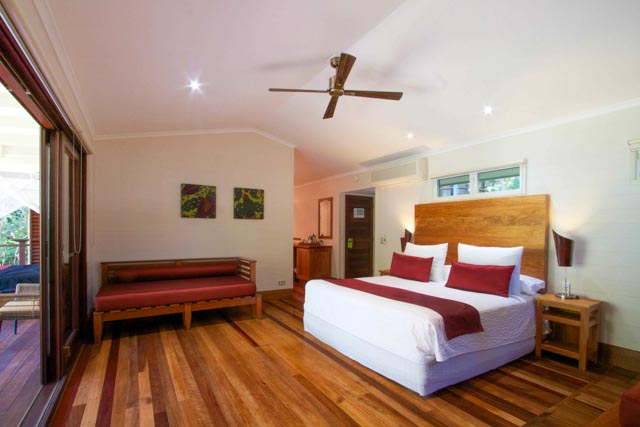 Sal Salis
Where the outback meets the reef… Sal Salis is a stunning, remote beach front luxury safari camp, nestled in the dunes overlooking Western Australia's Ningaloo Reef. With just 16 eco-luxe wilderness tents, this is an exclusive and unique place to stay. Access is by Sal Salis' private aircraft, or by vehicle from commercial airports 1-2 hours' drive away.
A true highlight of staying here is the opportunity to sleep in an eco-luxe safari tent. Hidden amongst the dunes and designed to blend in with the natural environment, these spacious, luxuriously furnished tents sit on raised platforms and offer comfortable beds and en-suite bathrooms.
The main lodge features a small reference library and spectacular views out over the reef and Indian Ocean.
Delicious, gourmet meals are prepared by Sal Salis' resident chef, and the lodge's guides conduct a nightly tour of the stars pointing out the many constellations visible in this remote area with no light pollution.
A 2 to 3-night stay at Sal Salis will surely be a highlight of any visit to Australia.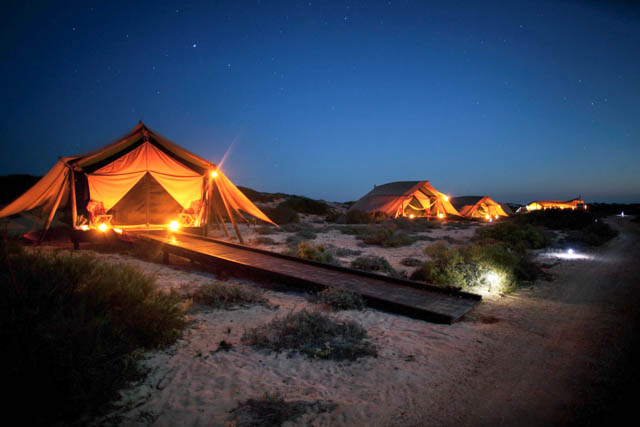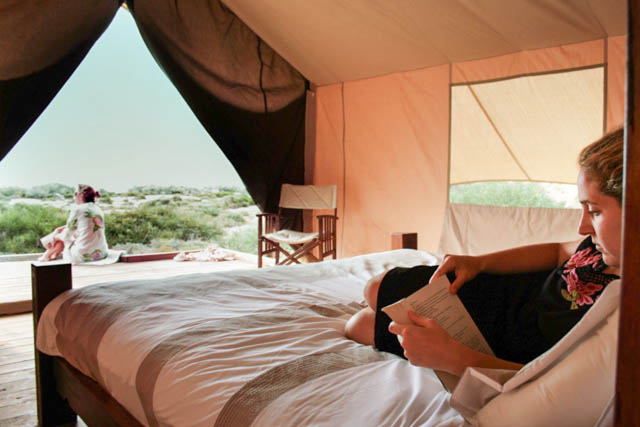 Saffire Freycinet
Recently named the No.1 Luxury Hotel in Australia, the No.1 Best Service Hotel in Australia and the No.1 Best Small Hotel in Australia, Saffire Freycinet does not disappoint. Located on the east coast of Tasmania, near the internationally acclaimed Wineglass Bay, Saffire overlooks the spectacular panorama of Great Oyster Bay, where migrating whales and dolphins can often be spotted in some of the world's cleanest waters. Suites have all been designed to maximize privacy and you are guaranteed to feel cut off from the rest of the world as you relax in your private seating area with its spectacular view over the surrounding landscape, or indulge in your 1000 thread count Egyptian cotton sheets.
Tasmania's east coast has an enviable reputation for premium aqua- and agriculture, so some of the world's finest produce is harvested on Saffire's doorstep. The creative menus prepared by the hotel's master chef are a delight of exquisite, creative cuisine and are a true highlight of a stay here.
The architecture of the hotel blends in beautifully with the stunning location and that view, which as Saffire claims, is '…impossible to describe and impossible to escape, not that you'd want to…'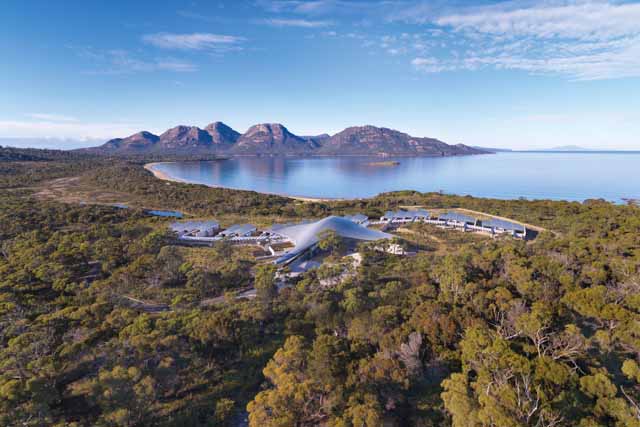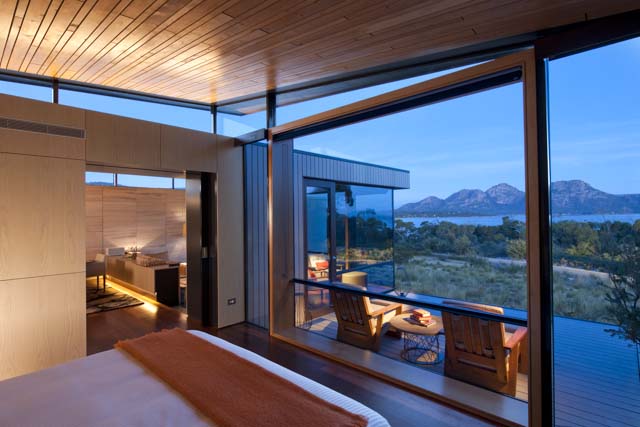 El Questro Homestead
Located a 90-minute drive from the nearest town and most easily accessed by private aircraft, El Questro is a remarkable place the is certain to be a highlight of your visit to Australia. El Questro covers an incredible 700,000 acres, much of which has never been explored. You're truly in one of Australia's last frontiers here.
Offering just nine luxurious suites, the Homestead features suites with high quality furnishings and very high level of comfort, service and cuisine.
There are a wide range of tours and excursions to keep you busy here, guided by El Questro's enthusiastic ranger guides. Full and half day tours of this fascinating area can be accomplished by foot, vehicle, or by private helicopter to get access the remoter parts of the region. Experience nature and wildlife tours, escape to a romantic waterfall, go fishing to catch an elusive Barramundi or visit some of the diverse landscapes that look more like Africa than how you imagined Australia to be.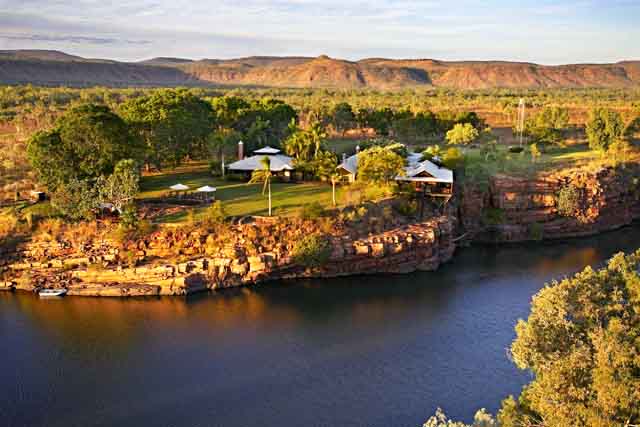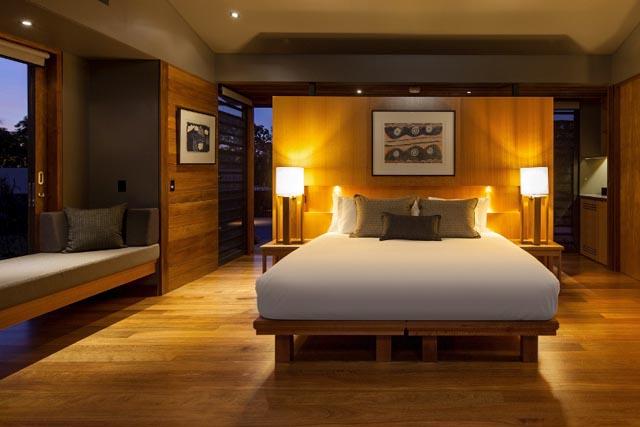 qualia, Great Barrier Reef
The spectacular qualia offers a unique expression of Australian style and luxury. Located on a secluded, private tip of Hamilton Island in the stunning Whitsunday Islands and surrounded by the unsurpassed natural beauty of the Great Barrier Reef, the hotel is a masterpiece of design.
Its northern aspect allows for a sun-drenched private beach, overlooked by sixty private, individual guest pavilions. Many of these feature their own plunge pools and natural touches like outdoor showers. All pavilions are spacious, airy and are a design delight, offering perfect privacy and floor to ceiling windows showcasing the most spectacular views over the surrounding Whitsunday Islands.
Guests are given their own two-seater golf cart, for the duration of their stay allowing them to explore the island at their leisure, as well as offered VIP chauffeur service to and from Hamilton Island's airport and marina.
The hotel's Spa qualia offers an authentically Australian spa men incorporating treatments designed to rebalance the mind and body. The hotel's two beautiful pools, fitness center, library and restaurant for exclusive use of guests offer serene public areas to those lucky enough to stay here.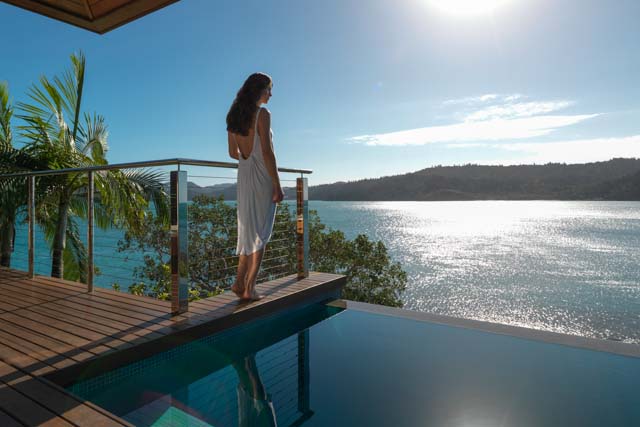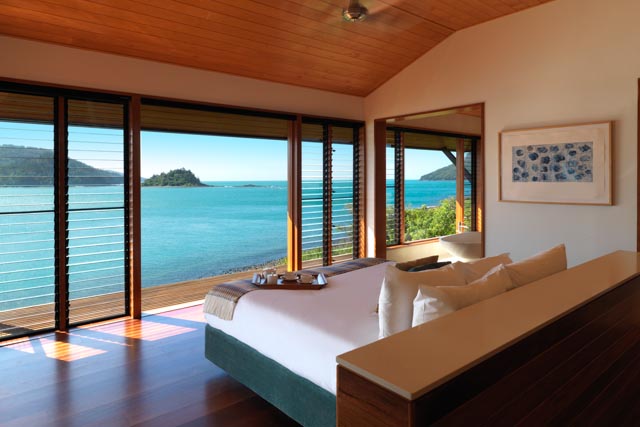 Pricing
Price from US$2500 per person, per day (Deluxe Hotels), for our fixed date departures, based on two people traveling in low season sharing a room.
We offer customized private aircraft tours to anywhere in Australia. Please contact us for an individual quotation.
Price Includes:
Best available hotels
Services of our representatives while in Australia
All transportation and tours as described in the itinerary in air-conditioned vehicles
Sightseeing and entrance fees
Meals as described in the itinerary

Price Excludes:
International flights
Travel insurance
Meals other than those listed in the itinerary
Gratuities for guides and drivers
Sightseeing other than described in the itinerary
Additional room charges of a personal nature in hotels (eg: room service, laundry, phone calls, etc.)