All tours are fully customizable to your requirements
Highlights of Vietnam and Cambodia
This tour is perfect for travelers who are short on time but wish to experience the exotic cultural and historic delights of Vietnam and Cambodia. Historic Hanoi, the majestic natural beauty of Halong Bay, vibrant Saigon, delightful Hue and Hoi An contrast with the spectacular ruins of the Temples of Angkor in Cambodia. Convenient flights between cities eliminate the need for lengthy overland travel so you can see more.
ITINERARY
Day 1 - Halong Bay
Day 2 - Halong Bay
Day 3 - Hanoi
Day 4 - Hoi An
Day 5 - Hoi An to Hue
Day 6 - Hue
Day 7 - Saigon
Day 8 - Phnom Penh
Day 9 - Siem Reap
Day 10 - Siem Reap
Day 11 - Fly Home or Extend Your Trip
Detailed Itinerary
Day 1 - Welcome to Vietnam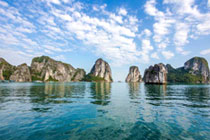 Upon arrival in Hanoi, you will be met by your guide and escorted to Halong Bay by private vehicle. During the approximate three hour drive you will have an introduction to the rural countryside of northern Vietnam, a taste of what lies ahead.
Day 2 - Halong Bay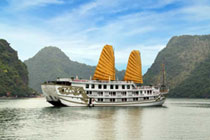 This morning you will have an unforgettable experience visiting Halong Bay. This is an area of spectacular natural beauty, best enjoyed from the deck of a traditional wooden boat, as you cruise through the thousands of craggy limestone islands, caves and cliffs. Make sure you have plenty of memory on your camera as the area is incredibly picturesque and photogenic.
Returning to Halong pier at the end of the cruise, your driver will meet you to drive back to Hanoi where you will spend the next two nights.
Overnight luxury cruises around Halong Bay are also popular. Please ask us for details.
Day 3 - Hanoi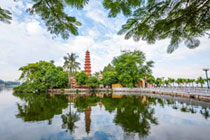 Today you will enjoy a private, guided tour around the city, beginning with a visit to the Temple of Literature, with its peaceful walled courtyards and graceful gateways. From here you'll continue to the One Pillar Pagoda and the nearby Ho Chi Minh Memorial complex.
After visiting the Opera House and St Joseph's Cathedral, you'll then see Hoan Kiem Lake, in the heart of the city. This is a peaceful lake that contains an island that's home to the tiny Tortoise Pagoda. From here you'll walk to the nearby Old Quarter, a fascinating area of narrow alleys and historic shop houses before returning to your hotel to spend the evening at your leisure.
Day 4 - Hoi An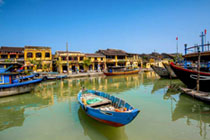 This morning a short flight will take you to the coastal town of Hoi An. Hoi An is one of Vietnam's most pleasant towns, and today you will have a very enjoyable walking tour around the historic center as you stroll through the cobbled streets, the busy central market and the harbor filled with colorful fishing boats.
You will also have the opportunity to visit a private house, occupied by the same family for generations - a great insight into Vietnamese life.
The Sa Huynh Museum makes an interesting stop, filled with artifacts from Hoi An's colorful history, before visiting the Japanese Covered Bridge Pagoda.
Enjoy the rest of the day at your leisure, sampling some delicious fresh food from one of the many restaurants and delicious street food markets new your hotel.
Day 5 - Hoi An to Hue
Today you will drive from Hoi An to Hue. Along the way you'll visit the Marble Mountains, China Beach and have the opportunity to visit the Cham Museum with its fine collection of local sculptures. After a brief stop in Danang, you'll continue via the dramatic Hai Van Pass before you reach Hue, the country's former capital. Upon arrival you'll visit the Imperial Tomb of Tu Dic, before you check in to your hotel for an overnight stay.
Day 6 - Hue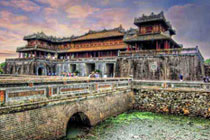 This morning you will explore this historic town starting with a boat ride down the Perfume River. your first stop is the iconic Thien Mu Pagoda, Hue's best known landmark. Next you'll visit the Old Imperial City, passing the giant Vietnamese flag near the imposing Ngo Mon Gate, the Royal Enclosure's main entrance. Here you'll see the beautifully decoratedHalls of the Mandarins and the Dien Tho Palace. From here you'll be driven to Hue's airport to check in for your short flight to the city of Saigon, where you will be escorted to your centrally located hotel upon arrival.
Day 7 - Saigon
Saigon is a fascinating city of 7 million people, and today's tour will include a stop at the Reunification Palace, before continuing to the War Remnants Museum to learn about the Vietnam War (called the American War here). The historic center is home to the Emperor of Jade Pagoda, as well as the City Hall and the neo-Romanesque Notre Dame Cathedral, City Hall and old Opera House. Your tour ends at the central Ben Thanh Market, where you can sample some of the delicious street food, before enjoying the rest of the day at your leisure.
Day 8 - Phnom Penh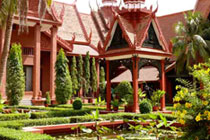 This morning you'll take a flight to Phnom Penh, the capital of Cambodia. After checking into your hotel you will start to discover this exciting city by visiting the spectacular Royal Palace and the adjacent Silver Pagoda, known as the 'Pagoda of the Emerald Buddha'.
After visiting the the elegant National Museum, which contains a huge collection of ancient Khmer Art, you will continue to Tuol Sleng. Here you will learn about a terrible, but significant chapter of Cambodia's more recent and tragic past at the Tuol Sleng Museum. In 1975, this former high school became the interrogation and torture facility for the regime of the Khmer Rouge, and thousands of Cambodians passed through here. It's a sobering place to visit, but an important experience to learn about the history of Cambodia.
This afternoon a visit to the Central Market, will be a complete change of scenery as you walk through this labyrinth of stalls selling everything from bootleg CDs and DVDs to local silks, handicrafts, jewelry and much more.
Day 9 - Siem Reap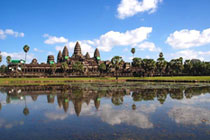 After a one-hour flight to Siem Reap, you will check in to your hotel before starting your tour of the spectacular temples of Angkor. Angkor Wat is the crown jewel of ancient Khmer architecture, and is the highlight of any visit to Cambodia. After a guided tour of the main temple, you will continue to the temple of Angkor Thom. This fortified city covers an area of 4 square miles and is surrounded by a moat. You enter the city via the monumental South Gate, after crossing a causeway lined with statues of demons and gods.
Continue to the Terrace Of The Elephants and the Terrace Of The Leper Kings, both of which are former spaces for public ceremonies and are adorned with dramatic carvings.
Watch the sunset over the countryside from a high terrace of an ancient temple, before returning to your hotel. Tonight, explore the town at your leisure, sampling some local cuisine.
Day 10 - Temples of Angkor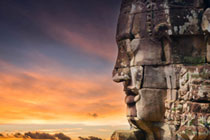 Today you will continue your sightseeing of the temples of Angkor. You'll visit the temple of Banteay Srei, with its intricate, classical Khmer carvings, before continuing to Banteay Samre, dedicated to the god Vishnu and dating from the 12th century. After visiting the ruined Royal Enclosure and temple of Ta Prohm, made famous in the movie Tomb Raider, you will continue to the mysterious Bayon Temple, one of the most impressive in Angkor. Enjoy a final evening at your leisure in the bustling center of Siem Reap. There's a huge selection of food and entertainment here to choose from.
Day 11 - Fly Home or Extend Your Trip
This morning you will be escorted by private vehicle to Siem Reap's airport for your flight home, or to another fascinating part of Asia.
Hotels listed below are given as suggestions only to illustrate the standard of hotels used.
Halong Bay - Royal Lotus Hotel (4.5 star - Deluxe)
The Royal Lotus Hotel is a modern hotel i the center of town, walking distance to the Halong Marina Plaza mall. Offering graceful Vietnamese hospitality, the hotel features 147 rooms with luxurious furnishings. Hotel facilities include a heated pool, three restaurants serving Vietnamese, International and Japanese cuisine and a bar. Guest rooms are elegant and comfortable, each offering breathtaking views over Halong Bay.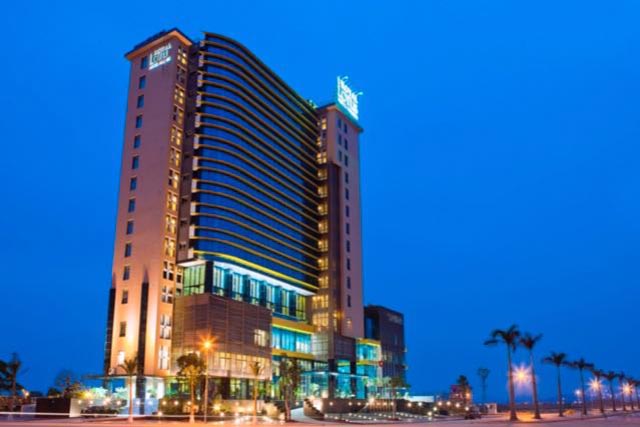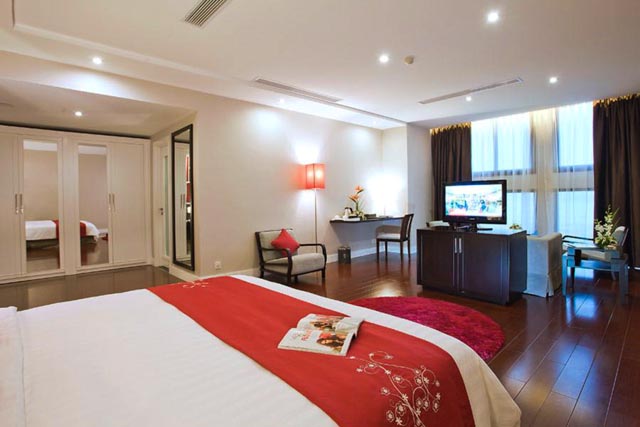 Hoi An - Sunrise Beach Resort (5 star - Deluxe)
Hoi An's Sunrise Beach Resort is a beautiful property located beachfront, 10 minutes' drive from the center of town. With modern and stylish luxury accommodations, all rooms feature views over the South China Sea and bright, modern bathrooms. The hotel offers three restaurants serving fresh seafood and Vietnamese delicacies.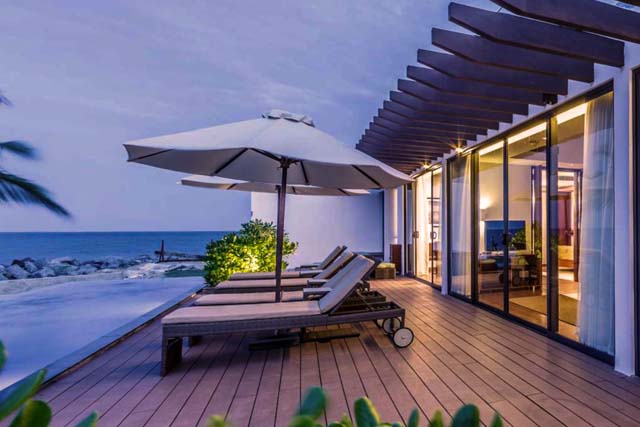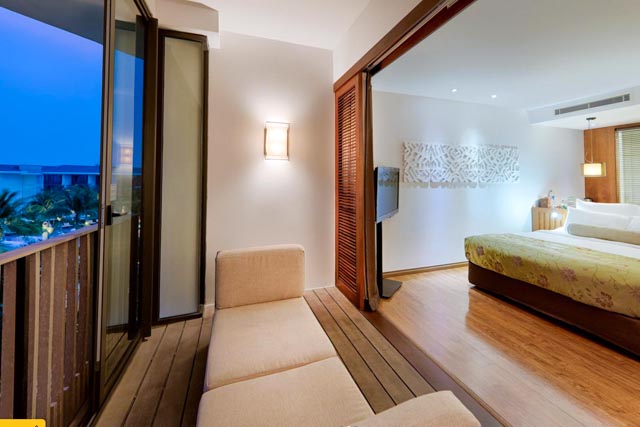 Hoi An Trails Resort (4 star - Luxury)
Located in a tranquil village setting on the banks of the Thu Bon River not far from the center of town, the Hoi An Trails Resort offers bright and modern accommodations in a tropical garden setting. Rooms overlook tropical foliage and feature private balconies and all comforts one would expect from a 4-star hotel.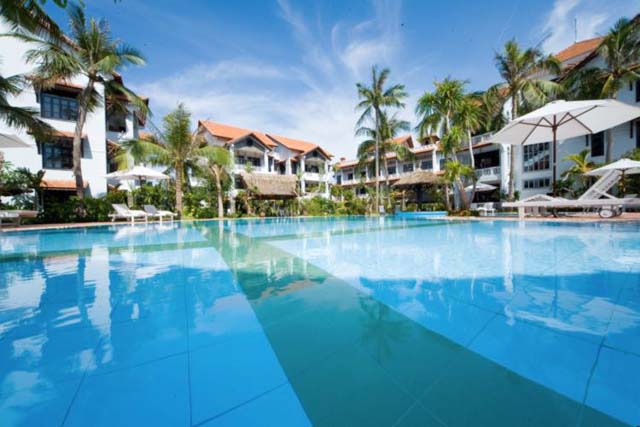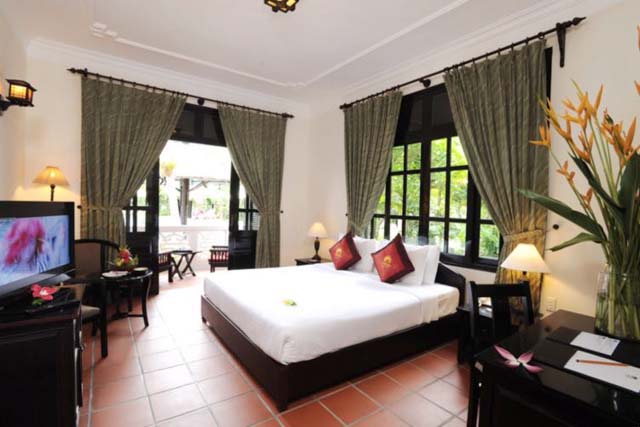 Hue - La Residence Hue (5 star - Deluxe)
A stay at La Residence allows you to step back in time to when this hotel was the home of the French Colonial Governor. Painstakingly restored and reopened as a luxury hotel, the hotel features 1930s era style of art deco architecture. Each of the 122 luxuriously finished rooms offers high ceilings, terrazzo floors along with modern conveniences. This is a lovely hotel and your stay here is sure to be a memorable one.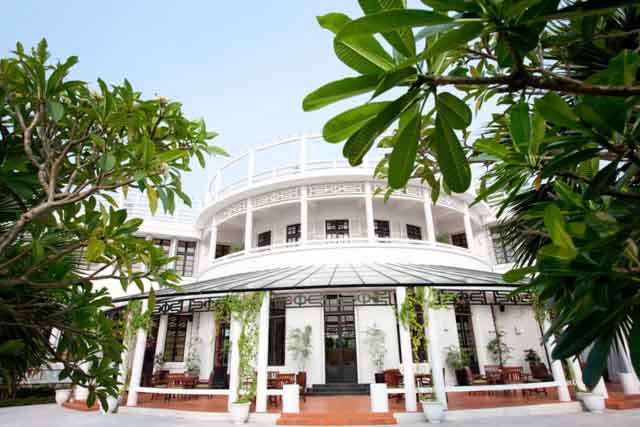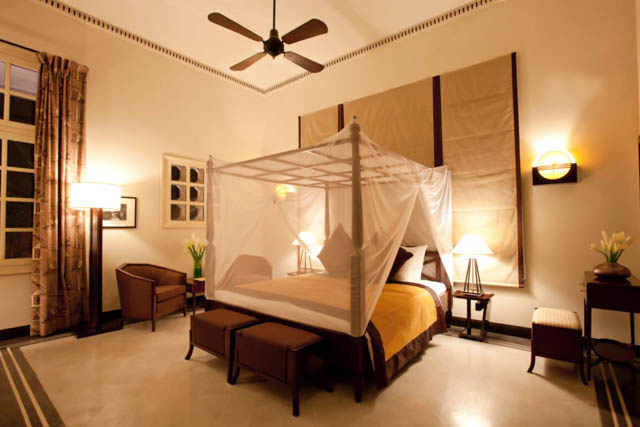 Hue - Muong Thanh (4 star - Luxury)

Located in the city center on the banks of the Perfume River, the Muong Thanh Hotel offers a combination of modern architecture combined with decor in the style of the Hue Royal Court. Guest rooms, many of which feature uninterrupted river views are bright and modern. The hotel also offers a choice of four restaurants for your convenience.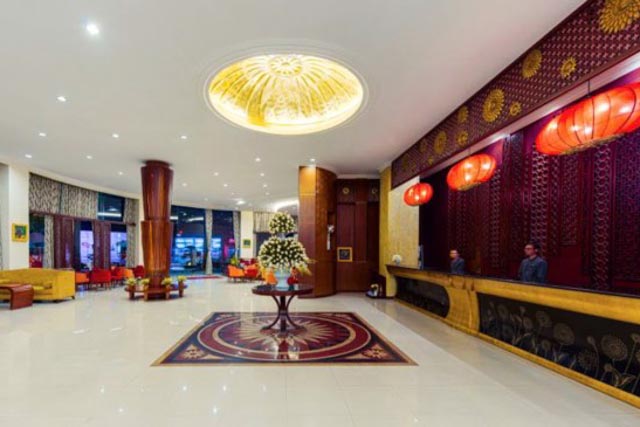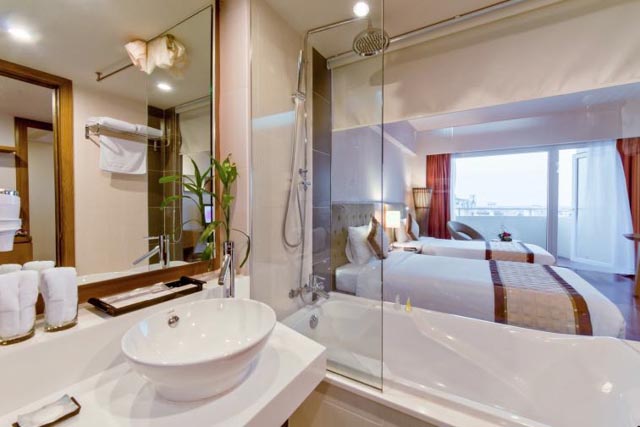 Hanoi - Sofitel Legend Metropole (5 star - Deluxe)

One of the city's most luxurious hotels, the Sofitel Legend Metropole was constructed in 1901. Boasting a century long tradition of hospitality for heads of state, ambassadors and other dignified people, the hotel prides itself on service. It is located in the heart of the city and offers 363 luxuriously furnished rooms and suites, providing all amenities one would expect from a world-class luxury hotel.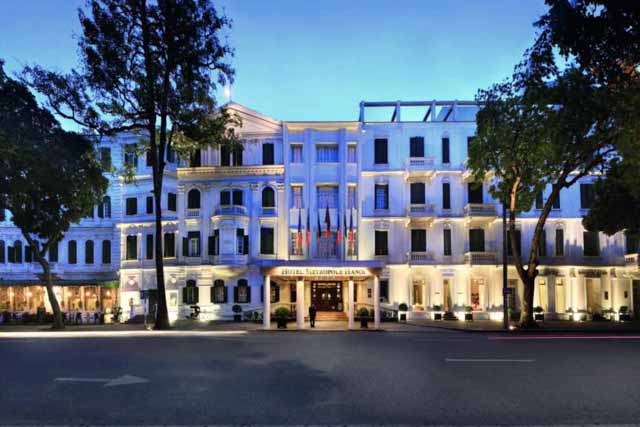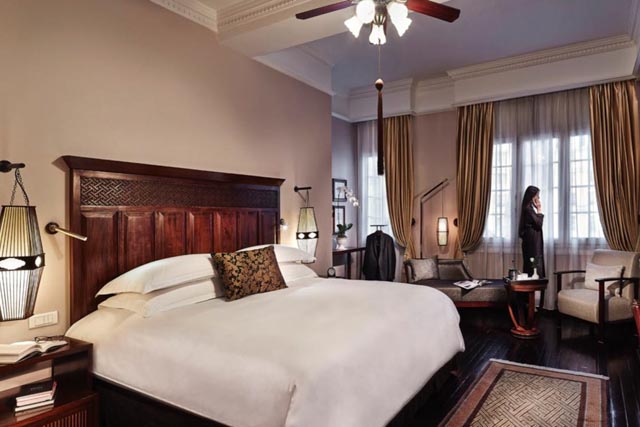 Hanoi - Mercure Hanoi La Gare (4 star - Luxury)

The Mercure La Gare is centrally located opposite the railway station, within easy walking distance to the Old Quarter and is a relaxing oasis in the bustling city center. The 102 spacious and contemporary rooms have all been recently refurbished, some featuring stylish, open-plan bathrooms. The hotel's restaurant, a French brasserie, offers a varied menu of French and Vietnamese contemporary cuisine.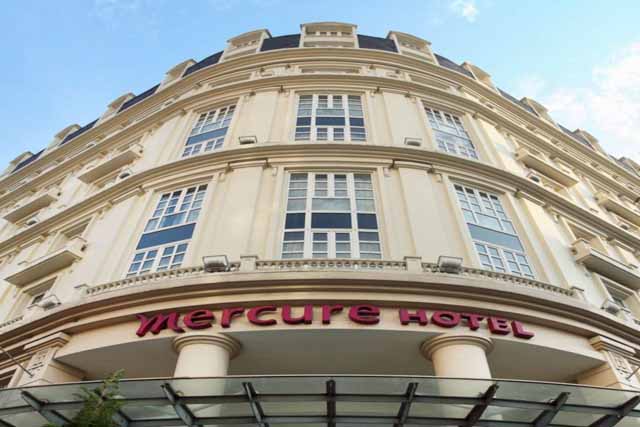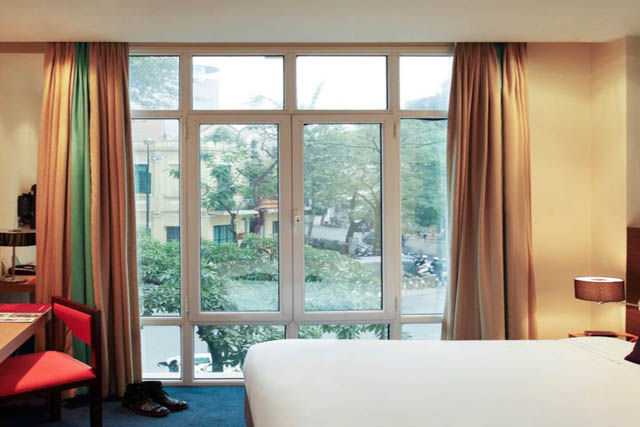 Saigon (Ho Chi Minh City) - Park Hyatt (5 star - Deluxe)

Centrally located on Lam Son Square in the heart of the historic district, the Park Hyatt is Saigon's premier luxury hotel. The hotel reopened after a complete overhaul in 2015 and has a wonderfully fresh look that blends perfectly with its signature French colonial style. The 245 renovated rooms and suites are decorated with lighter tones, locally sourced, handcrafted furniture and local art. All rooms feature modern amenities like Nespresso machines and iPod docks and the hotel's service is second to none.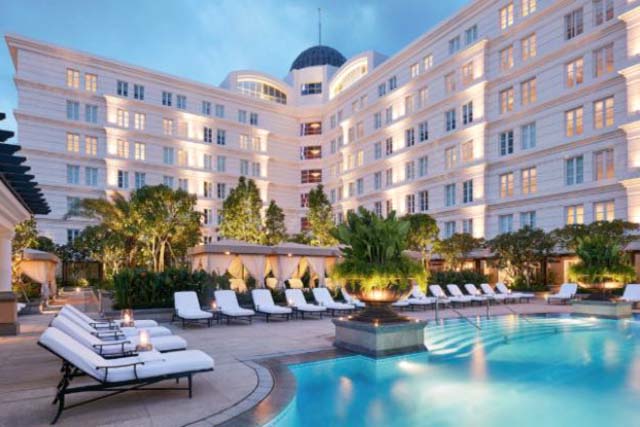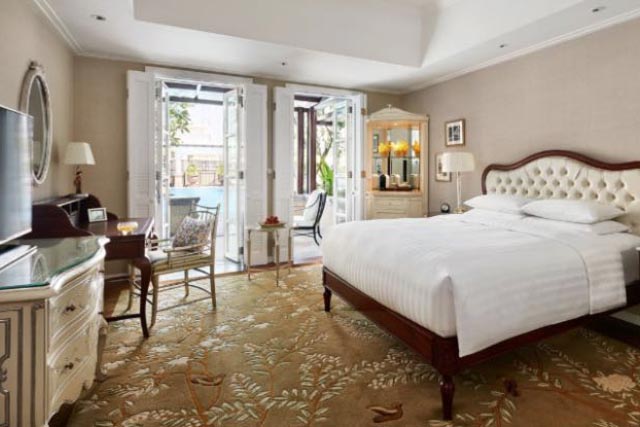 Saigon Liberty Central Hotel (4 star - Luxury)

The centrally located Liberty Hotel has easy access to the Cathedral, the city's main museums and shopping. The 247 guestrooms feature a modern, contemporary style and stunning views over the city. All are bright and stylish, featuring modern bathrooms. The hotel has an international restaurant with an open kitchen concept, as well as a lobby bar with an outdoor terrace and a stylish rooftop bar with outside terrace, perfect for a nightcap 20 floors above the busy streets.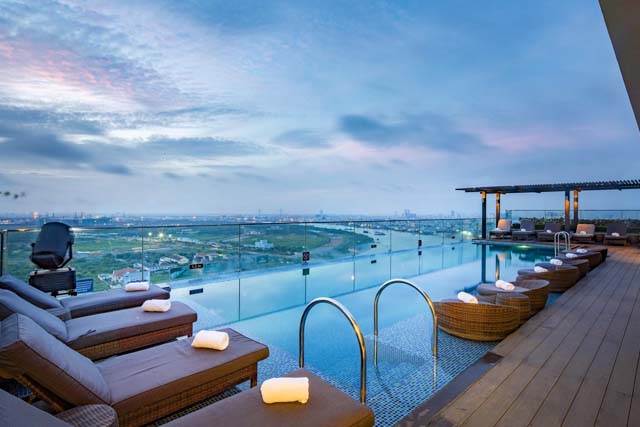 Phnom Penh - Raffles Le Royal (5 star - Deluxe)

The Raffles is Phnom Penh's premier luxury hotel. Opened in 1929, it has gone through several major renovations and modernizations over the years, however it retains an old world charm and sophisticated service unmatched by other city hotels. The 170 guest rooms and suites harmoniously blend classic style with modern features and luxury. This is a beautiful property, unlike any other in Cambodia.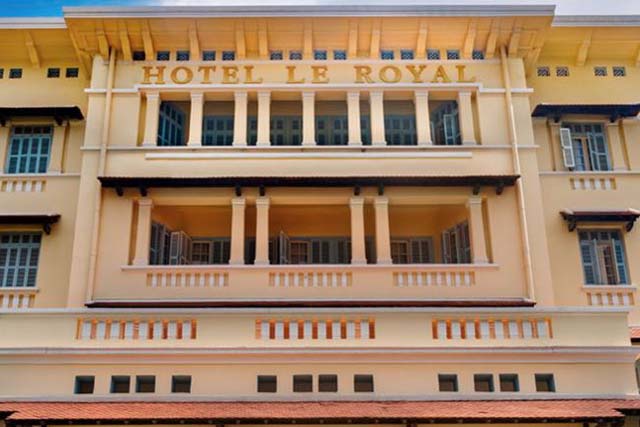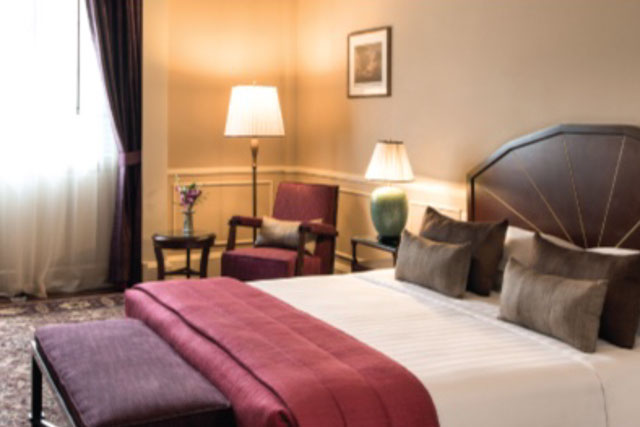 Phnom Penh - Amanjaya Pancam Hotel (4 star - Luxury)

Located opposite the Wat Ounalom overlooking the confluence of the Mekong and Tonle Sap Rivers, the Amanjaya Pancam is within walking distance of the Royal Palace and National Museum. Decorated in a blend of traditional and contemporary Khmer style, the hotel offers a riverfront restaurant and a rooftop bar with lovely views over the river. All rooms feature views over the Tonle Sap River or Wat Ounalom and are furnished with Cambodian hardwood furniture and textiles.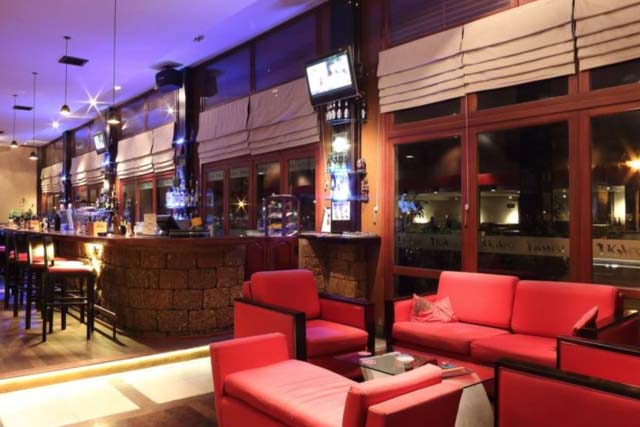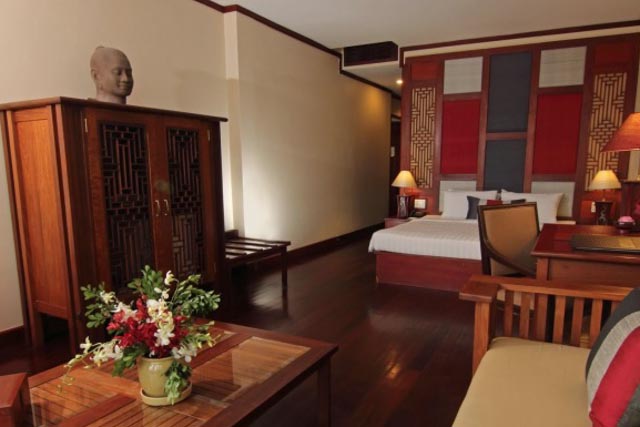 Siem Reap - Raffles Grand Hotel d'Angkor (5 star - Deluxe)

This beautiful hotel is set in 15 acres of landscaped French gardens. The hotel's style combines tranquility and old-world grandeur in a spiritual setting. Ornamental gardens set around the hotel's pool create a peaceful setting, while the other public areas of the property are stylish and elegant.
The 131 rooms and suites are classically furnished, elegant and luxurious, featuring everything a discerning traveler would expect from a luxury, 5-star hotel.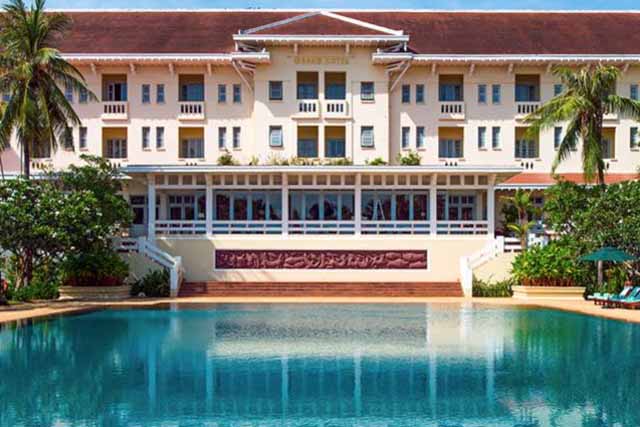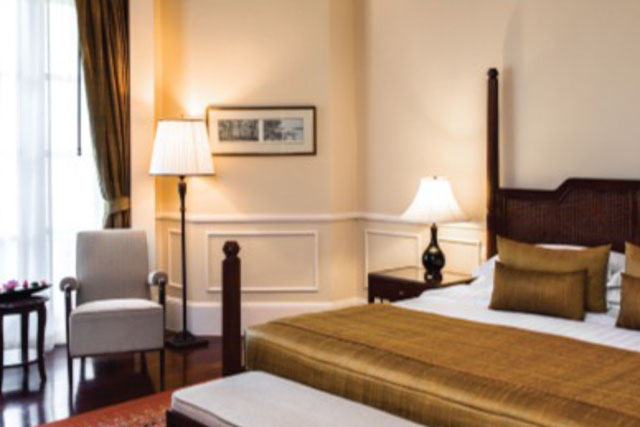 Siem Reap - Lotus Blanc Resort (4 star - Luxury)

Lotus Blanc is a premier boutique style hotel, enriched by conceptual French design. Combining an elegant style of romance and harmony in its architecture, its public areas are wonderful for socializing and relaxation. The 100 recently refurbished rooms and suites all feature private balconies overlooking a tropical landscape of gardens and a large swimming pool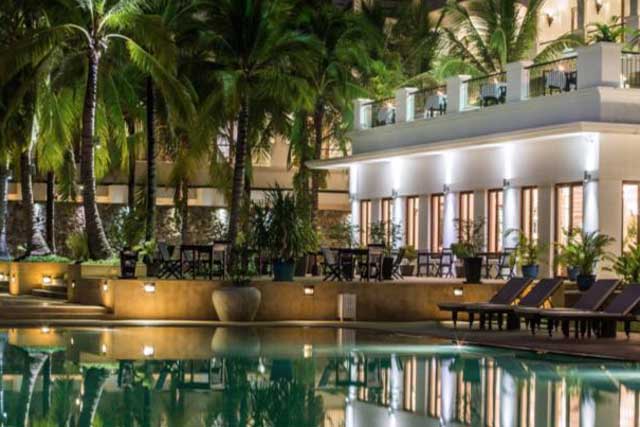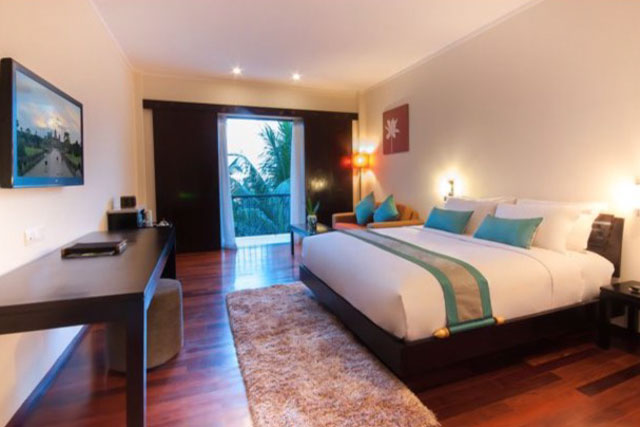 Optional Extensions
Tropical Beaches in Thailand or the Philippines (3-7 days)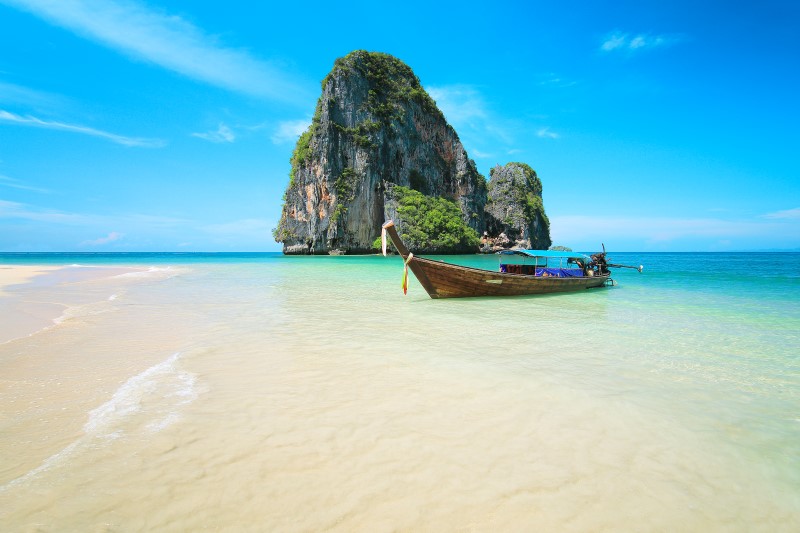 Thailand and the Philippines are home to some of the most spectacular beaches in the world. A few days relaxing on an unspoiled, idyllic, powder-soft, white sand beach is the perfect way to end a busy tour around southeast Asia. Snorkel, SCUBA dive, visit uninhabited paradise islands by boat, or simply relax poolside at your luxury hotel as you contemplate the stunning turquoise water, while you enjoy the freshest seafood you've ever eaten at a fraction of the price you'd pay at home.
Bangkok (3-4 days)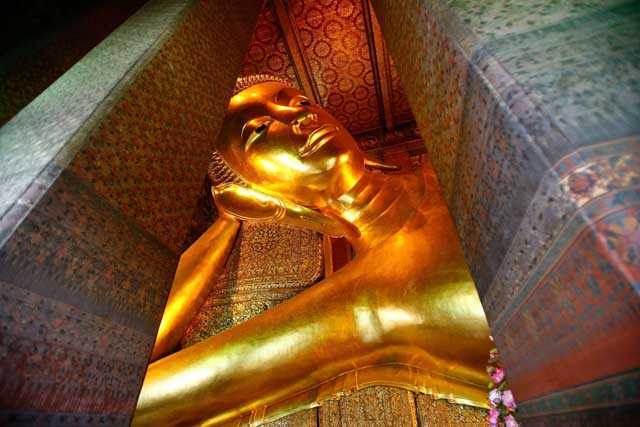 Thailand's capital and one of the most exciting cities in Asia, Bangkok is a real feast for the senses. It is one of the most confounding and chaotic, yet most rewarding cities in the world to visit. From the royal core of the city and its Grand Palace to the busy Chao Phraya River slicing through it, the incredible and exquisite historical temples and monuments, to the congested streets, lined with the best street food in the world, it's exotic and mesmerizing at every turn.
Hong Kong (3-4 days)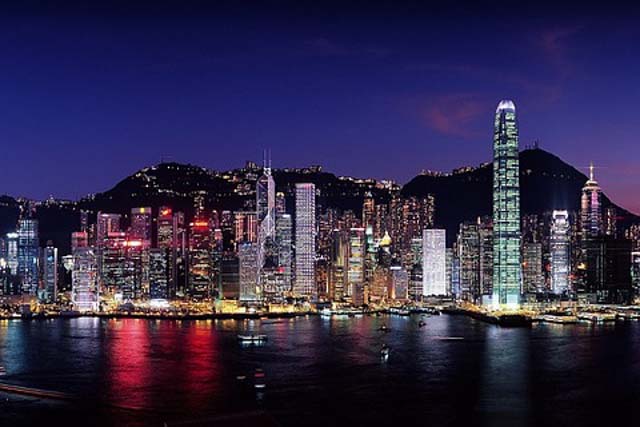 Hong Kong is an enigma. A city of modern, glass towers, cosmopolitan cuisine, home to one of the world's largest financial centers, and one of the world's most modern, efficient transport systems; it's also home to quiet villages and idyllic beaches not far from the chaos of the city. The food here is amazing, and the views - whether from the deck of the world-famous Star Ferry crossing Victoria Harbour (the best 25 cent ticket you'll ever buy), or from the lofty heights of Victoria Peak are simply sublime.
Singapore (3 days)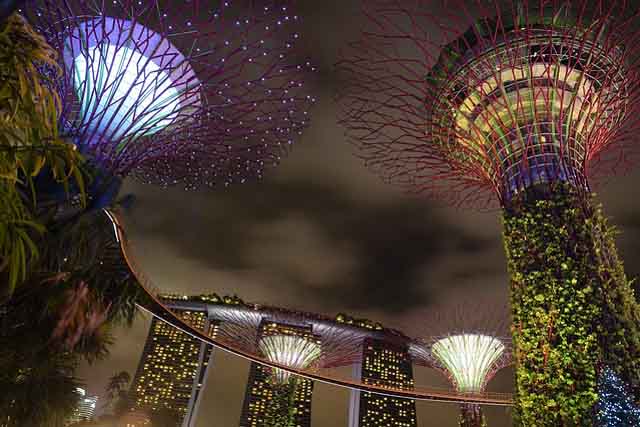 Unlike any other city, Singapore is a mix of traditional Malay, Chinese and Indian cultures, harmoniously blended with the cutting-edge, ultra-modern style of the most modern cities in the world. Immaculately clean, tidy, efficient and organized, with some of the best food offerings in the world, from simple 'hawker' stalls to Michelin starred restaurants, it's a great place to spend a few days. With international non-stop flights all over the world, it's also the most easily accessible city in south east Asia.
Fully guided, private tours are priced from:
Luxury - US$3795 per person (4 star hotels)
Deluxe - US$4195 per person (5 star hotels)
Ultra-Luxe - US$5595 per person (best available hotels, business/first class flights)
Prices are per person, based on two people sharing a double room in low season.
Hotels listed on the Hotels Tab are given as suggestions only to illustrate the standard of hotels used.
Price Includes:
All hotels as described in the itinerary
Services of our representatives while in Vietnam and Cambodia
Flights:
Hanoi to Hue
Hue to Saigon
Saigon to Phnom Penh
Phnom Penh to Siem Reap
Private transportation and private tours as described in the itinerary in air-conditioned vehicles
Sightseeing and entrance fees
Meals as described in the itinerary

Price Excludes:
International flights
Travel insurance
Meals other than those listed in the itinerary
Gratuities for guides and drivers
Sightseeing other than described in the itinerary
Additional room charges of a personal nature in hotels (eg: room service, laundry, phone calls, etc.)