All tours are fully customizable to your requirements
Temples and Volcanoes of Java
Java and Bali - Two of the most exotic sounding place names in Asia invoke thoughts of the tropics, of rich culture and history, batiks, exotic art and more.
Java lies between Sumatra to the west and Bali to the east, and has incredible geography of volcanoes, mountains and isolated interior highlands. The scenery here is guaranteed to take your breath away. From the ruins of Yogyakarta to the stunning mountain scenery of Mt. Bromo and the coffee plantations in the east of the island, you'll enjoy a fascinating, in-depth tour of this amazing island.
This tour fits perfectly in conjunction with our 'Beautiful Bali' tour for a 2-week tour covering Java and Bali.
ITINERARY
Day 1 - Yogyakarta
Day 2 - Yogyakarta
Day 3 - Borobudur
Day 4 - Drive to Bromo
Day 5 - Mount Bromo
Day 6 - Kalibaru - Banyuwangi
Day 7 - Mount Ijen - Bali
Day 8 - Fly Home or Extend Your Trip
Detailed Itinerary
Day 1 - Welcome to Java!
Upon arrival at Yogyakarta's Adisucipto airport, you will be escorted to your hotel by private vehicle. After freshening up, your guide will pick you uo to visit a small home workshop where Java's famous Wayang Kulit leather puppets are made. Next you will visit a batik workshop where you will learn the fascinating process of producing these intricately designed textiles.
Enjoy dinner in a local restaurant while you watch a traditional performance of the Ramayana Ballet.
Day 2 - Yogyakarta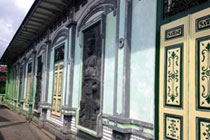 This morning you will visit the Sultan's Palace, a fine example of Javanese architecture dating from 1756, where you will learn of Java's history and culture. After lunch at a local restaurant, you will visit the UNESCO World Heritage Site of Prambanan. This is an ancient Hindu temple, dating from the 9th century, and is one of the largest in south east Asia. Your next stop will be the traditional village of Bugisan, where you will be welcomed with a refreshing drink and snack before touring the village by ox cart. On the way back to your hotel you will visit the house of a Jamu Maker. Jami is a traditional herbal medicine in Indonesia, usually made from plants and roots and used to treat a variety of ailments.
Enjoy the evening at your leisure, perhaps sampling some of the excellent restaurants near your hotel.
Day 3 - Borobudur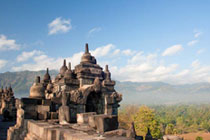 Your visit to Borobudur today will surely be one of the highlights of your trip, as you explore some of the intricately designed 8th century temples. The imposing Buddhist Temple took over 75 years to build in the 8th and 9th centuries, and is comprised of thousands of volcanic and river stone blocks. Your tour will continue to the nearby Mendut Temple, a pyramid shaped structure housing three impressively carved status, some of the best preserved in Java. After lunch at a local restaurant, you will return to Yogyakarta to enjoy the rest of the day at your leisure.
Day 4 - Yogyakarta to Bromo
This morning an early start is required to transfer to the station to catch your train to Jombang. Your guide will accompany you on the train and upon arrival, a local driver will take you to lunch at a local restaurant. This afternoon you'll visit nearby Trowulan, which was the former capital of the Majapahit Kingdon who ruled Java for centuries. Here you'll visit the archaeological museum and the temples of Candi Tikus and Candi Banjang Ratu before continuing through scenic mountain roads to Bromo Tengger National Park.
Day 5 - Mount Bromo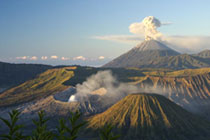 Up before sunrise this morning, you'll drive by 4WD Jeep to a viewing point for an unforgettable view of the sun rising over Mt. Bromo and the surrounding highlands. This is a truly spectacularly beautiful location and the sight of the sky colors changing over a volcanic landscape dotted by pockets of mist is amazing. From here you'll continue to the volcano's caldera, from where you'll travel by horseback to take a closer look at the volcano. You'll continue driving through some incredibly scenic areas, with plenty of photo stops to Kalibaru, arriving in the afternoon to enjoy the rest of the day at your leisure.
Day 6 - Kalibaru - Banyuwangi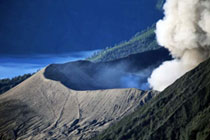 After a leisurely breakfast in your hotel you'll enjoy a tour of the 22-acre plantation garden of the Margo Utomo Agro Resort. You'll learn about the production of coffee, as well as the farming of local spices including cocoa, cinnamon, pepper and nutmeg. After checking out of your hotel, enjoy a local lunch before driving to the area of the Kiawah Ijen Volcano for an overnight stay.
Day 7 - Mount Ijen - Bali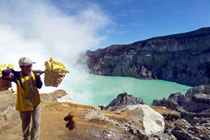 Another early start will be required today for an excursion to Mt. Ijen. After setting off from your hotel, a 1.5-hour drive will bring you to the Paltering Base Camp, from where a 2-mile trail leads to the summit. The summit is marked by a large crater lake surrounded by sulfur mines, worked on by locals who regularly carry loads of 130lbs down the mountain barefoot. After returning to the base camp, you'll enjoy a well-deserved lunch at a local restaurant before crossing the Bali Straits by ferry to the gorgeous island of Bali, where you'll check in to your hotel for an overnight stay.
Day 8 - Fly Home or Extend Your Trip
This morning you will be transferred to Denpasar's International airport for your flight home, or to another fascinating part of Asia. We recommend tying this trip in with our 8 day 'Beautiful Bali' tour.
Hotels listed below are given as suggestions only to illustrate the standard of hotels used.
Yogyakarta - Tentrem Hotel (5 star - Deluxe)
This lavish and luxurious hotel is conveniently located close to shops and restaurants and makes a great base for exploring the region. The plush, modern guest rooms, many of which feature separate living areas and whirlpool tubs offer high standards of comfort and the hotel is well known for its excellent service.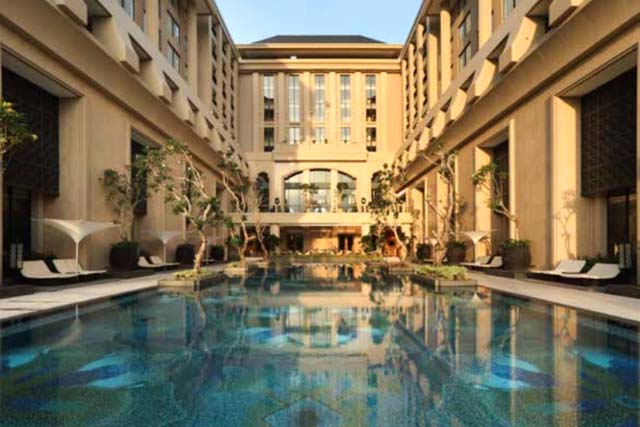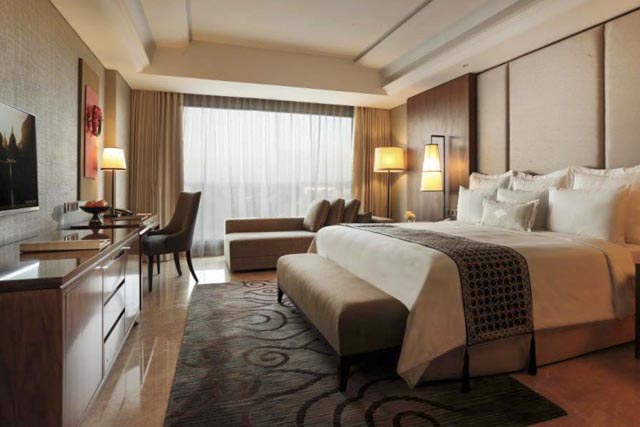 Yogyakarta - Lafayette Boutique Hotel (4 star - Luxury)
With premier location close to the Keraton Palace and colorful Malioboro Street, the Lafayette Boutique Hotel is a beautiful establishment offering 77 premier rooms, all graciously appointed and elegantly furnished. The hotel's Le Petit Restaurant is one of the finest in Yogyakarta and offers sweeping views over Mount Merapi.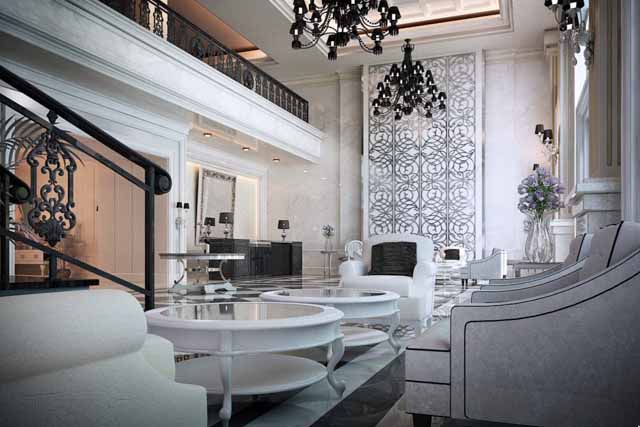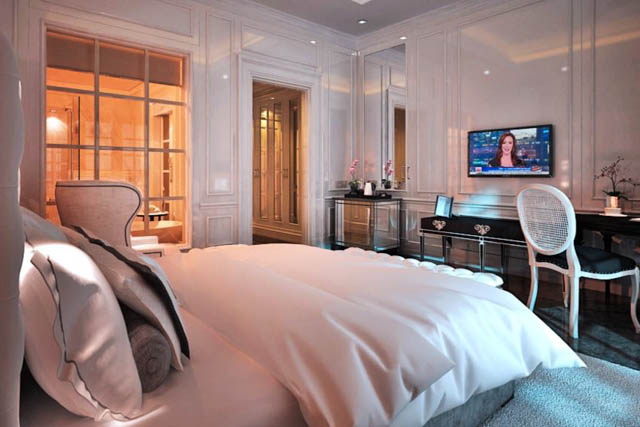 Mount Bromo / Central Java - Tugu Hotel (4 star - Luxury)
Conveniently located in the heart of the old town of Malang, the Tugu Hotel overlooks the town's monument to independence and a beautiful lotus leaf park. Decorated and furnished in a traditional Indonesian style, the hotel is filled with hundreds of antiques both in the public areas as well as in the luxurious guest rooms.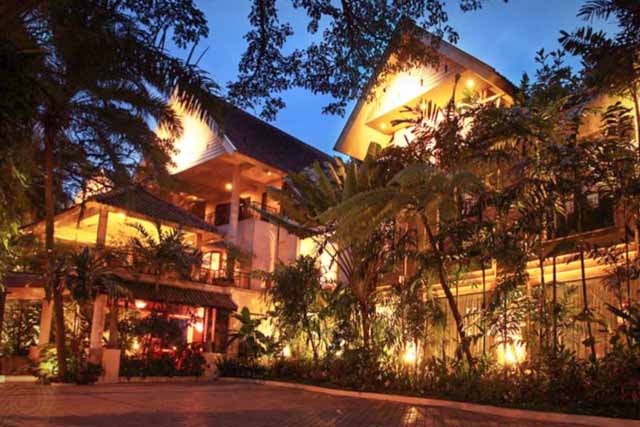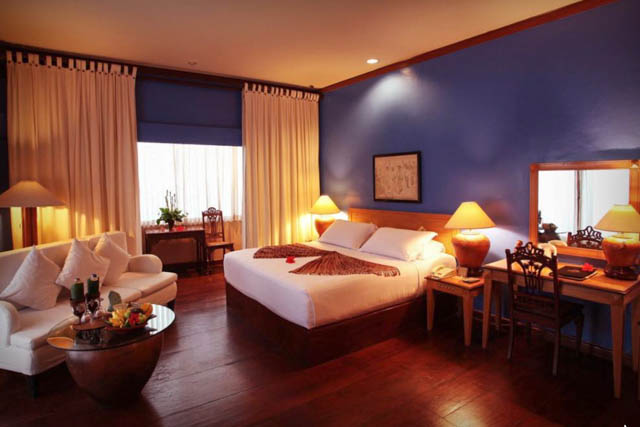 Mount Ijen / Eastern Java - Mount Ijen / Eastern Java (4 star - Luxury)
On Java's eastern tip, the Santika is located in an area of natural beauty, but close to the town of Banyuwangi and the Mt. Ijen area. The hotel's 125 well-appointed rooms are fresh, bright and modern and make an excellent base for exploring eastern Java's more remote areas without having to sacrifice any comforts.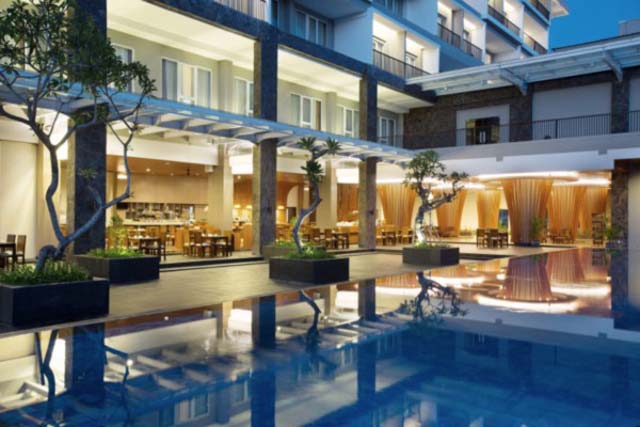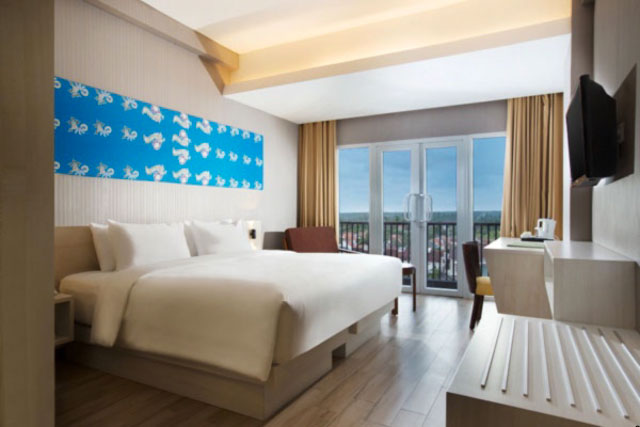 Optional Extensions
Beautiful Bali (5-9 days)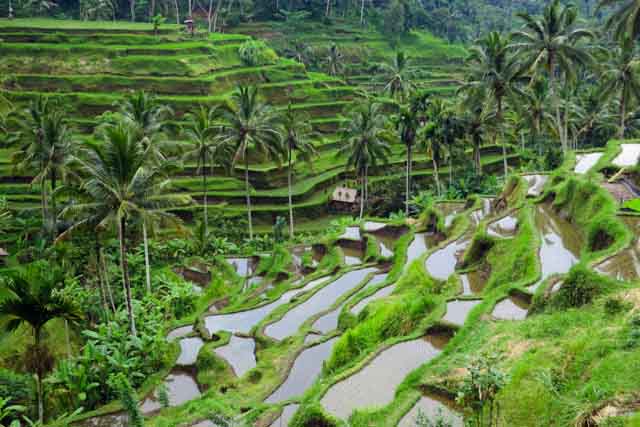 Unlike anywhere else, Bali invokes images of a lush, green tropical paradise filled with natural beauty, Buddhist temples, amazing food and smiling people. The reality far exceeds the hype… Bali is a beautiful island, offering the perfect combination of culture, cuisine and beaches and is a perfect place to spend a week or two. The scenery here is stunning - from forested volcanoes to classic south east Asian rice paddies interspersed with towering pagodas, to inviting golden sand beaches, there's beauty everywhere you look.
Tropical Beaches in Thailand or the Philippines (3-7 days)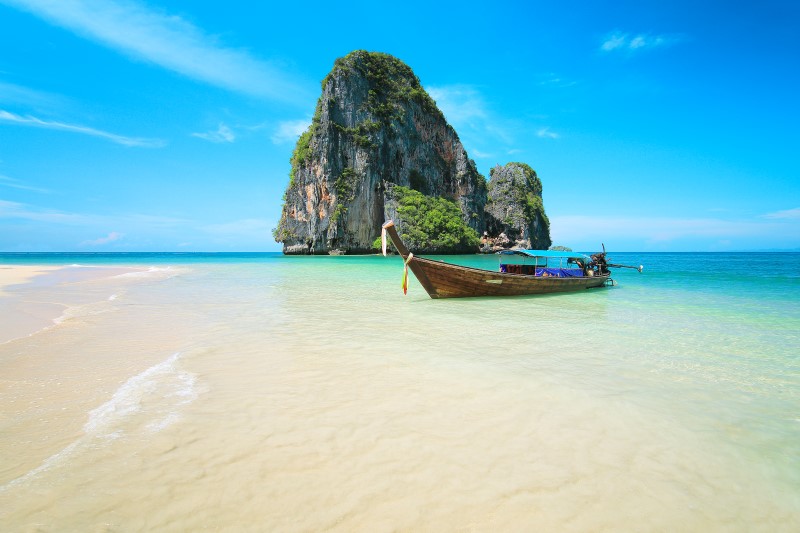 Thailand and the Philippines are home to some of the most spectacular beaches in the world. A few days relaxing on an unspoiled, idyllic, powder-soft, white sand beach is the perfect way to end a busy tour around southeast Asia. Snorkel, SCUBA dive, visit uninhabited paradise islands by boat, or simply relax poolside at your luxury hotel as you contemplate the stunning turquoise water, while you enjoy the freshest seafood you've ever eaten at a fraction of the price you'd pay at home.
Bangkok (3-4 days)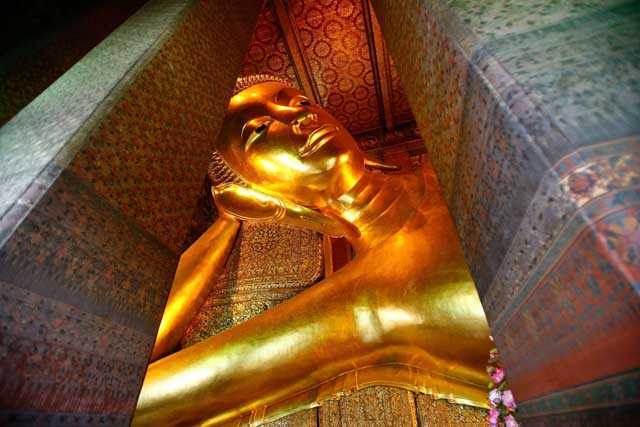 Thailand's capital and one of the most exciting cities in Asia, Bangkok is a real feast for the senses. It is one of the most confounding and chaotic, yet most rewarding cities in the world to visit. From the royal core of the city and its Grand Palace to the busy Chao Phraya River slicing through it, the incredible and exquisite historical temples and monuments, to the congested streets, lined with the best street food in the world, it's exotic and mesmerizing at every turn.
Hong Kong (3-4 days)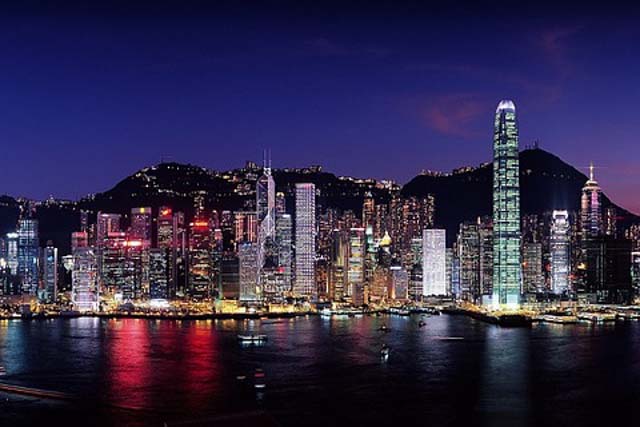 Hong Kong is an enigma. A city of modern, glass towers, cosmopolitan cuisine, home to one of the world's largest financial centers, and one of the world's most modern, efficient transport systems; it's also home to quiet villages and idyllic beaches not far from the chaos of the city. The food here is amazing, and the views - whether from the deck of the world-famous Star Ferry crossing Victoria Harbour (the best 25 cent ticket you'll ever buy), or from the lofty heights of Victoria Peak are simply sublime.
Singapore (3 days)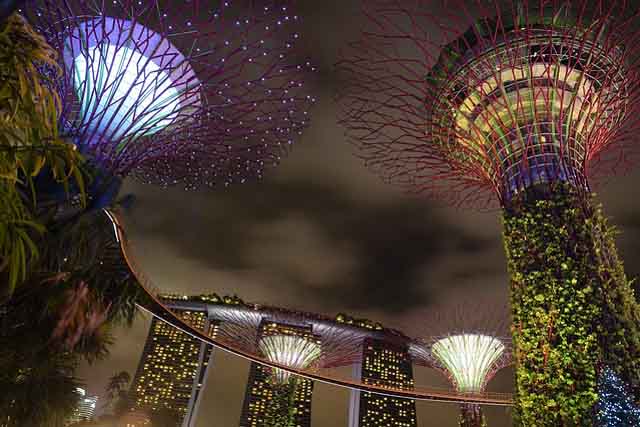 Unlike any other city, Singapore is a mix of traditional Malay, Chinese and Indian cultures, harmoniously blended with the cutting-edge, ultra-modern style of the most modern cities in the world. Immaculately clean, tidy, efficient and organized, with some of the best food offerings in the world, from simple 'hawker' stalls to Michelin starred restaurants, it's a great place to spend a few days. With international non-stop flights all over the world, it's also the most easily accessible city in south east Asia.
Fully guided, private tours are priced from:
Luxury - US$2995 per person (4 star hotels)
Deluxe - US$3395 per person (5 star hotels)
Ultra-Luxe - US$4395 per person (best available hotels)
Prices are per person, based on two people sharing a double room in low season.
Hotels listed on the Hotels Tab are given as suggestions only to illustrate the standard of hotels used.
Price Includes:
All hotels as described in the itinerary
Services of our representatives while in Indonesia
Private transportation and private tours as described in the itinerary in air-conditioned vehicles
Sightseeing and entrance fees
Meals as described in the itinerary

Price Excludes:
International flights
Travel insurance
Meals other than those listed in the itinerary
Gratuities for guides and drivers
Sightseeing other than described in the itinerary
Additional room charges of a personal nature in hotels (eg: room service, laundry, phone calls, etc.)