All tours are fully customizable to your requirements
Kimberley 4WD Adventure
Australia's Kimberley is the country's last frontier and an amazing adventure destination. A vast area, about the same size as California, the Kimberley is filled with stunning vistas, rugged terrain, waterfalls, and otherworldly scenery. The best way to explore this challenging region is on one of our fixed date departure, small group tours by 4-wheel drive expedition vehicle. These vehicles offer modern comforts, including comfortable seats, air conditioning and the best guides in the business. Overnights will be at the regions best resorts and luxury wilderness lodges, and for your convenience other than on your arrival day, all meals are included. This is a fantastic tour allowing you to explore this fascinating region without having to sacrifice any comforts.
ITINERARY
Day 1 - Broome
Day 2 - Gibb River Road, Tunnel Creek, Windjana Gorge
Day 3 - Bell Gorge
Day 4 - Galvans Gorge, Manning Gorge, Drysdale River Station
Day 5 - Mitchell Plateau, King Edward River, Gwion Gwion
Day 6 - Mitchell Falls by Helicopter
Day 7 - Mitchell Plateau, Gibb River Road, Home Valley Station
Day 8 - Home Valley Station, El Questro Wilderness Park, Emma Gorge
Day 9 - El Questro, Wyndham, Parry's Lagoon
Day 10 - Ord River Lake Kununurra
Day 11 - Purnululu National Park, Echidna Chasm
Day 12 - Piccaninny Creek, Cathedral Gorge
Day 13 - Halls Creek, Fitzroy Crossing
Day 14 - Geikie Gorge, Broome
Day 15 - Fly Home or Extend Your Trip
Detailed Itinerary
Day 1 - Broome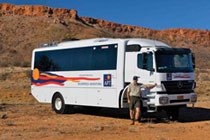 Upon arrival in Broome you will transfer to your beachfront hotel and have the rest of the day to explore at your leisure. Early evening you will meet your guide and fellow travelers for an orientation. Head over to the Sunset Bar to see the beautiful sunset over Cable Beach
Day 2 - Gibb River Road, Tunnel Creek, Windjana Gorge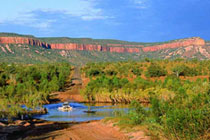 Your adventure tour starts today with a visit to the 1500-year-oldBaob Prison Tree, measuring an incredible 40 feet in diameter, and is an Aboriginal site of great cultural significance. Your journey continues along the iconic Gibb River Road, a remote outback highway that's a lifeline in this region. The "Gibb' crossed the wild heart of the Kimberley, passing through some of the most spectacular landscapes in Australia.
Turning off the highway, you'll visit the amazing Tunnel Creek, where you'll wade through the cool waters by flashlight through a tunnel to a stunning oasis. You'll also visit the beautiful sheer cliffs of Windjana Gorge and glimpse freshwater crocodiles that laze on the shores of the River.
Rejoining the 'Gibb', you'll travel to the King Leopold National Park as you arrive at the Bell Gorge Wilderness Lodge for dinner and overnight.
Day 3 - Bell Gorge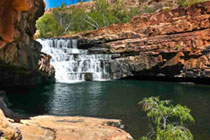 At Bell Gorge, sheer cliffs surround a series of beautiful tiered waterholes. This is an idyllic spot for swimming and great photo opportunities. If you're feeling energetic, you can hike to the lower pools of the gorge to enjoy a refreshing swim under the waterfalls. Return to the Bell Gorge Wilderness Lodge for dinner and overnight.
Day 4 - Galvans Gorge, Manning Gorge, Drysdale River Station
Today you'll visit the heart of the Kimberley's cattle country to visit secluded gorges. See the baob trees clinging to an escarpment above a picturesque waterhole before inspecting the ancient rock art at Galvans Gorge. You'll enjoy a leisurely lunch in the shade of paperbark trees overlooking the beautiful Manning Gorge. Spot some of the region's unique birds, and swim in the pristine natural pools.
Later you'll drive to the Drysdale River Station to enjoy an overnight stay at this historic cattle station.
Day 5 - Mitchell Plateau, King Edward River, GwionGwion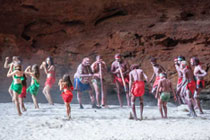 Crossing the beautiful Drysdale River, you'll ascend the Mitchell Plateau where you'll enter a remote world of beautiful lookout spots, spectacular waterfalls and hidden swimming holes surrounded by palm forests. The Kimberley's Rock art, is some of the world's oldest, with some experts believing that it dates back 50-60,000 years. You'll visit Wandjina and GwionGwion art sites and swim in the refreshing waters at King Edward River.
For the next two nights you'll enjoy excellent accommodations at Mitchell Falls Wilderness Lodge, where you will see some of the most diverse bird life in the country. Enjoy a gourmet dinner tonight showcasing the region's finest local produce.
Day 6 - Mitchell Falls by Helicopter
You'll have the whole day to explore the natural beauty of Mitchell Falls today. Starting with a hike to Little Martens Falls to view Aboriginal art, you'll continue through superb scenery to Mitchell Falls where you can swim in the pools above the falls while spotting the local wildlife.
This afternoon you will enjoy an unforgettable helicopter flight over the falls and surrounding wilderness back to the vehicle. Returning to the lodge you will enjoy the rest of the day at your leisure.
Day 7 - Mitchell Plateau, Gibb River Road, Home Valley Station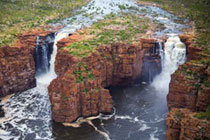 This morning you'll rejoin the 'Gibb' and ford the Durack River before arriving at the huge cattle station of Home Valley. If the scenery here looks familiar, you may recognize it from Baz Luhrmann's movie 'Australia', with the beautiful, imposing backdrop of the remote Cockburn Range. You'll enjoy a relaxed afternoon at your leisure in this truly inspirational setting.
Day 8 - Home Valley Station, ElQuestroWilderness Park, Emma Gorge
Today you'll learn about the indigenous training program, while you gain an understanding of the work of the Indigenous Land Corporation. You'll also explore some more of the amazing scenery where the movie 'Australia' was filmed.
This afternoon you'll cross over the Pentecost River into the amazing El Questro Wilderness Park, which covers a staggering one million acres. You can soak in the thermal pools of Zebedee Springs before enjoying a gourmet dinner and an overnight at the Emma Gorge Resort.
Day 9 - El Questro, Wyndham, Parry's Lagoon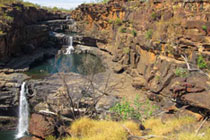 Today you'll explore deeper into El Questro. You can take an easy hike to the pretty Emma Gorge for a refreshing swim, before heading to Wyndham to view the breathtaking Cambridge Gulg from Five Rivers Lookout. You'll enjoy lunch at a remote outback pub before visiting the serene Parry's Lagoon to spot the huge variety of bird life here. Your accommodations for the next two nights will be the Kununurra Country Club Resort.
Day 10 - Ord River Lake Kununurra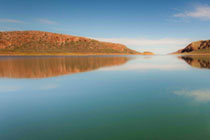 Take some time this morning to explore the beauty of Kununurra at your leisure before visiting the majestic Lake Argyle, the southern hemisphere's largest man-made lake. This afternoon you'll take a relaxing cruise on the Ord River to spot wildlife in a truly beautiful ecosystem. You'll enjoy a memorable sunset while cruising on Lake Kununurra before spending your evening as you please, perhaps exploring the township of Kununurra or relaxing at the hotel.
Day 11 - Purnululu National Park, Echidna Chasm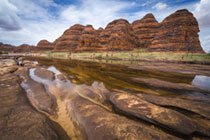 This morning you will travel to Purnululu National Park to see some of Australia's most spectacular natural landscapes. This park is home to the fames Bungle Bungle Range, with its distinctive orange and black striped domes rising up to 1500 feet. Created by constant river erosion over the last 20 million years the range has both Aboriginal and geological significance. Take a hike along the palm fringed trails to Echidna Chasm before settling into the peaceful ambience of Bungle Bungle Wilderness Lodge for the next two nights.
Day 12 - Piccaninny Creek, Cathedral Gorge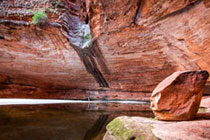 Today you'll have the opportunity to explore deeper into the beautiful Bungle Bungle Range. There are plenty of walking trails ranging from easy to challenging to match all levels of experience. Walk along Picaninny Creek before visiting the natural amphitheater of Cathedral Gorge with its astounding acoustics. Your guide will bring the natural history of what you're seeing to life with detailed explanations. You can choose to experience an optional scenic helicopter flight (own expense) over the domes before enjoying sundowners as the sun sets over this beautiful landscape.
Day 13 - Halls Creek, Fitzroy Crossing
An easy day today. At Halls Creek you'll admire the beautiful China Wall, a 4-mile-long quartz formation, before continuing to Fitzroy Crossing where you will check into the Fitzroy River Lodge to enjoy the afternoon at your leisure.
Day 14 - GeikieGorge, Broome
This morning you will drive to Geikie Gorge National Park to explore the beautiful Darngku (Geikie Gorge). Over millennia, the flooding of the river has bleached the walls of this gorge white, which makes for an intriguing sight, particularly for photographers. This afternoon you will enjoy a boat cruise through the gorge before returning to Broome, where you will check in to the Cable Beach Club Resort for your final evening of the tour.
Day 15 - Fly Home or Extend Your Trip
This morning you will be transferred to Broome's airport for your flight home or to another fascinating part of Australia.
Overnights will be at the region's best resorts, wilderness lodges and tented camps. Each overnight stay is unique, and while not on par with 5 star hotels, accommodations are very clean and comfortable with all conveniences, such as the Kings Canyon Wilderness Lodge, pictured here.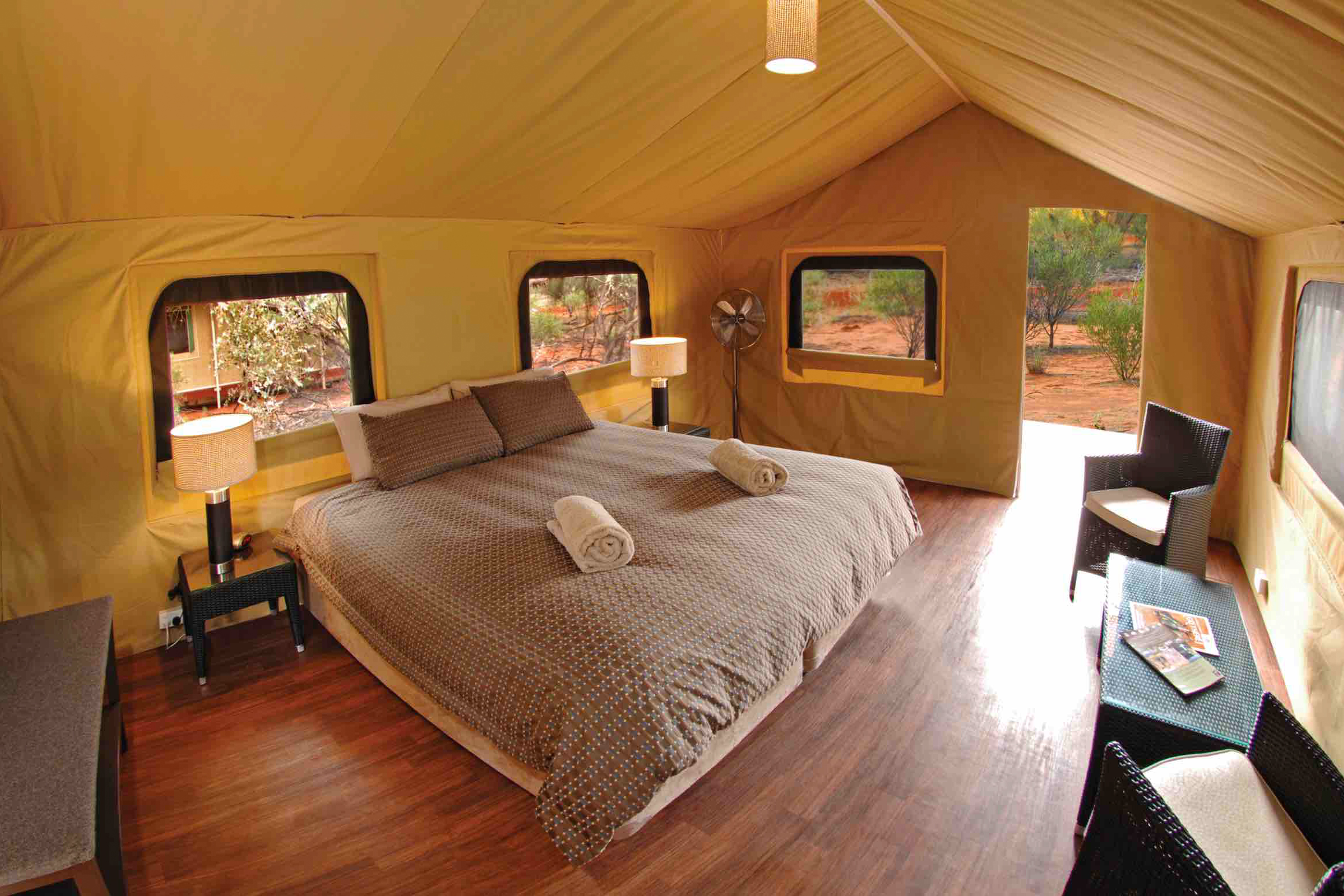 Optional Extensions
Sydney (3 nights)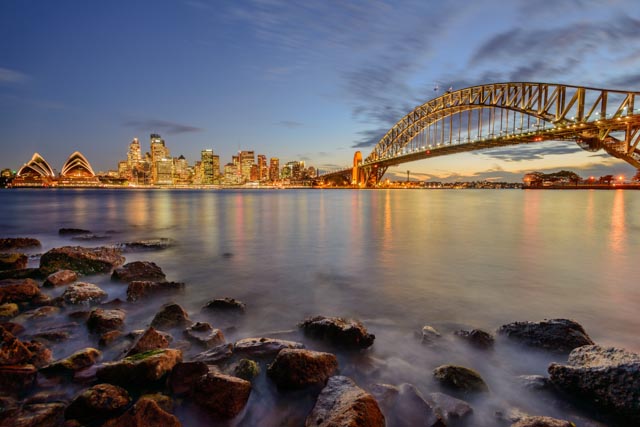 Australia's premier city, and one of the most beautiful cities in the world, spending a few days in Sydney is a must. Full of culture and natural beauty, there's plenty to do here. Enjoy a cruise on Sydney Harbour, stroll through the lush Royal Botanic Gardens, catch a show at the Sydney Opera House, or take one of our fascinating alternative guided tours of the city by foot, bicycle or kayak. The beautiful Blue Mountains are a short drive from the city and make a great day trip, and great restaurants, bars and nightlife are always close by.
The Great Barrier Reef (3+ nights)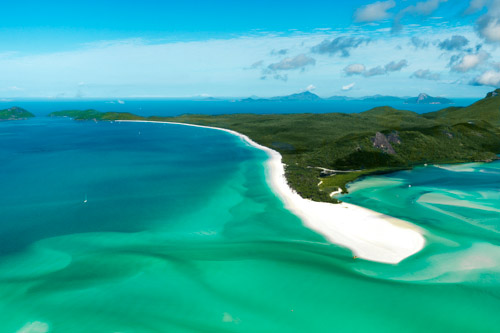 The Great Barrier Reef should be everybody's must-do list. No visit to Australia would be complete without visiting this beautiful place. At the southern end, the stunning Whitsunday Islands are a picture-perfect tropical paradise of dazzling white sand beaches, strikingly beautiful seas of every shade of blue imaginable and a perfect, year-round tropical climate.
Further north, near the city of Cairns, Queensland's 'Tropical North' offers spectacular scenery along the coast and the oldest rainforest in the world - 400 million years old! There's also great Aboriginal history here and many fascinating cultural experiences. Inland, the Atherton Tablelands area is a fertile plateau and an easy day-trip from the coast, where you'll experience a mix of rainforest, savanna and wetlands that are home to a wide variety of wildlife including tree kangaroos and wallabies. There are also great local markets to shop for unique Aboriginal arts and crafts.
3, 4 or 7 night Cruise on the Great Barrier Reef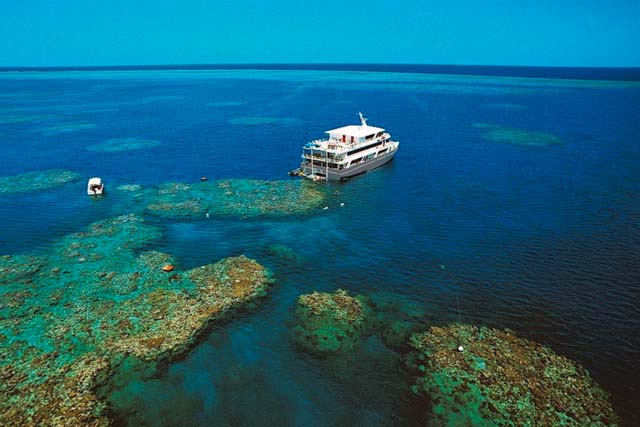 This unforgettable small vessel (44 passengers) cruise to the outer Barrier Reef will allow you to see parts of this pristine ecosystem rarely visited by day trippers from the coast. Every day you will visit a different reef, where you can snorkel, swim or SCUBA dive among coral and fish in clear, tropical waters. A resident marine biologist is on board to give briefings and explanations to further help you learn more about this amazing place. Your spacious and stylish en-suite private accommodation on board features large picture windows and fresh, creative local food is served in the dining room. Attentive service is always on hand from your friendly, well trained Australian and New Zealand crew.
Tasmania (3-4 nights)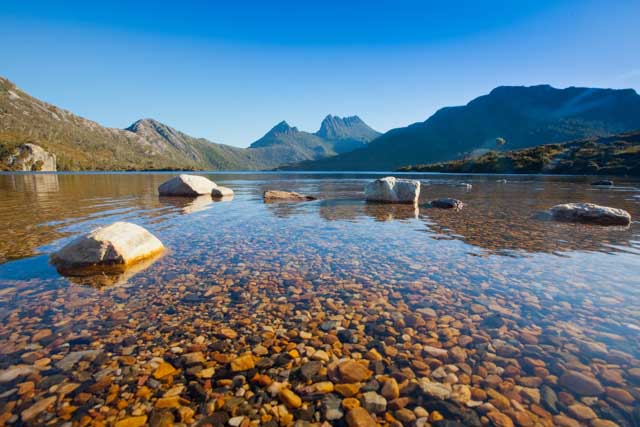 Located in far south-east Australia the island of Tasmania could practically qualify as a separate continent in itself due to its unparalleled diversity. The pristine serenity, spectacular beauty and clean air of its rugged coastlines and mountains make it a destination like no other. There's amazing wildlife here, great food and wine and a rich history, as well as beautiful beaches, stunning scenery everywhere you look and some of the best walks in the world.
Pricing
Price from US$7995 per person (Luxury Hotels), based on two people traveling in low season sharing a room.
Hotels listed on the Hotels Tab are given as suggestions only to illustrate the standard of hotels used.
Price Includes:
All hotels as described in the itinerary
Most meals
Services of our representatives while in Australia
All transportation and tours as described in the itinerary in air-conditioned vehicles
Sightseeing and entrance fees
Meals as described in the itinerary

Price Excludes:
International flights
Travel insurance
Meals other than those listed in the itinerary
Gratuities for guides and drivers
Sightseeing other than described in the itinerary
Additional room charges of a personal nature in hotels (eg: room service, laundry, phone calls, etc.)