Customized Luxury Private Tours
All Tours Are Personally Tailored to Your Requirements By One Of Our Luxury New Zealand Specialists


We excel at customizing luxury tours for our discerning clients. Following a short consultation with one of our luxury Concierge Desk advisors, we will craft a personalized, unforgettable tour just for you, based on your requirements.
Everyone has their own idea of what luxury means. We offer you unique experiences at all price points to suit your budget.
Anything is possible and the sky is the limit, however all of our private tours include personalized meet and greet, private vehicle transfers and tours, with accommodations at carefully selected luxury hotels, paired with unforgettable local dining experiences.
Your choice of accommodations covers everything from intimate Bed and Breakfasts to 5 star hotels, and ultra-luxe lodges.
Your tour can be as luxurious or as adventurous as you desire. New Zealand has such a diverse range of attractions and hotels that we can easily customize a tour that combines accommodations at remote, luxurious lodges with the finest in city accommodations.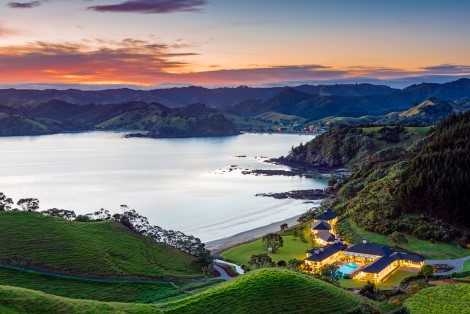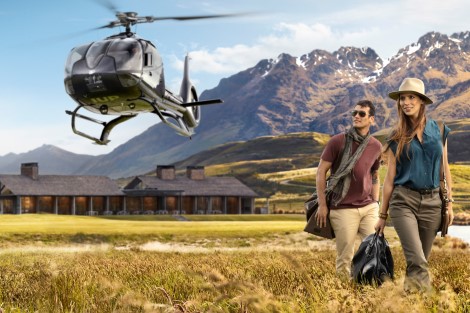 Some of our carefully selected hotels
Azur Lodge, Queenstown

The stunning Azur lodge offers just nine free standing open-plan villas and a main lodge housing the lobby, breakfast dining room and guest lounge. Located in a beautifully unique setting, the lodge is tucked away on a hillside with spectacular views of Lake Wakatipu and the surrounding mountains.Once at the lodge you will be amazed that that such privacy and tranquility can exist, and yet only be a 5-minute drive by complementary on demand transfer from the center of Queenstown.
Each villa features almost 800 square feet of luxury, with gas fireplaces opening onto private balconies and a private dining area with floor to ceiling windows. Azur is known for its personalized friendly and professional service. Gourmet cuisine is offered, served in the privacy of your villa, as you dine overlooking the beauty of Lake Wakatipu. This is one of south New Zealand's finest lodges and one of our favorite hotels in the entire country.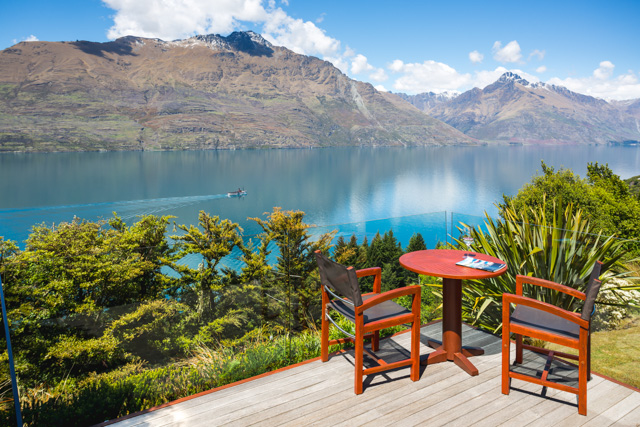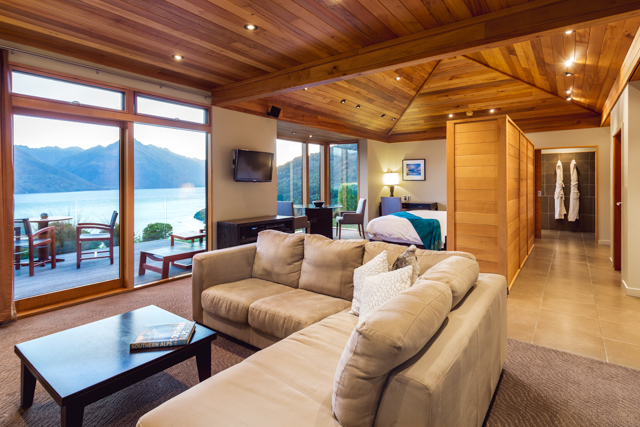 Annadale, near Christchurch

Opened in 2014, Annandale is located about one hour by car from the city of Christchurch. Located on a working farm, the property stretches over 6 miles of dramatic coastline. Annandale offers 4 distinct accommodation options from a meticulously restored 1880s luxury homestead, to ultra-private, stand-alone villas. The jewel in Annandale's crown is the amazing Seascape. Located on an uninhabited, private bay, this ultra-modern retreat offers a truly unforgettable, romantic experience. Cutting edge architecture and luxurious furnishings contrast with the dramatic and rugged scenery of the adjacent black pebble beach.
Other accommodation options at Annandale range from an intimate one-bedroom cottage, perfect for a romantic getaway, to Scrubby Bay, an ultra-luxurious beach house for up to 14 guests.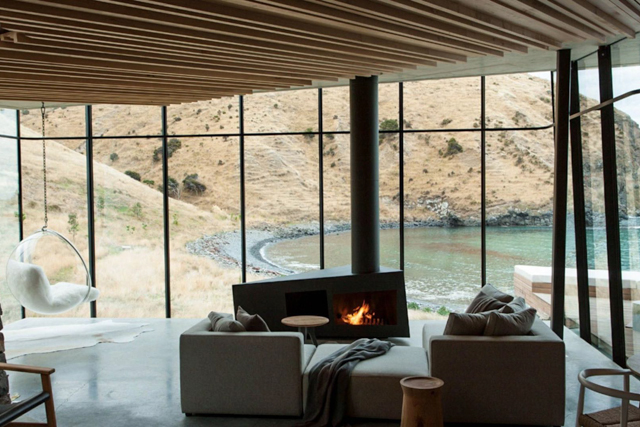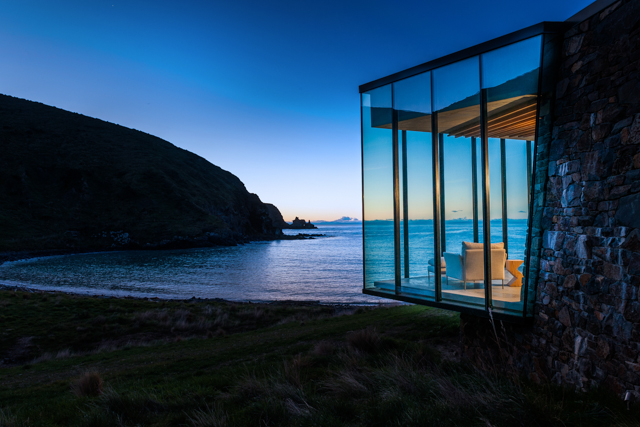 Solitaire Lodge, Rotorua

Rotorua's Solitaire Lodge offers luxurious accommodations and excellent service combined with a spectacular lake-side location.
Designed with style and comfort in mind, the lodge has only 10 luxuriously appointed suites, all featuring panoramic views over the glassy lake and distant volcanoes through floor to ceiling windows. The architecture of the suites is designed to bring the outside in, inviting you to relax in the tranquility of this peaceful setting. Solitaire lodge offers modern, locally sourced New Zealand cuisine complimented with local wines from selected vineyards.
Nearby you'll find thermal springs to soak in, the spectacular Tarawera Falls, and fascinating Maori cultural sites.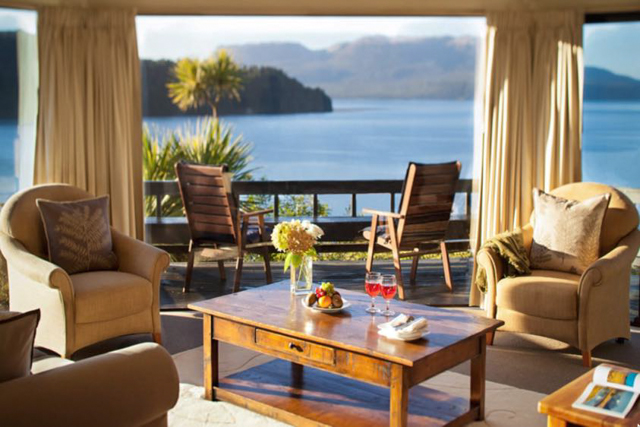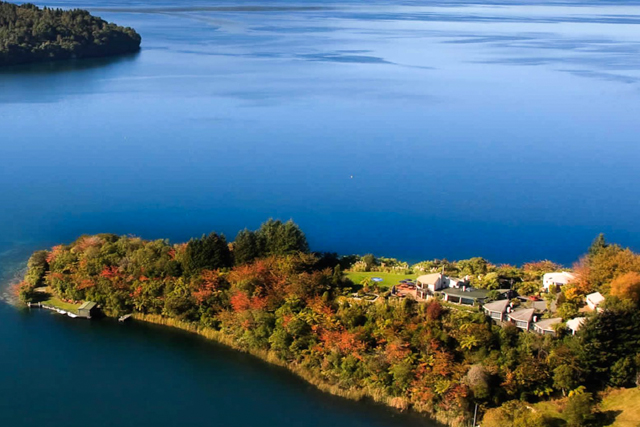 Huka Lodge, Taupo

Voted the Third Best Hotel in the World and the Top Hotel in Australia and New Zealand by Travel and Leisure Magazine, Huka Lodge has a lot to live up to. Since it was founded in 1924, Huka Lodge has consistently been a favorite retreat for travelers from all over the world.
Set in 17 acres of manicured grounds on the banks of the turquoise-green waters of the Waikato River, the lodge offers just 25 suites. Each suite is designed to allow the beauty of the surrounding natural environment dominate, complemented with luxurious furnishings.
Superb cuisine, seamless service and beautiful decor and furnishings all combine to make Huka Lodge a destination in itself.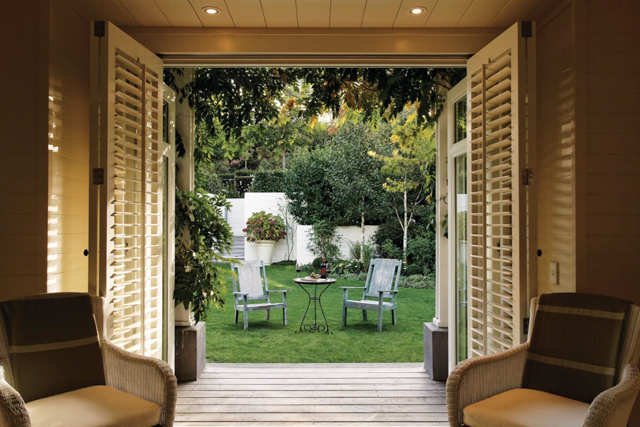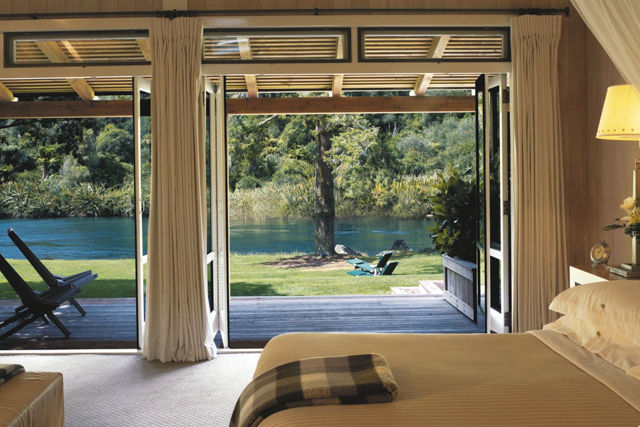 Helena Bay, Northland

The spectacular new Helena Bay is situated on a private reserve a 45-minute flight north of Auckland. This particular stretch of coastline was ranked second on National Geographic Traveler Magazine's list of 'The World's Top Rated Islands, Coastlines and Beaches' and is known for its incredible natural beauty.
Helena Bay hosts no more than five couples in five luxuriously appointed suites. All feature extensive balconies overlooking the private beach, super-king size beds and beautiful bathrooms with original mosaic tiling.
Dining at Helena Bay is an experience in itself. Helena Bay has brought from Italy to New Zealand the celebrated Michelin starred Ristorante Don Alfonso 1890, along with Head Chef Michele Martino, who creates a daily menu of 'estate to plate' local cuisine, coupled with excellent wines from the Helena Bay's 1000 bottle cellar.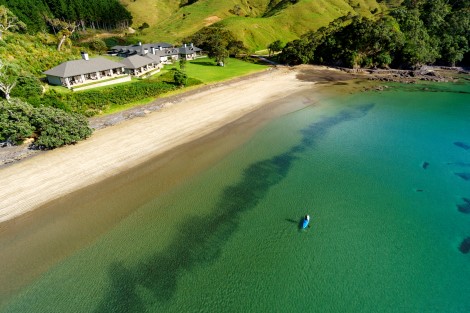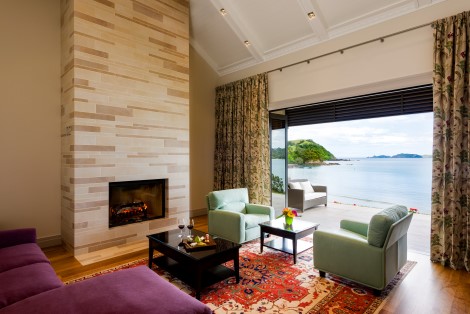 Eagle's Nest, Bay of Islands

Offering just 5 exclusive villas, Eagle's Nest is an award-winning 75-acre retreat set on a private ridge-line affording beautiful views over the Bay of Islands. The whole retreat is designed in an eclectic but contemporary style where lodgings and the gardens seamlessly blend into the natural environment.
Four of the five villas offer private infinity edge pools and all boast Jacuzzis, home theater systems and are decorated with original artwork.
The hotel is located within easy walking distance of the historic town of Russell and is a stone's throw from the Bay of Islands, offering 144 islands and countless beaches, inlets and bays to cruise, kayak or visit by private helicopter for an unforgettable private island romantic picnic.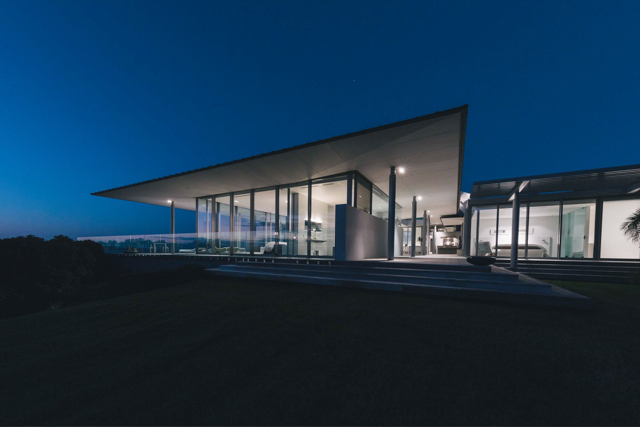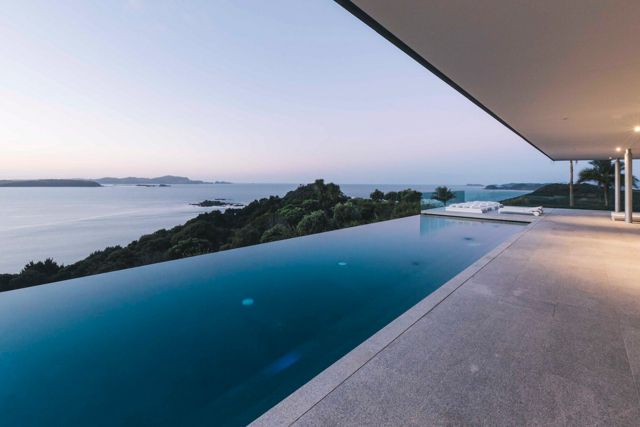 The Resurgence, Abel Tasman National Park

One of the world's leading eco-lodges, this is truly a destination in its own right. Located in the beautiful Riwaka Valley, set amongst 50 acres of untouched forest, the lodge offers an escape to nature. With no road noise and no other buildings in sight, you are surrounded by the beauty of the natural environment here.
Accommodations are luxurious and are beautifully designed. Your hosts, Peter and Claire offer you award-winning service and gourmet four course dinners featuring fresh produce sourced from the lodge's own organic gardens and local Nelson wines.
Nearby you'll find the stunning turquoise waters of Abel Tasman National Park, as well as Golden Bay, Kahurangi National Park, and the bustling city of Nelson served by direct flights to points all over New Zealand.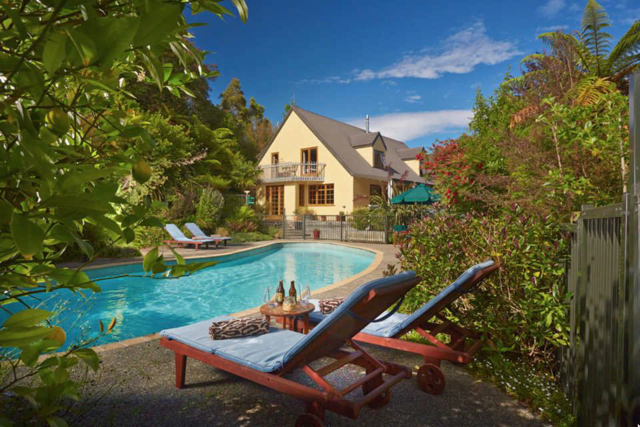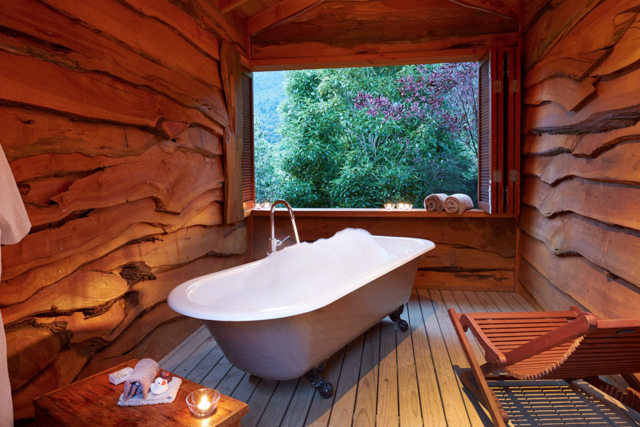 Delamore Lodge, Waiheke Island

Delamore Lodge is a luxurious boutique hotel on Auckland's Waiheke Island an easy 35 minute ferry ride or 5 minutes by helicopter from downtown Auckland. Waiheke Island is a stunning destination and a favorite for lovers of luxury travel.
Built on a cliffside, commanding views over Owhanake Bay, Delamore Lodge offers luxurious accommodations, first-class service and gourmet cuisine, with stunning, breath-taking views from every room.
Inspired by Mediterranean architecture with a unique New Zealand flavor, this elegant luxury lodge is styled into a hillside on Owhanake Bay. Rooms are luxurious and are designed to take advantage of the panoramic scenery. Each features an intimate courtyard where you can relax and take in the scenery in uninterrupted privacy. This is a truly spectacular hotel and a perfect base for visiting the Auckland region.