Luxury Castle Tour
This tour is perfect for monarchy and history enthusiasts. You can connect the architectural dots for each castle as they have been handpicked to reflect the style of a different era. Over the course of 9 days you will spend the night in six different castles, celebrating England's regal history from London to Edinburgh with intimate visits to Britain's royal residences, including Windsor Castle, Hampton Court Palace, Edinburgh Castle, and the Palace of Holyroodhouse. Plus, you'll savor exquisite dining in each of the castles and visit sublime historical attractions with your private driver each day at places such as Stonehenge, Hadrian's Wall, Bath, the Yorkshire Dales, Northumberland, and the West Country.
ITINERARY
(Day 1): Amberley Castle – Welcome to Royal Rural England
(Day 2): Thornbury Castle – Regal Windsor and Hampton Court Palace
(Day 3): Thornbury Castle – Exploring Bath and the West Country
(Day 4): Coombe Abbey – 12th-Century Wonder Beside the Cotswolds
(Day 5): Swinton Park Castle – York Minster and the Yorkshire Dales
(Day 6): Langley Castle Hotel – Medieval Musing in Northumberland
(Day 7): Melville Castle – Hadrian's Wall and Rural Scotland
(Day 8): Melville Castle – Discovering Edinburgh and its Sublime Castle
(Day 9): Edinburgh – Departure
Detailed Itinerary
Day 1: Welcome to the UK and Amberley Castle in Royal Rural England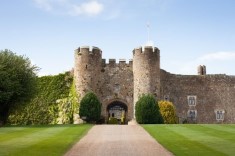 Welcome to the UK, where you'll be met at the airport by your private transfer and chaperoned out to Amberley Castle in West Sussex – the first of your six Castle stays. Here, you can explore beautifully landscaped gardens within the medieval walls, settle into the splendor of the surroundings, and enjoy your first taste of England's castles.
A spa bathroom helps alleviate any travel aches, and there are two sumptuous restaurants to choose from. The grandeur of the main restaurant is matched only by the views from the windows. Welcome to a world of opulent gardens, 60-ft high curtain walls, elaborate four-poster beds, and England's enchanting regal past. And, there's much more to experience over the next nine days.
Day 2: Thornbury Castle - Regal Windsor and Hampton Court Palace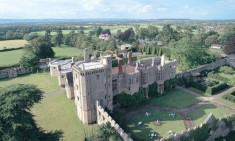 You'll start your day with a royal breakfast and tea before being chauffeur-driven to two iconic English landmarks on your way to Thornbury. First is Windsor Castle - the oldest and largest inhabited castle in the world. Stroll through the stately rooms, enjoying the luxuriant style from the 39 monarchs that have graced its halls for almost 1,000 years. Expect to be inspired by scale and grandeur.
After lunch along Eton High Street, journey on to explore the former home of England's most famous king. Henry VIII went through six wives in search of a son, beheading two of them and rebelling against the church so that he could divorce another two. Hampton Court Palace is undoubtedly engrossing, surrounded by gorgeous gardens and famous features such as the Maze and the Great Vine. To this day, the palace continues to be the setting for many nationally important events.
Finish for the night at Thornbury Castle which is filled with more King Henry VIII and English Monarch history.
Day 3: Thornbury Castle – Exploring Bath and the West Country

Enjoy breakfast on the manicured lawns of Thornbury Castle and admire the ivy that grows along its walls. Once inside the walls, you find that the Castle is filled with old-world charm of England's past. Built in the 16th century, Thornbury Castle retains period features like ornate carved ceilings, large open fireplaces, shining suits of armour in the corridors and intricate oriel windows.
You have the rest of the day today to enjoy the West Country. Walk in the footsteps of your Neolithic ancestors at Stonehenge – the best-known prehistoric monument in Europe and one of the wonders of the world. Explore the spa town of Bath, a UNESCO World Heritage Site with history from 1st-century Rome to 18th-century honey-coloured Georgian townhouses. Off the beaten path is Wells Cathedral, poetically set in the medieval heart of England's smallest city. History radiates through its interior, and it's a site that's rarely visited by tourists. Throughout today's journey, there are so many picture perfect picture moments in rural England
Day 4: Coombe Abbey – 12th-Century Wonder Besides the Cotswolds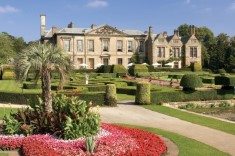 You continue your journey through the centuries as you head north. Stratford-upon-Avon, the birthplace of Shakespeare, has maintained many of its 17th Century charms, with its thatched roofs and quirky cobbled streets. Your guide will outline different places that can be visited on your route as you wind through a historic route past England's most stand-out scenic areas. You can choose to spend the day in the Cotswolds, an Area of Outstanding Natural Beauty, or move straight on to Coombe Abbey.
Located in the tranquil Warwickshire countryside, Coombe Abbey was originally home to Cistercian monks before it became an illustrious royal residence with lavish formal gardens, a tranquil lake, and stunning fine dining. Steeped in medieval heritage, the history of Coombe Abbey is fascinating.
Day 5: Swinton Park Castle – York Minster and the Yorkshire Dales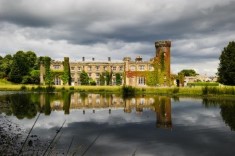 Your journey north takes you into Yorkshire and the charms of the Yorkshire Dales.
Beloved as one of England's best hiking and cycling areas, The Yorkshire Dales glacial valleys are characterised by a distinctive landscape of flat-topped hills stepped across the skyline, high heather moorlands, windswept trails and delightful country pubs.
The vast Swinton Park Castle grounds spread out across this idyllic landscape, with much of the estate left free as wilderness. Around the castle, you'll still find the manicured gardens, swan-filled lakes, and stirring forests, but with 20,000 acres of forestry, reservoirs and moorland, there are many options for outdoor activities such as horse riding or shooting excursions.
In nearby York, Roman remnants are scattered across the city while the towering York Minster is one of the world's most magnificent cathedrals. Since the 7th century, the Minster has been at the centre of Christianity in the north of England. Explore the city on foot and you walk through tiny alleyways, each decorated with cozy tea rooms and bespoke boutiques.
There are dozens of other potential villages where you can stop and explore; your guide will offer the options for today's drive.
Day 6: Langley Castle Hotel – Medieval Musing in Northumberland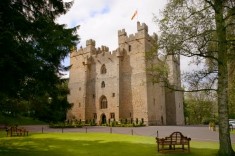 Today's scenic drive into Northumberland unveils the serenity of a distant era with a strong sense of beauty in the wilderness. Hidden in a Northumberland valley is Langley Castle, a 14th-century fort with iconic turrets and square blocks built to ward off invaders. Architecturally, it is one of England's finest medieval castles, with an expertly revamped interior to provide contemporary luxury befit of a royal past.
Day 7: Melville Castle – Hadrian's Wall and Rural Scotland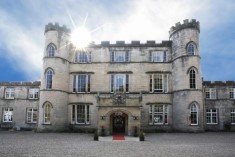 Winding further north, you cross the great divide - Hadrian's Wall. This wall represents a distinguished piece of world history. This was the northern boundary of the Roman Empire, built to stop the barbarians from the north. Your guide takes you to various stops along the wall, narrating its 2000-year history, while also dispelling its many myths. Then you cross into Scotland with its many treasures crammed into its compact territory.
Situated on the outskirts of Edinburgh, Melville Castle it provides the rare blend of tranquillity and city proximity. Relax in the historic lounge or reflect on your journey in one of the many charming rooms that are surrounded by 50 acres of lavish woodland. There is ample space to enjoy the cellar bar and broad gardens. Spend the evening at the castle or your driver guide can take you into Edinburgh itself for dinner.
Day 8: Melville Castle – Discovering Edinburgh and its Sublime Castle
Enjoy breakfast at Melville Castle, before embarking on the Royal Mile between Edinburgh Castle and the Queen's Edinburgh residence. Dominating the city with its ode to grandeur, Edinburgh Castle dominates from afar. The castle is Scotland's unmissable highlight. Edinburgh is filled with a buzzing boutique collection of pubs and antique stores with a maze of atmospheric side streets.
The Palace of Holyroodhouse marks the final stop on this itinerary. Bask in the glory of the monarch's glorious history and complete the journey from Windsor to Scotland. A farewell dinner with your guide at Melville Castle completes the day.
Day 9: Edinburgh – Departure
Enjoy a final regal breakfast in the castle before the short transfer to Edinburgh International airport. Say goodbye to your driver guide and leave with hundreds of unique memories accompanying the flight home.
Hotels listed below are given as suggestions only to illustrate the standard of hotels used. 
Amberley Castle
Part of the AA Hotel Group of the Year 2017-18, Amberley Castle is a unique luxury hotel located in the picturesque village of Amberley at the foot of the South Downs. Privately owned by Andrew and Christina Brownsword, this magnificent 900-year-old castle is enclosed by a 60 foot high curtain wall and portcullis that remains open, behind which you will discover an enchanting hotel offering the highest standards of food and service. Bedrooms are magnificent with the luxurious facilities you would expect from a country house hotel.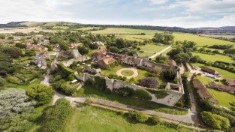 Thornbury Castle
As you approach Thornbury Castle, you'll feel like a guest in a royal retinue. Stroll the walled gardens, gazing up at the turrets and towers. Savour a vintage whisky while firelight plays on the wood panels. Dine on exquisite dishes made with fresh, local produce, before climbing the stone spiral stairs to your bedchamber.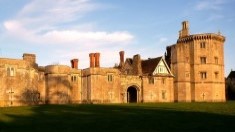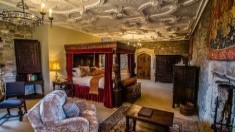 Coombe Abbey
Be charmed by extravagant yet welcoming rooms. Drift off in a four-poster bed, soak in a traditional Victorian bath tub, and wake up to picturesque views of the beautiful Warwickshire countryside. With over a hundred beautifully furnished bedchambers to choose from, you'll find the perfect place to rest your head.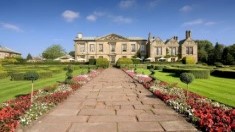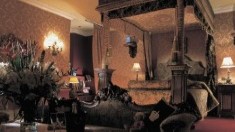 Swinton Park Castle
The Swinton Park Hotel, a luxury Grade II castle set in beautiful parkland grounds at the centre of the Swinton Estate. Enjoy a traditional, yet informal stately home experience. Rooms are furnished with antiques and family portraits, with the warmth and grandeur of a traditional English country house. A unique place for a different experience of North Yorkshire. With the opportunity to explore the locality and enjoy what the area and community have to offer.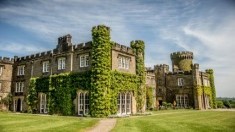 Langley Castle Hotel
Langley Castle Hotel is a 14th Century fortified castle, nestling in the Northumbrian valley of the South Tyne, and is ideal for romantic breaks, exceptional dining and fairytale weddings.
Set in its own ten-acre woodland estate, the castle's seven-foot thick walls provide a peaceful and tranquil refuge in which to escape from today's hustle and bustle to a bygone age. The guest rooms are all unique, with private facilities, some with four-poster beds, sauna and spa bath.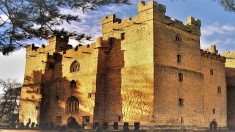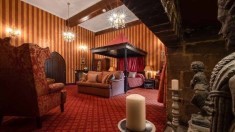 Melville Castle
This 18th-Century Gothic castellated mansion, designed by James Playfair for the notable politician Henry Dundas, 1st Viscount Melville, is silhouetted against a magnificent 50-acre woodland estate. Famous for its salmon, the river North Esk borders the estate. Wake up to a wholesome full Scottish breakfast, with haggis and patty scones available; sneak a wee dram in the decadent library bar; dine in the hotel's French-style restaurant located in the castle cellar; and enjoy the abundance of country pursuits on offer, including golf, clay pigeon shooting, fishing and archery.