All tours are fully customizable to your requirements
Mysterious Myanmar
Asia at its best, Myanmar (formerly known as Burma) has preserved its cultures and traditions more than any other Asian country. Myanmar is a deeply religious Buddhist country and offers travelers an amazing insight into fascinating cultures, diverse nature, from the Irrawaddy River to teak jungles to the Himalayan highlands and is known for its charming and friendly people. Many travelers have felt that a visit to Myanmar changed them in a profound way and there's little doubt as to why it's one of our most desired destinations. This 13-day itinerary offers a wonderful in-depth experience into an amazing country.
ITINERARY
Day 1 - Yangon
Day 2 - Yangon
Day 3 - Mandalay
Day 4 - Mandalay
Day 5 - Pyin Oo Lwin
Day 6 - Bagan
Day 7 - Bagan
Day 8 - Mount Popa
Day 9 - Kalaw
Day 10 - Inle Lake
Day 11 - Inle Lake
Day 12 - Fly to Yangon
Day 13 - Fly Home or Extend Your Trip
Detailed Itinerary
Day 1 - Welcome to Myanmar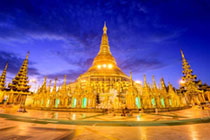 Yangon (formerly Rangoon) lies in the fertile delta of the Yangon River in southern Myanmar. Filled with shade tree lined boulevards, it's a very pleasant city where shimmering stupas (Buddhist religious monuments) rise between the treetops.
Your introduction to the city begins with a visit to the Sule Pagoda in the city center. Next, you'll visit the fascinating National Museum to gain an insight into the Myanmar's history, art and culture. As the sun begins to set you'll visit the Shwedagon Pagoda, one of the highlights of any visit to the city. Towering above Yangon, this is the most sacred place in the country and is most beautiful around sunset as the golden stupa reflects the changing light.
Day 2 - Yangon, fly to Mandalay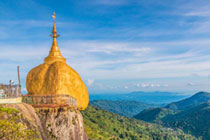 Your sightseeing of this interesting city continues with the Botatung Pagoda, named after the 1000 military leaders who brought relics of Buddha here from India 2000 years ago. Next, you'll see the huge reclining Buddha at Chaukhtatgyi Paya, before browsing the 2000+ stalls at Bogyoke Aung San Market, where you ca try your hand at bargaining for a locally crafted souvenir. From here you'll be escorted to Yangon's airport to catch a flight to Mandalay.
Day 3 - Mandalay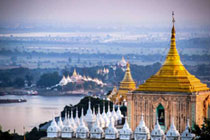 If Yangon is considered to be the Economic capital of the country, Mandalay is the cultural and religious capital. Tour tour of the city will start with Maharani Paya, a pagoda covered with 8 inches of gold leaf. En-route you will stop to learn about the difficult process of gold-leaf beating where gold is hammered into tissue-thin squares.
Day 4 - Mandalay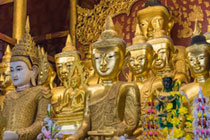 Today you will experience rural life outside the city as you visit three former royal capitals. Your tour will start with a drive to Mahagandayon Monastery, where every day saffron-robed monks gather to receive their daily alms offerings from faithful Buddhists. Next you'll travel to Sagaing, Myanmar's spiritual center, home to hundreds of stupas, monasteries and temples.
Crossing the Irrawaddy River by ferry, you'll stop at Inwa, once a royal capital but now a peaceful, rural setting, from where you'll enjoy a leisurely horse-cart through the countryside, briefly stopping at Bagaya Kyaung, a lovely teak wood monastery. You'll also stop at a workshop to learn of how local craftsmen make the traditional iron alms bowls for offerings to monks. On the way back to Mandalay you'll stop at U Bein's Bridge, a kilometer long teak bridge crossing Taungthaman Lake, where at sunset the bridge fills with monks and local people who come to socialize as the sun goes down.
Day 5 - Mandalay
Another trip out of town today will take you northeast across the plains, through twisting roads to the fascinating town of Pyin Oo Lwin. You'll have opportunities to stop along the way to admire the views. This town was a former Britsh hill station and has a beautiful botanical garden. The nearby Peikchin Caves with their Hindu-Buddhist shrines are a peaceful place to visit on the way back to Mandalay where you can enjoy an evening at your leisure.
Day 6 - Mandalay to Bagan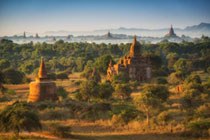 Today's drive will take you through the rural countryside on the way to Bagan. Began is a beautiful plain stretching from the Irrawaddy River and is dotted with thousands of temple ruins over 800 years old.
Day 7 - Bagan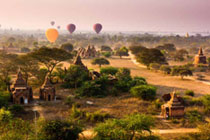 A full day of sightseeing around Bagan's temples lies ahead. Begin with an early start to experience the unique opportunity of watching the sunrise over the temples from a hot air balloon. After returning to your hotel for breakfast your tour will start with the Shwezigon Paya, a pagoda built by King Anawrahta to enshrine relics of Buddha. Next, you'll process to the Gubyaukhyi Temple, a colorful temple dating from the 13th century before visiting the Ananda Pahto, one of the largest and best preserved temples at Bagan. This afternoon you'll stop at a lacquerware workshop in a local village to learn about the painstaking process of this art before watching the beautiful sunset over the temples at the Shwesandaw Paya pagoda.
Day 8 - Bagan to Mount Popa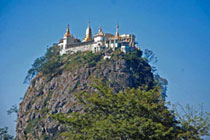 Mount Popa, not far from Bagan is a curiously shaped, cylindrical hill that rises dramatically from the surrounding plain and is considered to be home to the country's most important spirits. You can ascend the mountain via a winding staircase, where you'll see many of the curious monkeys that populate the area, as well as enjoying the spectacular views over the surrounding region.
Day 9 - Mount Popa to Kalaw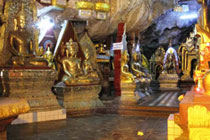 Sitting high on the western edge of the Shan Plateau, Kalaw was a popular hill station in British colonial times. It's still a delightful and peaceful place, reminiscent of the colonial era. The local population is an interesting mix of Nepali, Bamar, Muslim, Indian and Shan.
Day 10 - Kalaw to Inle Lake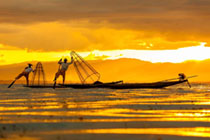 Today you will journey by train to the town of Shwe Nyaung, from where you'll continue by private vehicle to Inle Lake. Located at an elevation of almost 3000 feet in the heart of the Shan Plateau, this beautiful lake measures approximately 15 miles long by 6 miles wide. It is home to many diverse ethnic groups, the most famous of which are the Intha people who are unique for their particular style of leg-rowing their boats.
Day 11 - Inle Lake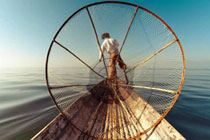 Today, you'll explore this beautiful lake by boat. You'll be able to enjoy the spectacular scenery as you observe the skilled local fishermen using their leg rowing techniques. Your leisurely tour will include time to visit the floating gardens, as well as a local Intha market village. This afternoon you'll visit the village of Inn Paw Khon, known for its Lotus and silk weaving, as well as the Phaung Daw Oo Pagoda.
Day 12 - Fly to Yangon
After a leisurely breakfast you'll transfer to Heho to catch a flight to Yangon. Send the rest of the day at your leisure, perhaps visiting a market to buy some souvenirs or sample some of the excellent local food.
Day 13 - Fly Home or Extend Your Trip
This morning you will be escorted by private vehicle to Yangon's airport for your flight home or to another fascinating part of Asia.
Hotels listed below are given as suggestions only to illustrate the standard of hotels used.
Yangon - Chatrium Hotel (5 star - Deluxe)
Located in an exclusive area of the city, this is an elegant hotel, designed in colonial British style. With lush, tropical gardens, it is a relaxing and peaceful place to call home during your stay in the city. All 303 guestrooms are stylishly furnished and feature private balconies, many of which overlook the city's peaceful Royal Lake.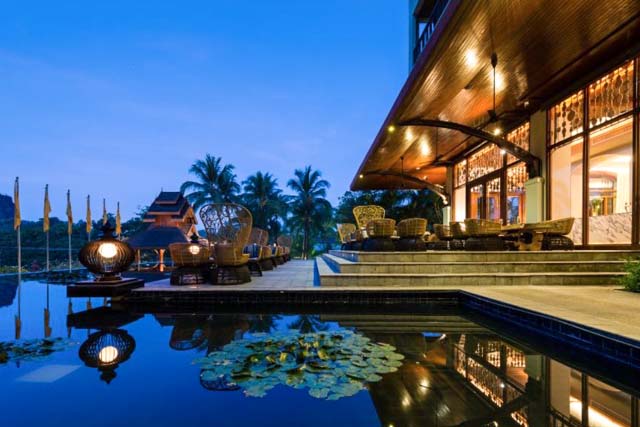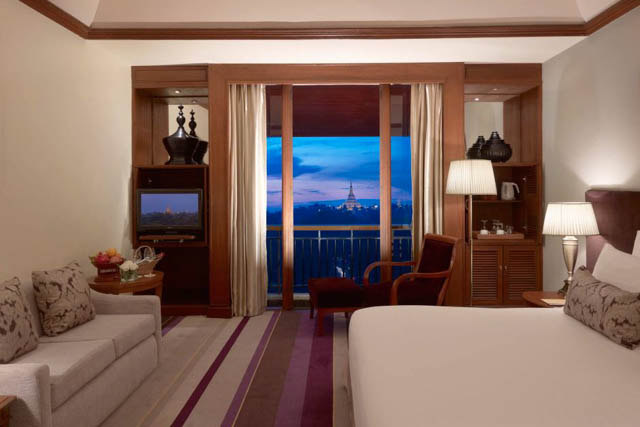 Yangon - Kandawgyi Palace (4 star - Luxury)
A modern, boutique property, the Kandawgyi is surrounded by beautifully manicured tropical gardens overlooking the tranquil Royal Lake. The 200 guest rooms are comfortably furnished with local hardwood furniture and floors and offer all the luxuries travelers would expect from a 4 star hotel.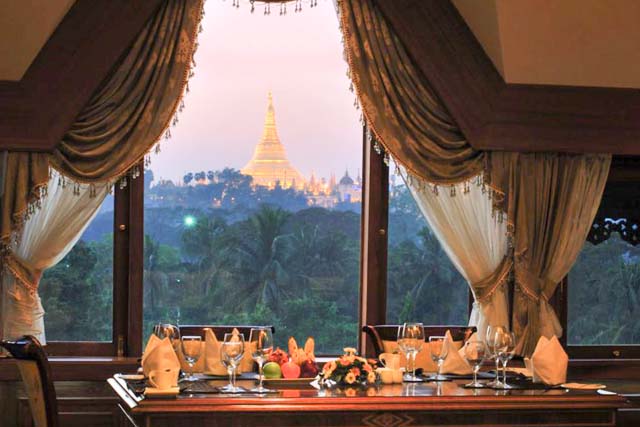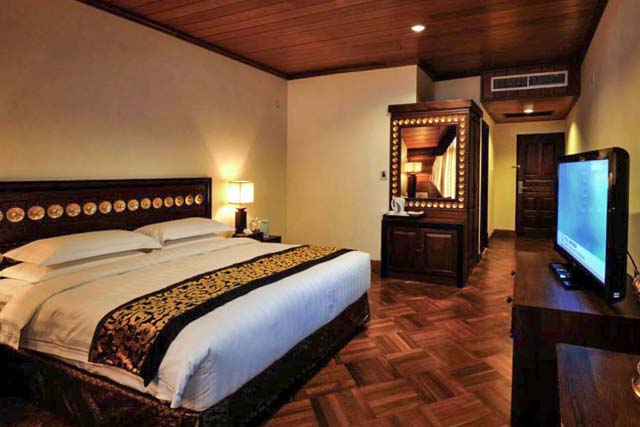 Mandalay - Mandalay Hill Resort (4.5 star - Luxury/Deluxe)
A landmark building, and one of the finest hotels in the city, the Mandalay Hill Resort is set amongst lush gardens, facing the Royal Palace at the foot of Mandalay Hill. Recently updated, luxurious rooms offer stunning views over the Royal Palace. All 206 rooms and suites are beautifully furnished in local style using Burmese hardwoods and local silks and fabrics.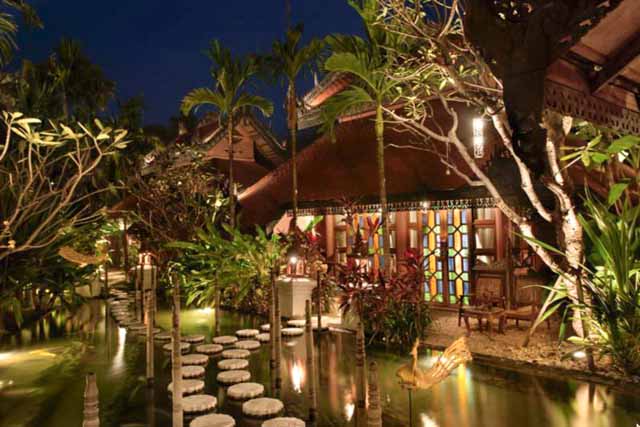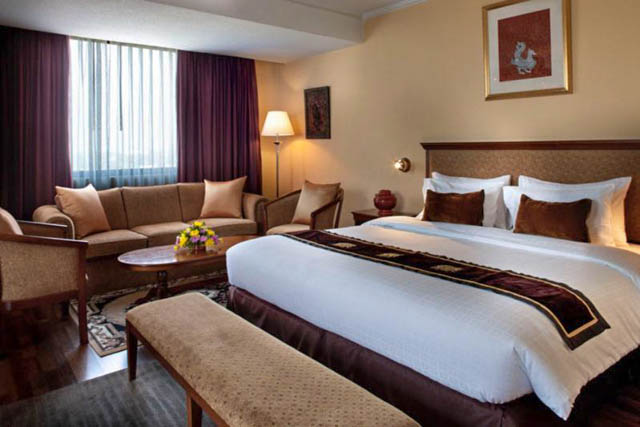 Bagan - Aureum Palace Hotel (5 star - Deluxe)
Occupying 27 acres of peaceful, meticulously landscaped gardens, close to the Bagan Viewing Tower, this is Bagan's finest hotel. Superb restaurants offer local and international gourmet cuisine, while the 114 elegant rooms and villas are adorned with museum quality antiques, spacious bathrooms and luxurious furnishings.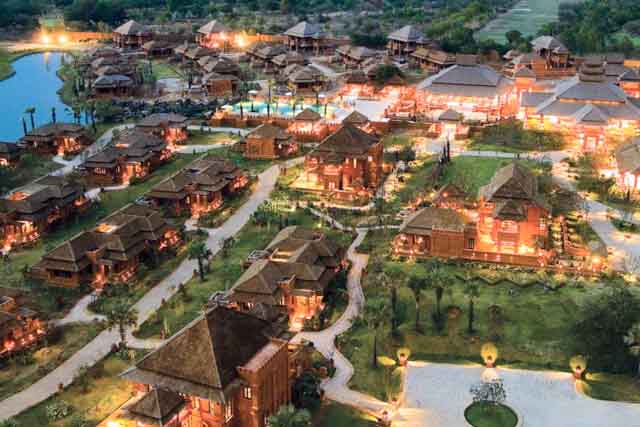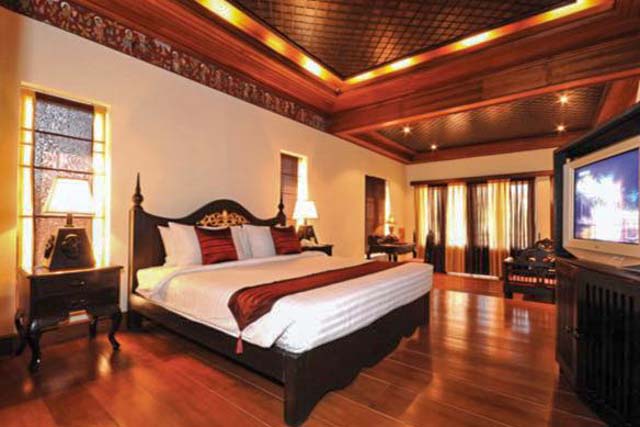 Bagan - The Hotel At Tharbar Gate (4 star - Luxury)

The Tharbar Gate offers 83 luxurious rooms and suites, all furnished with Burmese teak hardwood floors and furniture. High ceilings and original local artwork give the rooms a bright and modern feel while retaining a local style. The hotel's two restaurants offer traditional Myanmar, as well as European and Asian cuisine.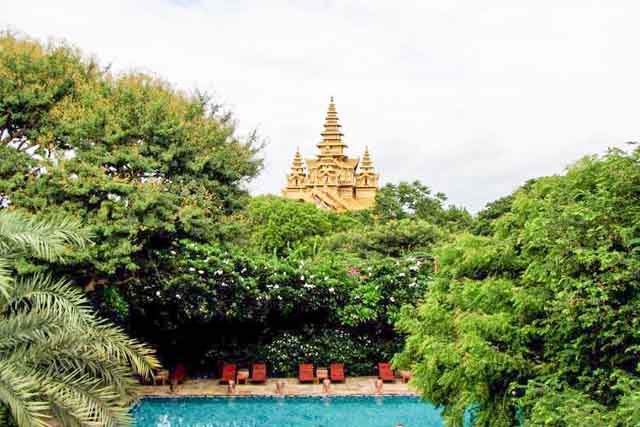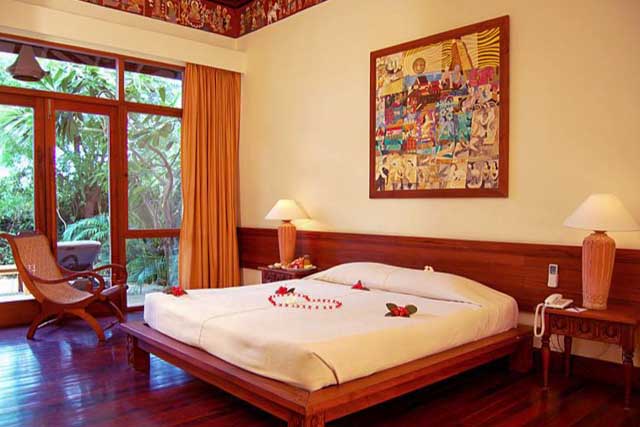 Mount Popa - Popa Mountain Resort (4 star - Luxury)

The Popa Mountain Resort is located in a scenic and beautiful setting on a green hillside with panoramic views over the countryside and the Mt. Popa Temple. Modern rooms are spacious and airy, constructed from local timber which blends into the natural environment. All guestrooms are well appointed and comfortable.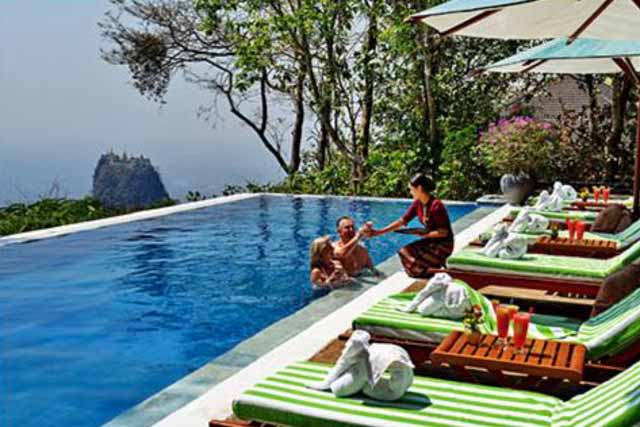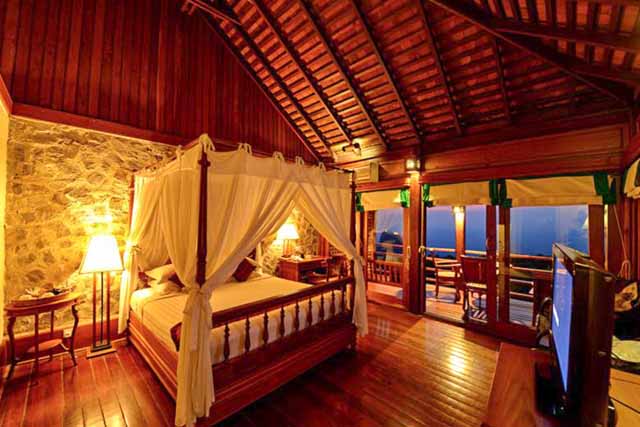 Kalaw - Royal Kalaw Hills Resort (4.5 star - Luxury/Deluxe)

Constructed in 1928 and located at the base of Kalaw Hill, the Royal Kalaw Hills Resort is a boutique hotel offering only 14 rooms. Decorated in colonial British style, rooms are comfortable, with a blend of antique and modern furnishings and offer beautiful mountain views from every room.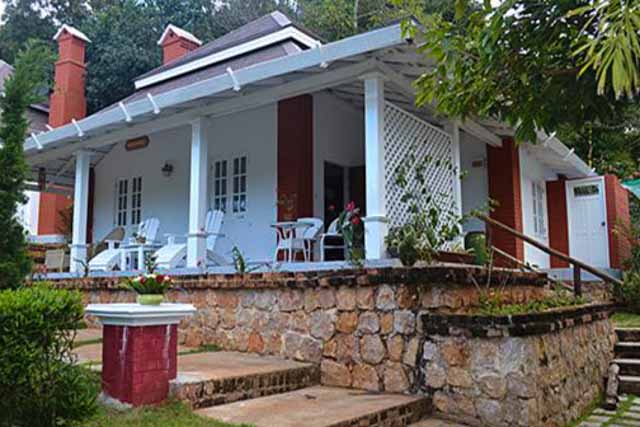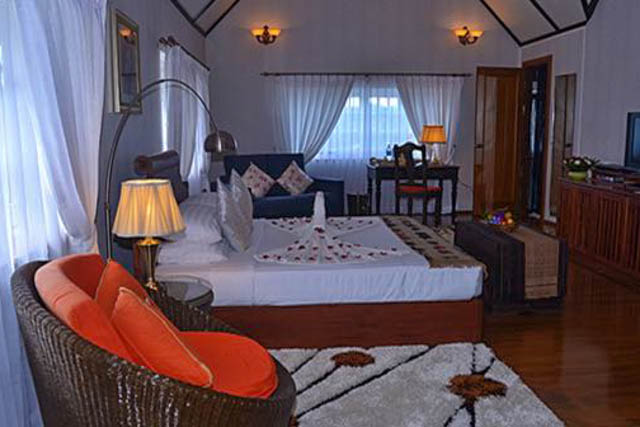 Inle Lake - Aureum Inle Resort & Spa (5 star - Deluxe)

Located on the shores of the beautiful Inle Lake, the Aureum Resort offers the finest accommodations in the area. Private villas are constructed either on shore or on stilts over the lake and offer modern, stylish decor and private terraces with spectacular views.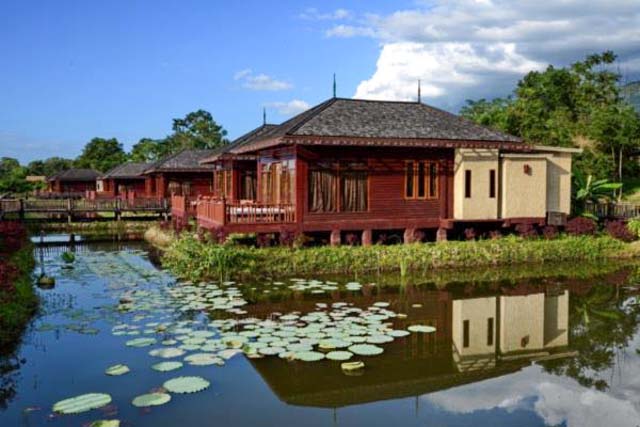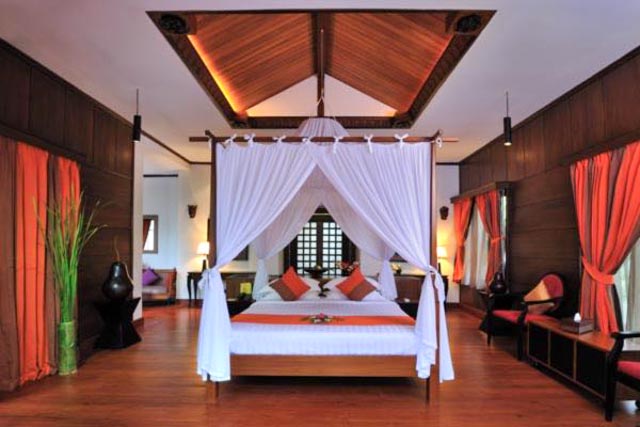 Inle Lake - Inle Lake View Resort (4 star - Luxury)

Located lakeside on 24 acres of landscaped gardens, the Inle Lake Resort is a boutique hotel with 38 spacious and luxuriously furnished rooms. All are tastefully decorated in Burmese style and offer private balconies overlooking the tranquil lake. The hotel's restaurant serves fine local and international cuisine, with ingredients sourced from their own organic gardens.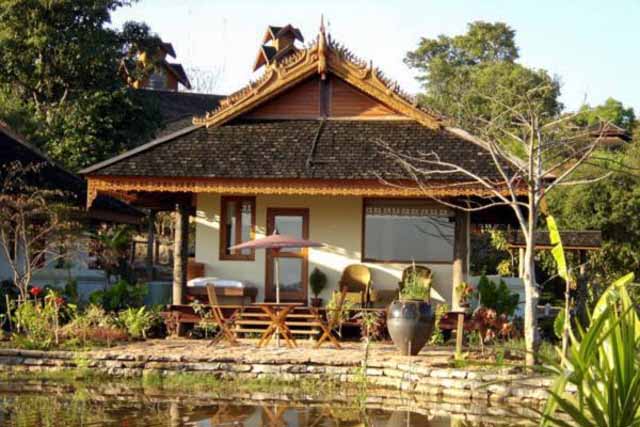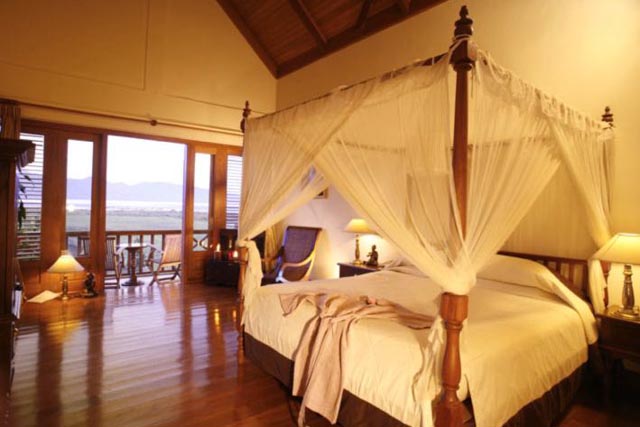 Optional Extensions
Tropical Beaches in Thailand or the Philippines (3-7 days)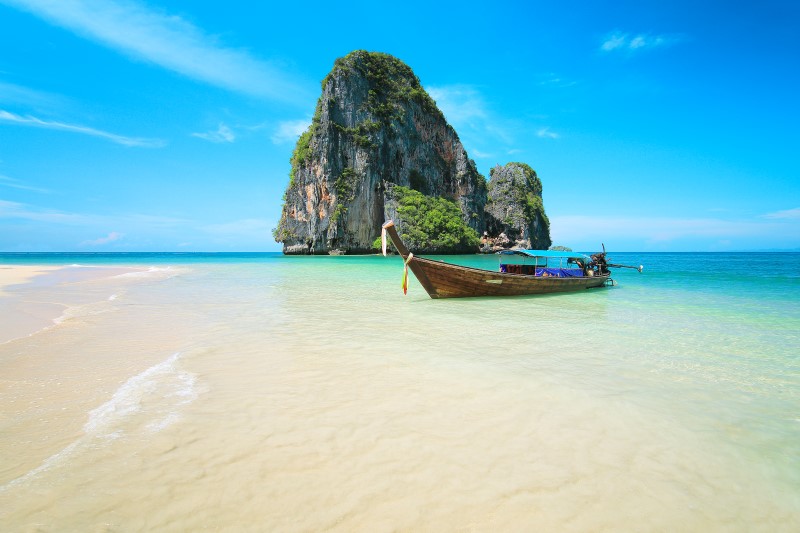 Thailand and the Philippines are home to some of the most spectacular beaches in the world. A few days relaxing on an unspoiled, idyllic, powder-soft, white sand beach is the perfect way to end a busy tour around southeast Asia. Snorkel, SCUBA dive, visit uninhabited paradise islands by boat, or simply relax poolside at your luxury hotel as you contemplate the stunning turquoise water, while you enjoy the freshest seafood you've ever eaten at a fraction of the price you'd pay at home.
Bangkok (3-4 days)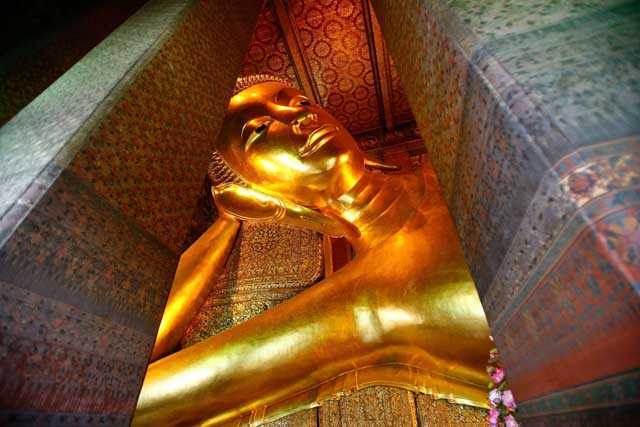 Thailand's capital and one of the most exciting cities in Asia, Bangkok is a real feast for the senses. It is one of the most confounding and chaotic, yet most rewarding cities in the world to visit. From the royal core of the city and its Grand Palace to the busy Chao Phraya River slicing through it, the incredible and exquisite historical temples and monuments, to the congested streets, lined with the best street food in the world, it's exotic and mesmerizing at every turn.
Hong Kong (3-4 days)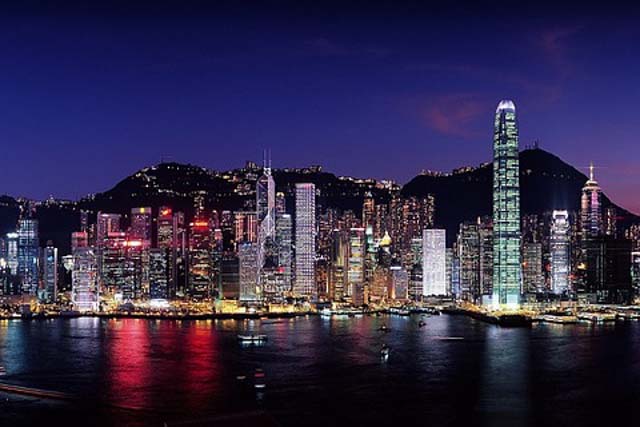 Hong Kong is an enigma. A city of modern, glass towers, cosmopolitan cuisine, home to one of the world's largest financial centers, and one of the world's most modern, efficient transport systems; it's also home to quiet villages and idyllic beaches not far from the chaos of the city. The food here is amazing, and the views - whether from the deck of the world-famous Star Ferry crossing Victoria Harbour (the best 25 cent ticket you'll ever buy), or from the lofty heights of Victoria Peak are simply sublime.
Singapore (3 days)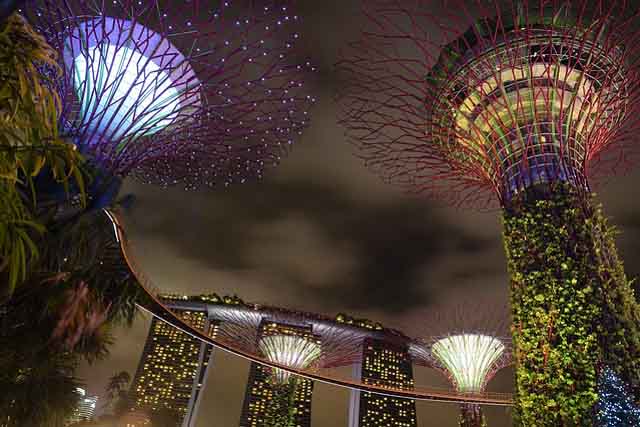 Unlike any other city, Singapore is a mix of traditional Malay, Chinese and Indian cultures, harmoniously blended with the cutting-edge, ultra-modern style of the most modern cities in the world. Immaculately clean, tidy, efficient and organized, with some of the best food offerings in the world, from simple 'hawker' stalls to Michelin starred restaurants, it's a great place to spend a few days. With international non-stop flights all over the world, it's also the most easily accessible city in south east Asia.
Fully guided, private tours are priced from:
Luxury - US$3855 per person (4 starhotels)
Deluxe - US$4195 per person (5 star hotels)
Ultra-Luxe - US$5395 per person (best available hotels, business/first class flights)
Prices are per person, based on two people sharing a double room in low season.
Hotels listed on the Hotels Tab are given as suggestions only to illustrate the standard of hotels used.
Price Includes:
All hotels as described in the itinerary
Services of our representatives while in Myanmar
Flights:
Yangon to Mandalay
Heho to Yangon
Private transportation and private tours as described in the itinerary in air-conditioned vehicles
Sightseeing and entrance fees
Meals as described in the itinerary

Price Excludes:
International flights
Travel insurance
Meals other than those listed in the itinerary
Gratuities for guides and drivers
Sightseeing other than described in the itinerary
Additional room charges of a personal nature in hotels (eg: room service, laundry, phone calls, etc.)